Ta-da! Here is yesterday's outfit, brought to you by my sneaky Photobucket maneuvering (creating a second account), as mine is still out of commission. Why did I decide to pay for this, again? In their original state, these shorts were basically gaucho monstrosities, hitting just above the knee. The first time I wore them I just rolled up the pant legs because I wasn't so sure what I wanted to do with them, but finally I decided to buckle down and experiment with the scallop trend. Please pardon the severe wrinkling going on here--apparently these shorts don't take well to sitting (note to self: only wear shorts when walking and standing). Other than that, I quite love them. Even if the scallops are incredibly uneven.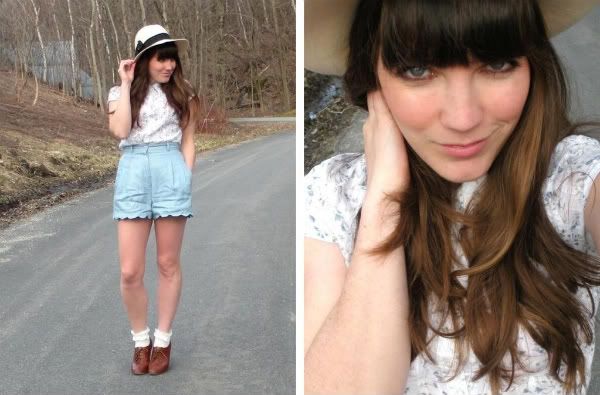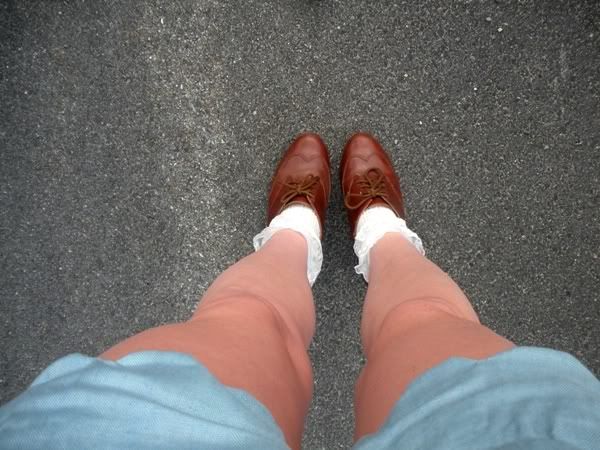 (blouse/hat/shorts: thrifted; socks: uo; shoes: seychelles)
It was definitely a nice day yesterday, but we've had some severe flooding around here as a result of the sudden sunshine. Every field along the river is now a lake, and some of the roads have closed as a result of our descent into Waterworld. I'm really pushing for a sunny spring weekend, but at least I'll probably get more work done if it's miserable outside.
Anyway, I'm basically burnt out from all the rage I've been directing at Photobucket over the past 24 hours, so I'm going to duck out. Today I really am crawling up over the hump until the bitter end: work, laundry, gym, washing dishes... but come tomorrow morning I'll be back in the game and I'm excited for the rest of the week!
**EDIT: I just want to give credit where credit is due!! I used THIS super-helpful tutorial, in case anybody is thinking about attempting the DIY. Happy scalloping! :)**