One fine weekend, I went to Morocco. Fez, to be exact.
Because we were only there for the weekend, we confined ourselves within the wall of the
old city
. After checking into our "hotel" (it was tiny, in an alley parallel to the primary market street), a few of us headed out for some food.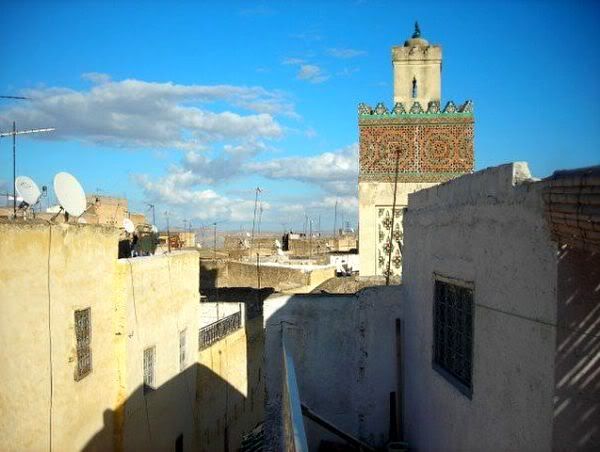 We ate outside on a completely open second-floor terrace. This is where we experienced the magic of traditional Moroccan
mint tea
. The tea is served hot, and the glass is packed with mint leaves and an excessive amount of sugar. It was so sweet--practically dessert. I had a delicious
vegetable tagine
, which was pretty much the only thing I could eat all weekend (luckily it was tasty!).
After dinner, we met up with the others at a hookah bar, where we sipped some more tea...
...but passed on the hookah because it was too expensive (I think that's why we passed, anyway. I can't really remember...). The real fun came later...
Of course, I can't really remember how we ended up here, either. If I recall, a young fellow approached and tried to lure us into his lair, promising free hookah and a chance to get down with the locals. If it had been up to me, I probably would have politely declined (I'm not keen on putting myself in questionable situations), but my friends were clearly not so suspicious of his motives. I'm glad we went--after all, there were six of us and only one of him, though he did bring a friend (and I can't remember either of their names--I think his name [left] was Amen).
His "lair" was a tiny little (restaurant?) local hangout (or so he claimed) with a huge camel's head hanging at the entrance (presumably for sale), where we all got to play various instruments and sport funny hats for the evening (my kind of night).
His friend was actually a really good singer, and put on a little impromptu song-and-drum performance. Convinced that they only had the best of intentions, we agreed to let them show us around the city the next day.
In the morning we rose (after being rudely--though not unexpectedly--awakened at 5 am when the town erupted into boisterous prayer, as they did five times a day!) and met up at the scene of the previous night's festivities for delicious breakfast Bissara, a thick soup made from split peas and olive oil (which I admit I thought sounded foul but was totally fabulous). Soon, we were on our way:
This was supposed to be the insider's tour of Fez--all I know is that we did a lot of sneaking around and got chased out of a couple of courtyards (which I think were probably part of people's houses). We couldn't really understand what was going on because when local people protested our presence, Amen would yell back and forth with them in Arabic and I don't think he was entirely truthful with his vague translations. He did take us to what appeared to be a huge craft warehouse, where I bought a small drum made with fish oil and camel hide.
Our next stop was a Berber rug shop, where we were served complimentary mint tea and suffered through what quickly became an incredibly awkward experience. Even though we had expressed up front that we didn't have enough money to buy or any way to transport a Berber rug back home, the proprietor insisted on pulling rug after rug out and laying it down on the floor for us to see. They were beautiful, and in retrospect I kind of wish I had just shelled out the money and shipped it home or something, but I guess I'll just have to go back someday!
The next morning, after enjoying a breakfast of Moroccan pancakes with honey on yet another rooftop terrace, we took it upon ourselves to venture just outside the city walls.
After a long day of exploring in the hot African sun, we headed back down the road with hearty appetites.
That was that! The next morning we took a taxi to the airfield and boarded a plane for home (where Irish security guards raised their eyebrows over the multiple hollow drums packed into our luggage... they probably thought we were transporting drugs or something)--it was another eventful, exciting & awesome adventure!