...dreaming of a summer in the South of France
In the middle of a long, cold, snowy winter, nothing sounds more appealing to me than an extended vacation in a chateau or villa in the heart of wine country, mere miles away from the Mediterranean Sea. I am currently savoring
A House in the Sunflowers
, a delicious little book by English actress Ruth Sylvestre, which documents the purchase, restoration and enjoyment of a small house on a sunny hill in the gastronomically indulgent region of Lot-et-Garonne, France.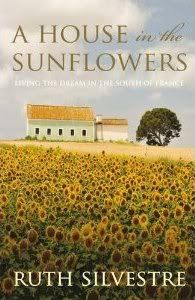 This book is pure escapist fantasy (and even more delightful because it's true). I love stories about living the simple life in the beautiful European countryside (Peter Mayle's A Year in Provence is another good one). There is something so full and rich about the provincial experience--everything you do, everything you eat and everyone you see is influenced and inspired by the unchanging (but charming) local community and the everchanging (and not always charming) weather. Life in Lot-et-Garonne is a neverending cycle of neighborly farmwork and festivals, rewarded by enormous meals with whatever the fields are producing, and bottle after bottle of local wine, right off the vines. I find this endlessly appealing--I want to spend my days with my hands in the dirt and the sun overhead, my nights spent in true bacchanal fashion, feasting and fêting and fueled by vino (the lifeblood of any good party).
Anyway, on Monday night K was in a late class and, panini in hand, I found myself craving visual accompaniment to my classic Tuscan cuisine. I decided on Ridley Scott's cinematic interpretation of another Peter Mayle book, A Good Year, because I thought I hadn't seen it before. Turns out I had (I am terrible when it comes to remembering whether I've seen a movie or not), but it was enjoyable just the same.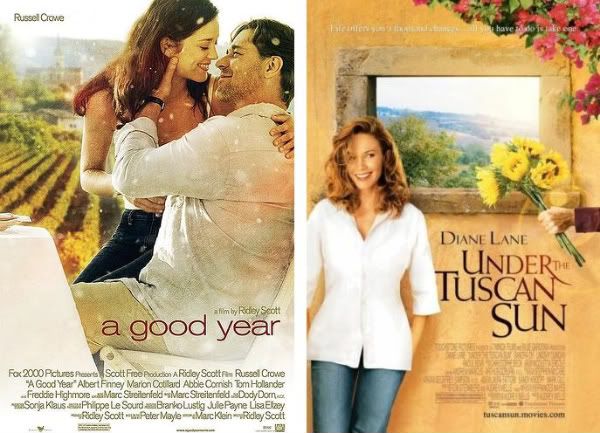 When an Englishman (Russell Crowe) who has misplaced his soul in the search for money and power inherits the magnificent estate of his recently-deceased uncle (and surrogate parent), he travels to Provence with intent to sell the shabby-chic chateau and surrounding vineyard. He is held hostage by circumstance, and remains in France a little bit longer than planned--which leads to a love affair with a local French beauty (Marion Cotillard), an encounter with a long-lost cousin (a fresh-faced Abby Cornish, who I couldn't place) and likely rightful inheritor of the estate, and a vivacious vintner who has worked the land for decades (and knows all of its secrets). A charming Scrooge-esque story of a man who goes back to the land (and his past) to discover who he really is and what he wants out of life.
Recently divorced and searching for meaning in her crumbling life, a not-so-young-anymore writer (Diane Lane) embarks on a bus tour of Tuscany and, along the way, purchases an equally crumbling villa where she commences the healing process. The connection between the renovation of her new home and her own internal remodeling is obvious but allowed (come on, sometimes you need sappy parallels in your life), and she ultimately does find love and friendship (new and old) in the heart of Cortona.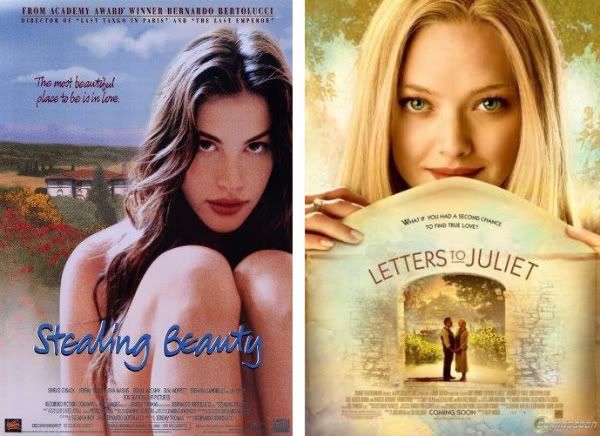 One of my very favorite movies about love and self-discovery in Italy stars Liv Tyler as a young American woman who travels to the Tuscan countryside to have her portrait painted by a family friend after her mother tragically commits suicide. The film is absolutely beautiful from start to finish (and therefore aptly named), and although there is an underlying sadness throughout the film, it is as if you can feel the passion and life pumping through the celluloid. Lucy (Tyler) relives and attempts to reconnect with her first love, sleuths out paternal possibilities, and begins to understand her own sexuality, all the while surrounded by an unbelievably lovely landscape.
This movie was exactly what I expected it to be--nothing more--and sometimes that is enough. A young American girl (Amanda Seyfried) and her seemingly self-absorbed restauranteur fiancé (Gael García Bernal) are vacationing in fair Verona, where we lay our scene (and where Romeo and Juliet once lived&loved). As she wanders through the city she discovers a wailing wall of sorts, where women ask "Juliet" for romantic advice (not who I would ask, alas), and lo and behold, finds a fifty-year-old letter from a then-young woman (Vanessa Redgrave) who may have lost her one true love forever. Bored and abandoned in a foreign city, she sets out to find the mystery woman (success), unearths a network of Dear Abbys who answer all of the letters left for Juliet, and embarks on an adventure to find the lost love of Claire, the now-elderly writer of said letter (along with her annoying--yes, I do mean annoying--grandson). The acting may not be spectacular, but the scenery is, and the concept is unique enough to carry the rather weak storyline.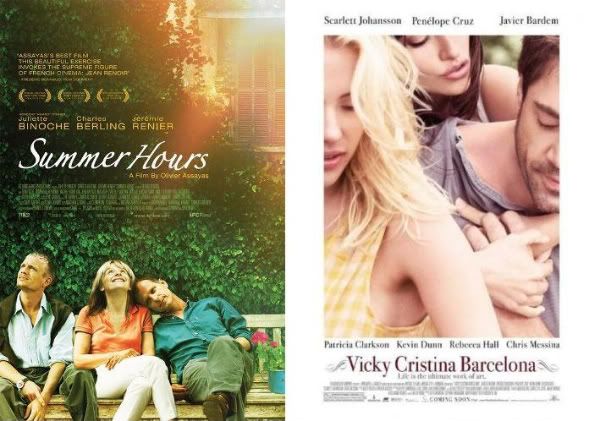 This film is one of those rather sad stories of a family split by what some (me!) might consider a fortuitous inheritance. The eldest son of a recently deceased matriarch is surprised to discover that his sister and brother do not share his love for and attachment to the country house and the possessions therein (including the collective works of her artist uncle, whom she works tirelessly to protect throughout her life). Elegant and poignant, this tale of growing up and moving on and the changing values in modern times certainly struck a chord in me, and the beautiful house and grounds didn't exactly hurt my eyes either.
Vicky Cristina Barcelona (2008)
I love this movie. It's fun, it's vibrant, it's full of life, it's Woody Allen. Two young girls, the fancy-free and sexually-spirited Cristina (Scarlett Johansson) and her best friend, the practical, prudish and about-to-be married Vicky (Rebecca Hall), travel to Barcelona so Vicky can research and receive her MA in Catalan Identity. The girls get tangled up with a charming Catalan artist, Juan Antonio (Javier Bardem), who exposes them to the heart and soul of Spain--and himself. As Cristina and Juan Antonio become closer, his maniacally passionate ex-wife Maria Elena (Penelope Cruz) arrives on the scene to shake everything up once again. As the typical Woody Allen hijinks ensue, we are treated to lovely Spanish guitar, a gorgeous landscape, and meditations on art, poetry and the unconventional nature of love.