So, I know this outfit is basically the antithesis of cutesy Valentine girlishness and I promise that I'm not a St. Valentine Scrooge or anything, but K and I celebrated Valentine's Day last night (he has a late class tonight), so the spirit has come and gone for me. I had a really fantastic weekend, full of friends (Friday), family (Saturday), and romance (Sunday).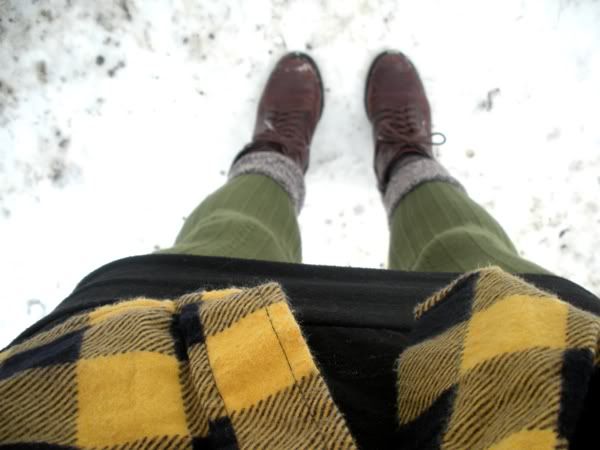 (shirt: goodwill; dress: charlotte russe; tights: gap; scarf: bargain boutique; boots: seychelles)
I found this shirt at Goodwill this weekend, when K and I stopped there looking for a coffee table. I actually wanted him to get it but it was a bit too short and wide for him, so it became mine :) I didn't even browse through the women's section because when I go shopping lately I get really overwhelmed and can't stand it for more than a few minutes. This has happened more than once in the past couple of weeks: I load up my arms with clothes, briefly glance at the dressing room, then put the clothes down and walk out. I'm sure that this too will pass.
Friday night I went to the
Purple Moon Pub
in Waitsfield to see my friends Sarah and Juliana play music with Juliana's dad. There was quite a crowd of familiar faces in the audience, and I had some wine, a delicious garbanzo bean burger, and some good conversation. On Saturday, K and I did a little apartment shopping before my parents came over for dinner (K cooked!) and
kir royales
. My dad wanted to practice some new songs for
our
gig--we're playing in Montpelier for St. Patrick's Day--so after we were well fed we sat down and played a little music. I spent most of Sunday morning bumming around and watching past episodes of
The Bachelor
while K studied for his big test, and last night we went out to
Parima
for a lovely dinner (although I am still a little bit confused by the menu and think we may have received a condensed version--there was only one curry listed! I went with some sort of Grapow dish that ended up being too greasy for my liking, but the atmosphere was great and K really enjoyed his noodle dish) before heading over to the Roxy for a late showing of
Another Year
.
I love busy weekends!