This outfit post was very close to failing today, as the Universe appeared to be conspiring against me. With sheer determination I fought back, and here we are. So there, Universe. So there.
(hat: h&m; cardigan: old navy; blouse: bargain boutique; skirt: salvation army; tights: hue; boots: seychelles)
To demonstrate the extent of my failure, you must first understand that this outfit was inspired by Jen's style file last Thursday: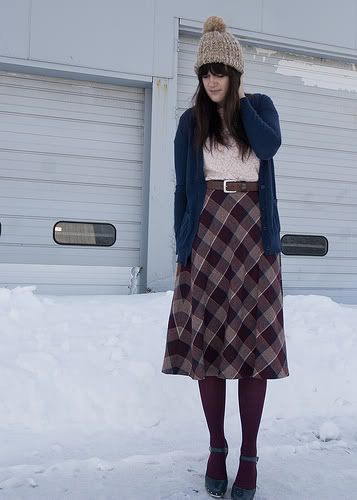 Yeah. Couldn't be more different, right? Well, I thought I had an oatmeal pom-pom hat (which I had stolen from my mother), but I couldn't find it anywhere this morning (maybe I actually gave it back to her??). Then I couldn't find my skinny braided belt, which I needed to match my booties. I decided I couldn't wear my brown plaid skirt again so soon (oh, blogging), so I slapped on this pheasant-feather mini. And basically all that remained as far as similarity to Jen's outfit was the blue cardigan. All this wouldn't have been so bad except that I drove to one photo location, took a few shots, had to hide from the plow, saw an elderly gentleman taking a stroll toward me, and high-tailed it out of there to my other photo location. When I arrived I noticed that my camera was sans battery (it had dropped out somewhere, because the little door that holds my battery in was ruined when my camera fell off the tripod once upon a time). After searching high and low in the new location I returned to the old one and still couldn't find it. I decided that the battery had to be back at the other location so I drove all the way back, put on my gloves, and started groping the ground until--yes!! I found it underneath the freshly fallen snow. It was a miracle, but I was incredibly late to work... so, fail.