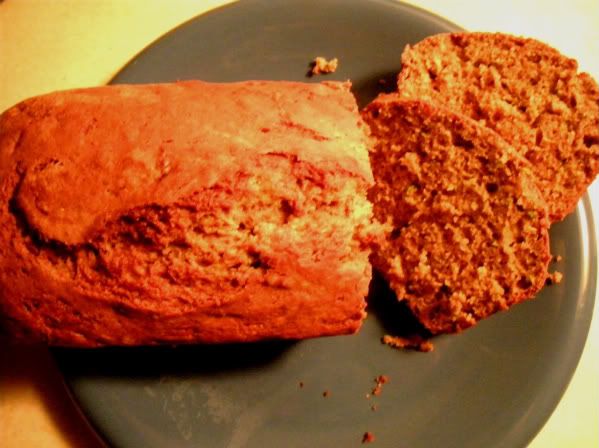 Zucchini bread is an old favorite. I can't even remember when I had it for the first time, but it was definitely on my oft-baked list, even when I rarely baked. I made it several times over the years--most memorably, I attempted to bake a couple of loaves for my college girlfriends one night over Trivial Pursuit and some sort of incredibly delicious blue cocktails (my friend B had just completed a bartending course and we were the lucky guinea pigs) and they were a complete flop... too moist in the middle, dry around the edges, and a funny spongey texture everywhere else. I had no idea what had gone wrong, and still to this day haven't the slightest (at the time I blamed the liquor for befuddling me). Several successful loaves and another brutally awful batch later, I decided that I was in the possession of a magical shiftwitchery recipe, which transformed miraculously in my little black book between each bake. This time, I sought out a new recipe, checked to make sure the ingredients were the same, took note that the quantities of said ingredients were remarkably dissimilar, and whipped up a couple of can't-fail loaves. Sadly, I still managed to fail--after cracking my three eggs into a bowl and whipping them into a frenzy, I discovered that I was somehow out of sugar (and had no neighbor to borrow from) and had to suit up, walk to the market, and pick up a hefty bag of Domino. I picked up a bottle of vodka while I was at it (yes, that's the way I roll).
Ingredients:
3 c flour
1 t baking soda
1/4 t baking powder
1 t salt
3 t cinnamon
2 c sugar
3 eggs
1 c applesauce (or oil)
2 tea vanilla
2 c zucchini (grated)
Directions:
After checking your cabinet for sugar, crack three eggs into a bowl and make them twist and shout.
Pour sugar into egg mixture and stir.
Add applesauce (or oil). I try to substitute whenever possible and save the calories where I can (after all, there is more than enough sugar in here...).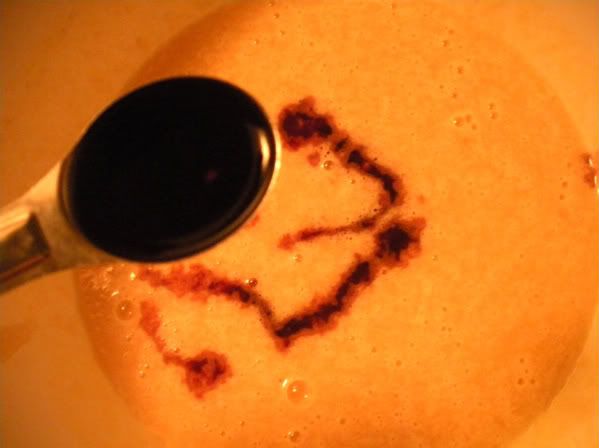 Add vanilla (that sweet-smelling, foul-tasting nectar).
Add flour slowly and stir until well mixed.
(The batter will start to take on that dough-y texture.)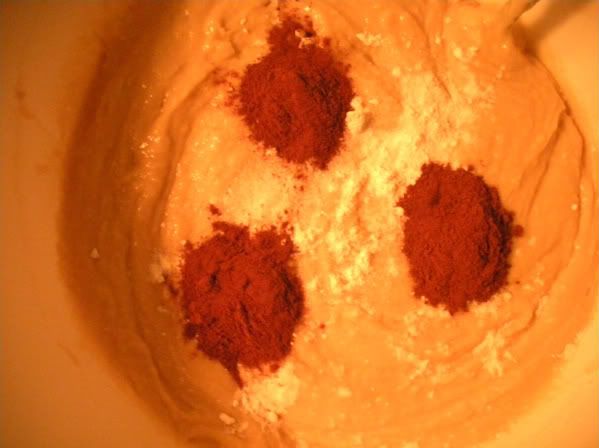 Add your various powders and spices (baking powder/soda, salt, cinnamon) and mix, mix, mix.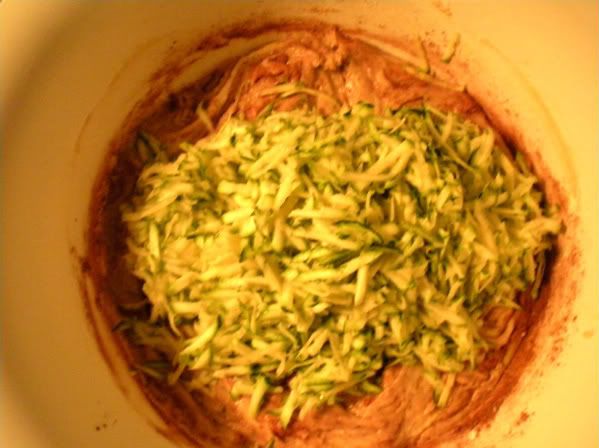 Grate (at least) 2 c zucchini and stir directly into batter until moist.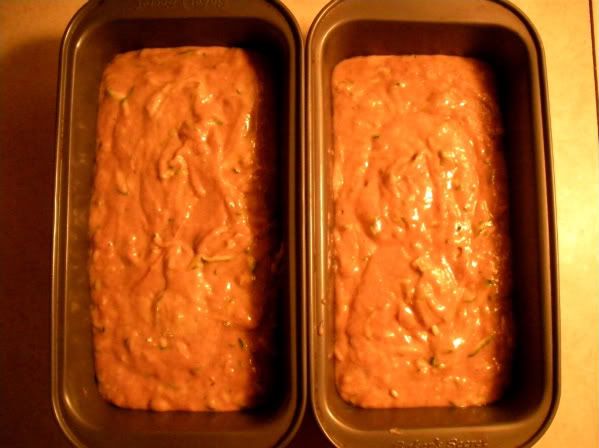 Pour into two non-stick pans. 1 hour at 325 degrees later, your loaves will come out of the oven with a sweet, crisp crust and a moist, chewy center: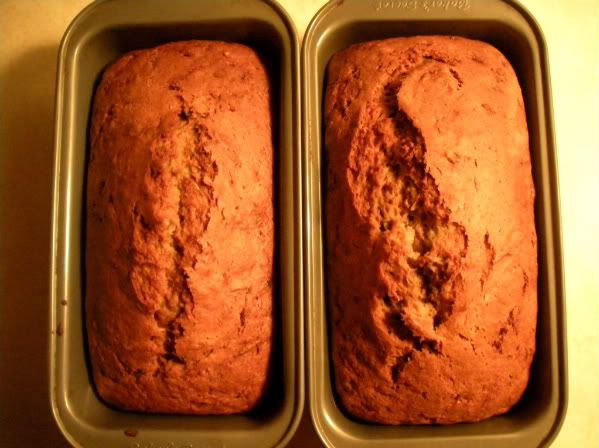 I was so satisfied by my apricot bread breakfast last month that I wanted to make something else as a substitute for my heavy bagel-and-cream-cheese morning meal. I'll bet the bread would also be fantastic in muffin form, but unfortunately I have no muffin tins!
Happy baking! :)