So much for not wearing my mustard cardigan! It's funny because even when cardigans were everybody's go-to in the blogosphere I rarely reached for one to finish off an outfit. But I was a bit rushed this morning and needed a quick burst of color, so voila! Something about this blouse always reminds me of the circus and I have no idea why. Speaking of the circus, has anyone seen Water for Elephants yet? It got pretty poor reviews but I still kind of want to see it... ? At the same time I feel like a movie this epic can't be less than awesome or it's not worth watching. Bad chick flicks, yes, okay.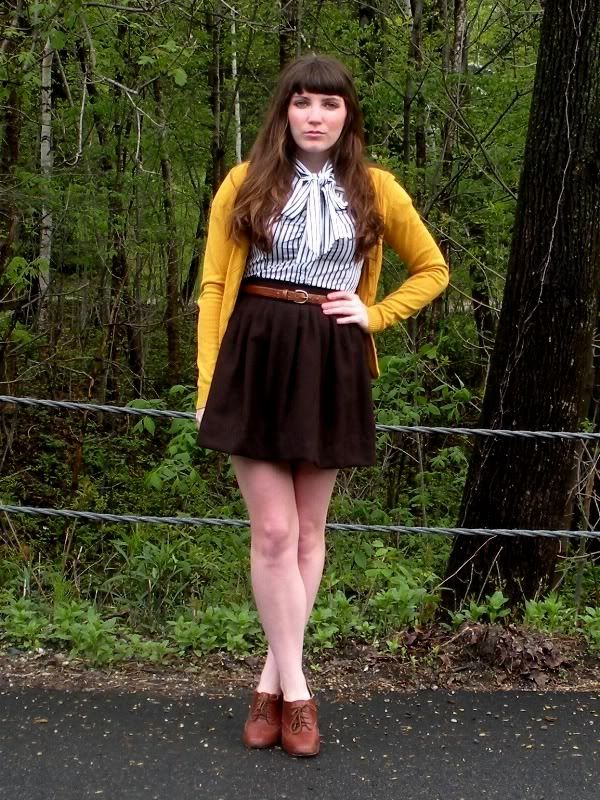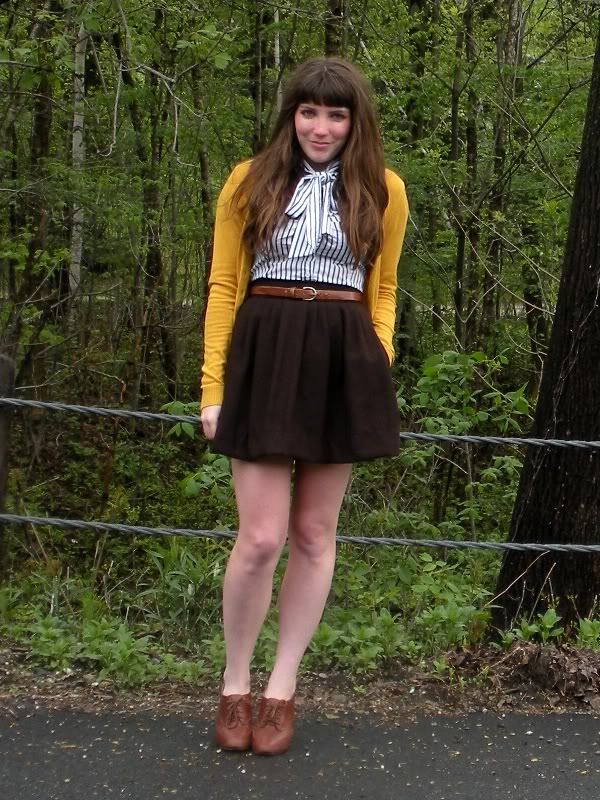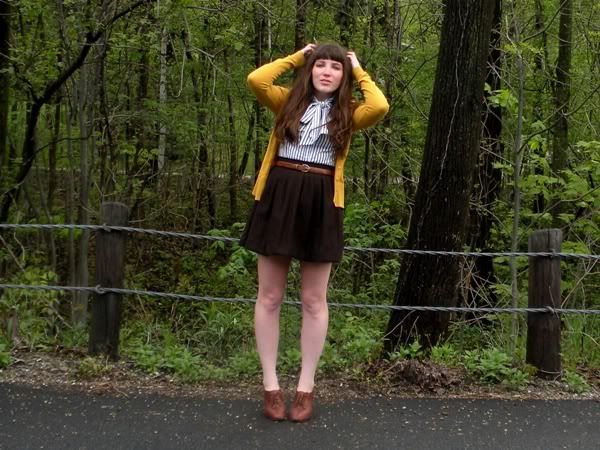 (cardigan: h&m; blouse/skirt/belt: thrifted; shoes: seychelles)
It's pretty amazing how incredibly lush our landscape has gotten because of all this rain. The thick fog and thicker greenery in the mountains makes me feel like I'm living in a rainforest. I'm not feeling very chatty today, and hardly introspective, despite the fact that I sat through a four-hour leadership training course today and discovered that I have an INFP personality type.
INFPs are usually talented writers. They may be awkward and uncomfortable with expressing themselves verbally, but have a wonderful ability to define and express what they're feeling on paper. INFPs also appear frequently in social service professions, such as counselling or teaching. They are at their best in situations where they're working towards the public good, and in which they don't need to use hard logic.
Amen. This description of me is almost as spot-on as my Scorpio sun sign. Also:
INFPs present a calm, pleasant face to the world. They appear to be tranquil and peaceful to others, with simple desires. In fact, the INFP internally feels his or her life intensely. In the relationship arena, this causes them to have a very deep capacity for love and caring which is not frequently found with such intensity in the other types. The INFP does not devote their intense feelings towards just anyone, and are relatively reserved about expressing their inner-most feelings. They reserve their deepest love and caring for a select few who are closest to them. INFPs are generally laid-back, supportive and nurturing in their close relationships. With Introverted Feeling dominating their personality, they're very sensitive and in-tune with people's feelings, and feel genuine concern and caring for others. Slow to trust others and cautious in the beginning of a relationship, an INFP will be fiercely loyal once they are committed. With their strong inner core of values, they are intense individuals who value depth and authenticity in their relationships, and hold those who understand and accept the INFP's perspectives in especially high regard. INFPs are usually adaptable and congenial, unless one of their ruling principles has been violated, in which case they stop adapting and become staunch defenders of their values. They will be uncharacteristically harsh and rigid in such a situation.
TMI about me for a Tuesday afternoon? I just find all forms of psychological stereotyping endlessly fascinating, probably because they always seem to validate all of my eccentricities. What about you? Do you think that your zodiac sign is a good match? Do you know what your Briggs-Myers personality type is (check it out here if you want to know)? Or are you not that inward-reaching?
Embarrassing moment of the morning: Checking a close-up of my mug on my camera and seeing a car's headlights waiting patiently within the frame.