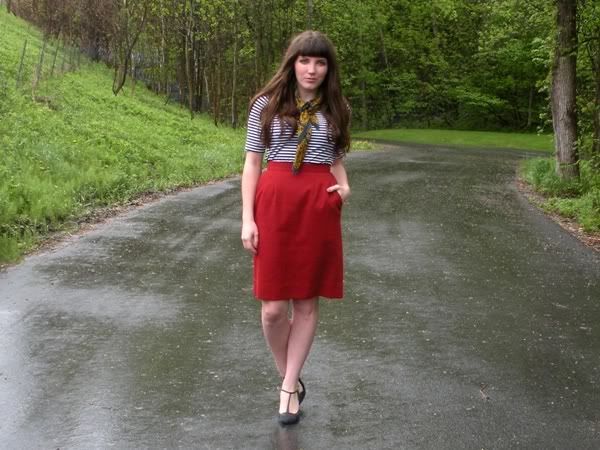 Sometimes I get a bit bored with everybody wearing stripes and going nautical all over the blogs at this time of year, and here I am joining the ranks. But it can't be avoided, stripes are just awesome.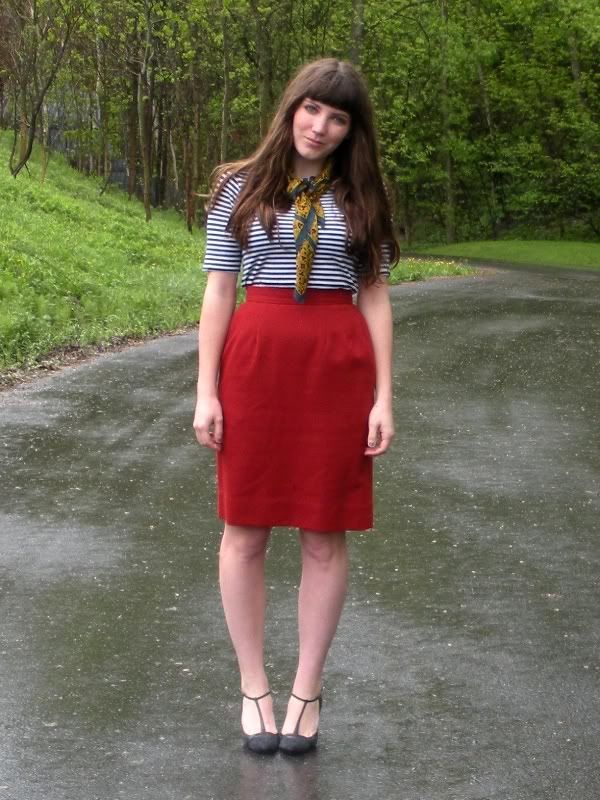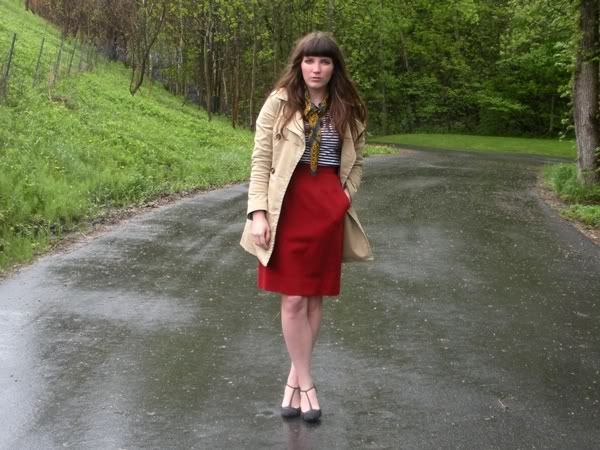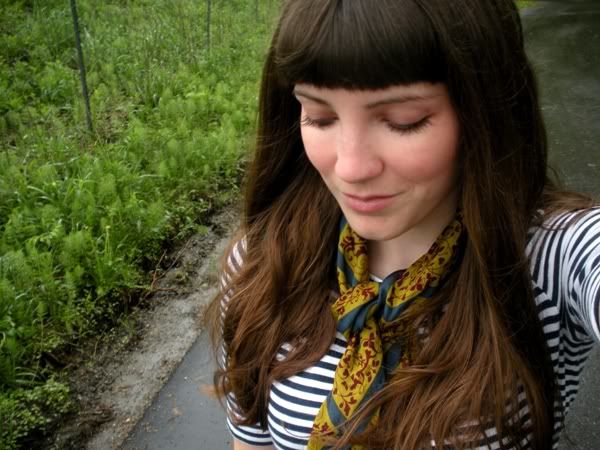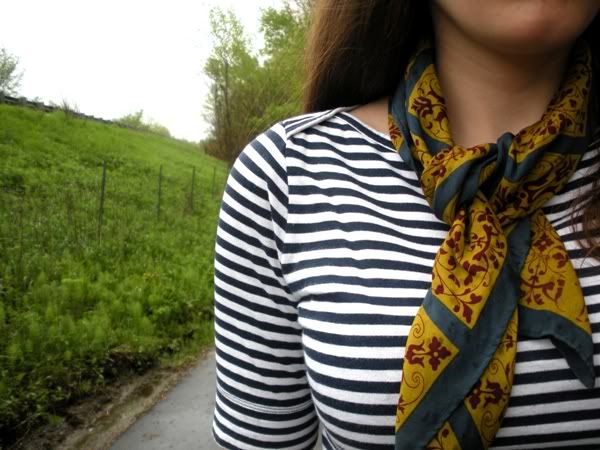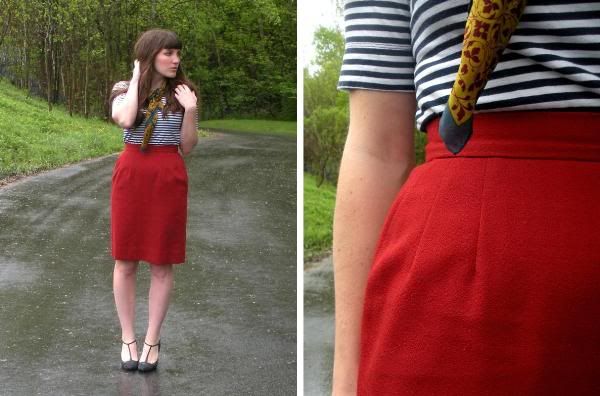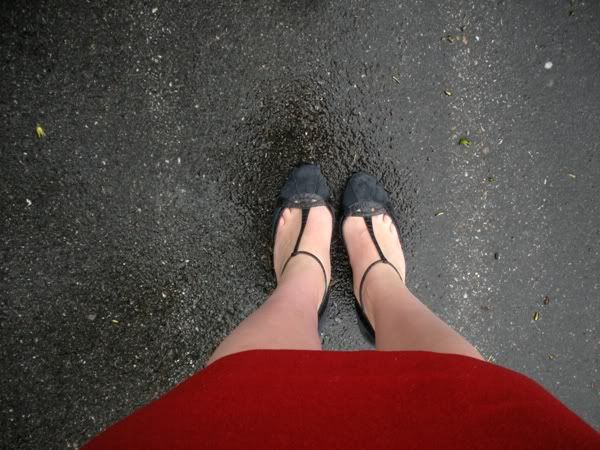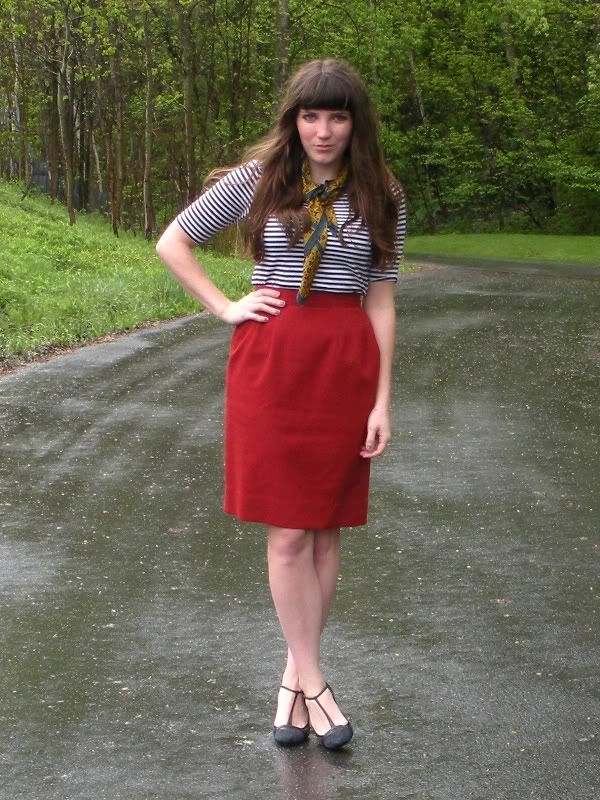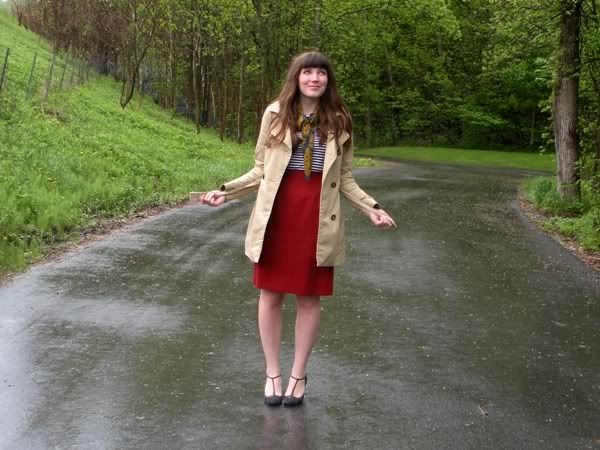 (dress: old navy; skirt/shoes/scarf: thrifted; trench: h&m)
I bought this skirt weeks (months?) ago at Goodwill and planned to shorten it but have been too lazy lately. I do like the length, it just feels a bit like a wall of fabric on my small frame. The color here looks more red that it really is--it's more of a rust/burnt orange, which is one of my all-time favorite fall colors (but since it's not fall, I suppose the redder the better on ye olde blog). I feel like it's silly of me to want to shorten it, especially with the current midi/maxi trend in full force, but I know I won't get much wear out of it if I let it hang around my knees. We'll see. I might just never get around to it.
And I love these shoes. I can't believe they were $3, and in such perfect condition! I've mentioned before that I am definitely a shoe girl (and maybe a scarf girl). While some collect bags or jewelry, I hit the shoe rack. And we gals all know that shoes are always your friend--when you're having an off (read: fat) day and nothing seems to fit right, you can always find a pair of shoes that fits perfectly, elongates your legs, and make you feel lovely. That said, I think these are the most flattering shoes I own. They make my feet look so dainty and ladylike (which is not something that people generally say about my feet--K calls them my "flappers"). Thank heavens for the t-strap. It's just as slimming as the vertical stripe :)
Also, I'm so glad I posted about Myers-Briggs! It's been really interesting to hear what all of your personality types are :) I feel like I know so much more about you now! (PS: whoops on not posting yesterday... I rolled out of bed at the exact moment that I should have been rolling out of town in my car, and outfit photos just were not part of the picture.) PPS: Last night I watched "Somewhere" and totally loved it. I basically want to be Sofia Coppola.