I'll admit, I've never been much of a neon girl. Whenever I see acidic citrus on the runways I groan inwardly to myself. It's just not my style, really. Maybe it has something to do with my skin tone--I'm pale, so neons can make me look sickly (at least, that's the effect I imagine them to have). However, as I was reaching for my safe and overworn mustard cardigan this morning, my fingers brushed against this chartreuse cropped number and I decided that such a brilliant bright color would be perfect on such a dismally dreary day. Mustard is so autumnal, and this alternative is much more springlike. However, since it is so blindingly bright and the florals on my dress are rather subdued, I neutralized it with greys.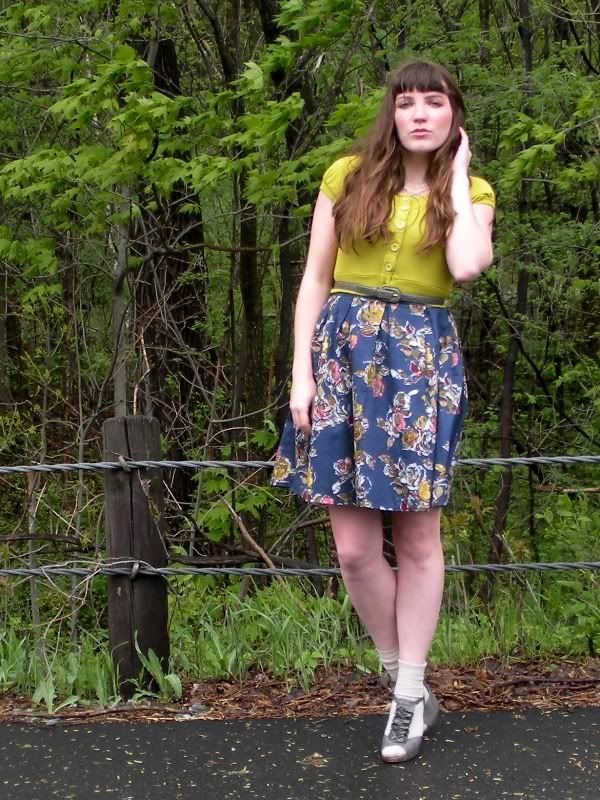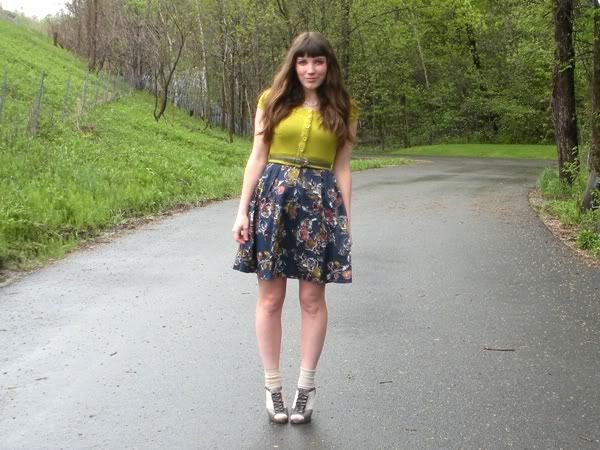 (cardigan: tjmaxx; dress: uo; belt: thrifted; shoes: madden girl; crystal necklace: antique)
So it literally rained nonstop all weekend and is supposed to continue all through the rest of the week and next weekend. Boo. After dropping K off at the airport on Saturday afternoon :( I basically went home and watched movies and read for the remainder of the weekend. It was nice but I would have preferred to lay outside in the sunshine. It's been really weird not having any sort of contact with K since he arrived in Oregon (his grandfather lives in the middle of the woods with no cell service), and even when we were apart last Christmas and I was staying with my parents (no cell service in their neck of the woods, either) I didn't feel like a guest so using the landline all the time was an easy alternative. It's very interesting how, in the age of modern technology and constant connectivity, I feel a little bit panicked knowing that I can't even shoot K a text to ask if the heat will definitely stay off while he's gone (I don't know how to work that thing and I poured nail polish remover on the carpet near the baseboard this morning...) or to say goodnight. Or maybe I should just learn how our heat works. That might be the best solution. Actually, the best solution would probably be not to spill nail polish on the carpet in the first place, but that sort of behavior can't be helped because I am the Queen of Klutz.
Anyway, it's a new week, I'm wearing a new color, and I'll hopefully be able to take some time today to catch up on commenting and whatnot after being absent from the blogosphere all weekend (as I tend to be). Thanks for being awesome, guys! Happy Monday :)