Ohhh Tuesday. I really need to do laundry. I haven't done a load since K has been gone (which works out to about two weeks!) because I can't be bothered to go to the laundramat by myself. I hate the laundramat with a fiery passion, and it doesn't help that I have to pay hard earned money to power the machines and drive 20 minutes out of my way to get to the damn place. Not happening. Anyway, this is the sort of crazy outfit that comes out of my laziness.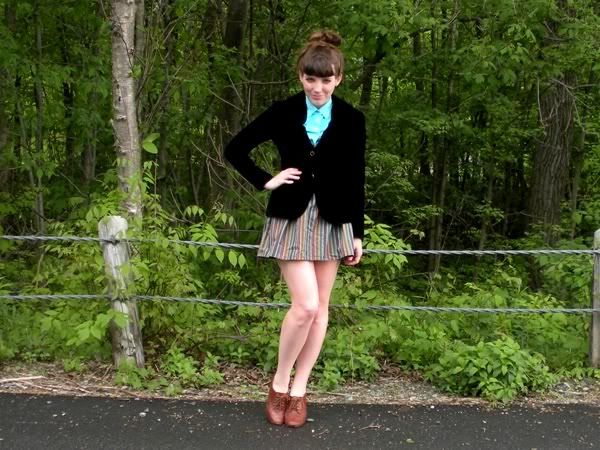 (blazer: antique shop; skirt: forever 21; blouse: thrifted; shoes: seychelles)
I love this blue velvet blazer but find it impossibly difficult to style. I have a habit of collecting blazers and then never really wearing them because they don't really fit into my wardrobe--if I were more inclined to menswear this would be great, but I'm really just not. This skirt was another questionable purchase because it also doesn't really seem to have a home in my closet, but I still like it. Man, I'm feeling hard to please today.
One thing that does please me: I'll be hosting my very first giveaway tomorrow, courtesy of Shabby Apple! Yay! Stay tuned...