Firstly, let me state for the record: I have never really been one to participate in "theme" days. Even when I was on student council in High School and it was our job to organize said theme days during spirit week I often just showed up in my everyday garb. I did, however, dress "crazy" on the last day of senior year... I think I have photos somewhere that I should probably try to dig up (think knee-high rainbow-striped toe socks, enormous silver platform mary janes, a purple wrap skirt, and my then-favorite hairstyle: double buns). Anyway, due to the insane thunder-and-lightning, tornado-watch, flash-flood sort of weather we've been having (many people couldn't make it in to work today because so many roads are closed due to flooding), my supervisor suggested we have a Hawaiian shirt day. I decided to take on the challenge. This shirt is the closest I could get :)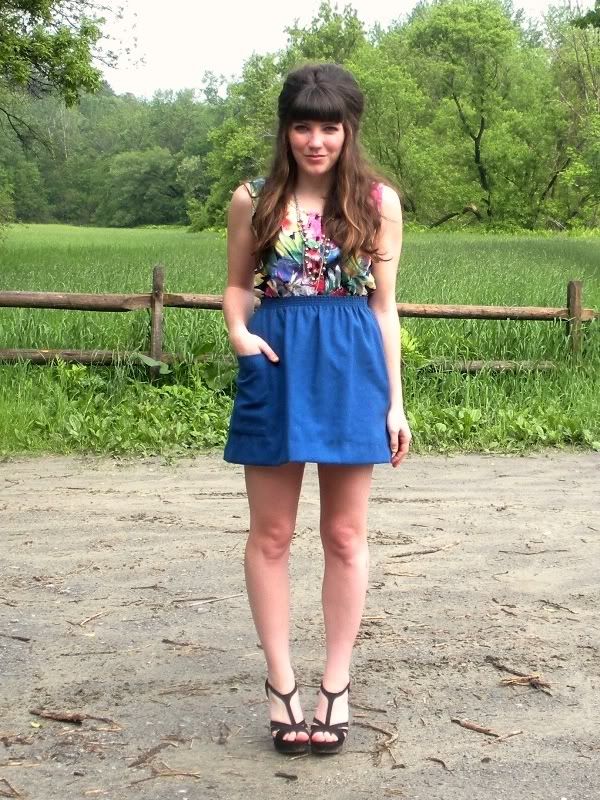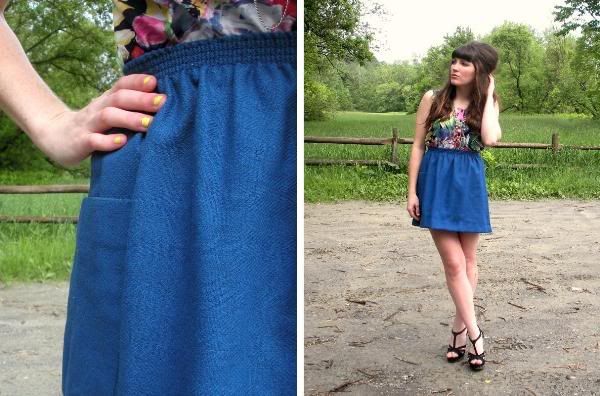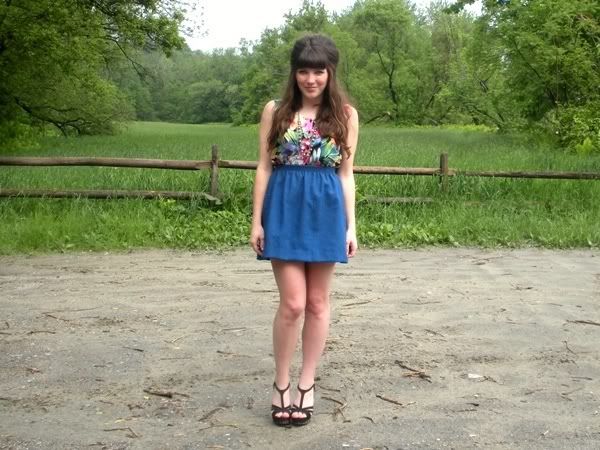 (skirt/shirt: thrifted; necklace: forever 21; shoes: charlotte russe)
Now, all was well, and I was on my way to work in my "Hawaiian shirt," when I noticed my car was making stranger sounds than usual (but didn't think TOO much of it because it always makes pretty strange sounds). I pulled off in what I recently decided would be my new photo location (you like?) and noticed that my tire was in fact smoking like a BBQ on Memorial Day Weekend (this one! any plans?). I freaked out just a little (I have a phobia of smoke and cars because of that one time K and I burned my parents' car to a crisp at Cape Cod) and called K to rescue me. It didn't even cross my mind that I had a spare tire in my trunk (things like this never cross my mind in a crisis), which I absolutely could have put on myself, but K drove over and helped me out anyway. I decided I should probably have an extra pair of tire-changing shoes in my car for emergencies, since crouching down in five-inch heels is a bit of a challenge.
Anyway, boo. I'm pretty pissed off, especially since I just bought these tires a couple of weeks ago. Also, I have no idea what happened. Apparently my tire was flat outside my apartment this morning (says my supervisor, who drove by it), so someone either slashed it or I got a flat somehow driving home last night and didn't notice. Either way = lame.
Also, I didn't post yesterday because K didn't get in when he was supposed to on Wednesday night and I had to pick him up yesterday morning. This normally wouldn't deter me from blogging, but I decided to treat myself to Starbucks on the way to the airport and after taking one tiny sip of my steaming chai latte, proceeded to spill the boiling beverage all over myself while driving. Dangerous. I tried to lift myself away from the spill (all the while shrieking and swerving) and ended up getting it all over the backs of my legs and creating the distinct impression that I had urinated all over myself. Anyway, I am so glad it's Friday and that K is home and that I didn't have to go to the hospital for third-degree burns. Still not so glad about that tire situation, however.
Hope your days have been better than mine! Don't forget to enter my
Shabby Apple
giveaway this week! :)