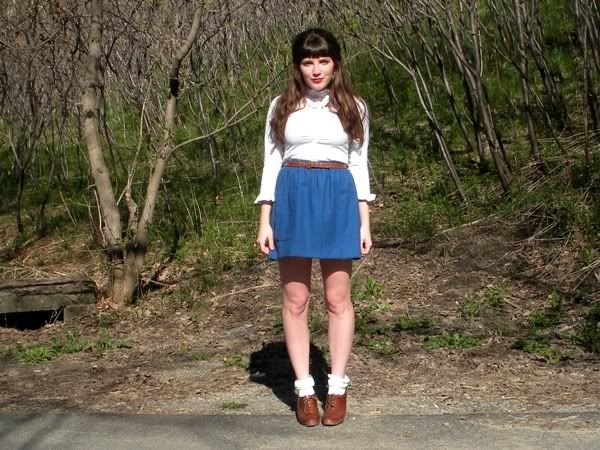 It would seem the time has come to change my photo location. The sun is too bright and too high now, and the trees cast their stripey shadows all over the road I usually stand on. Curses.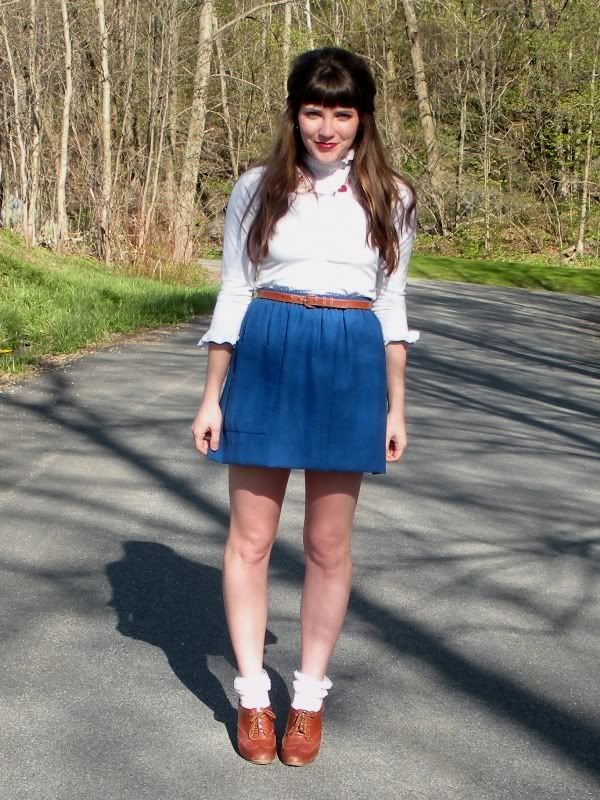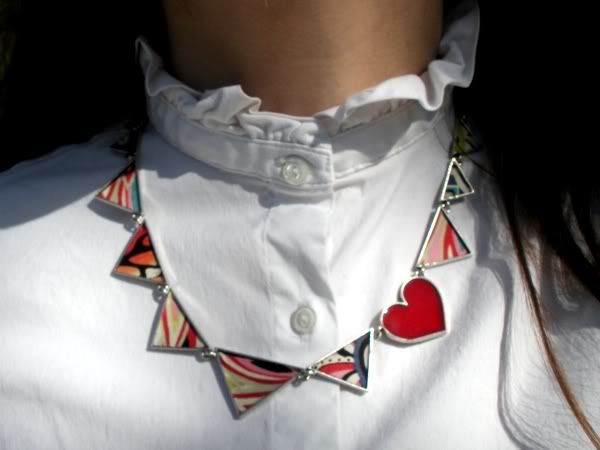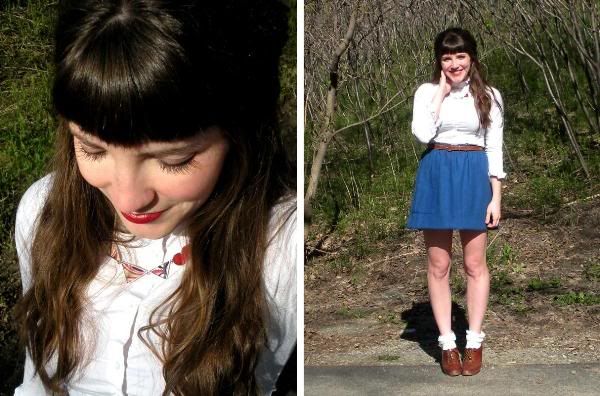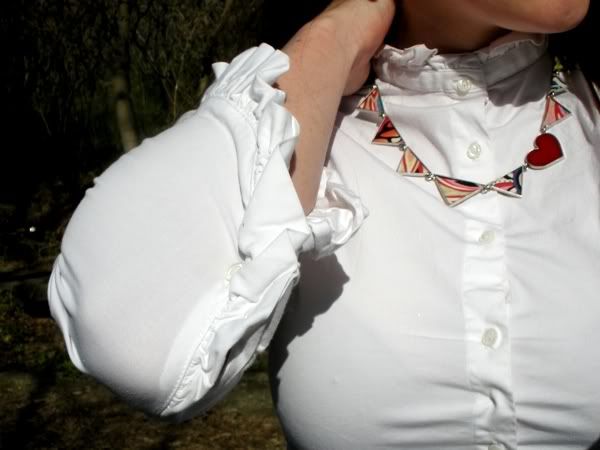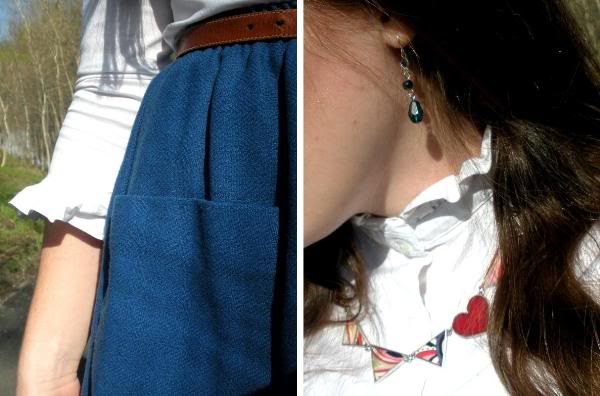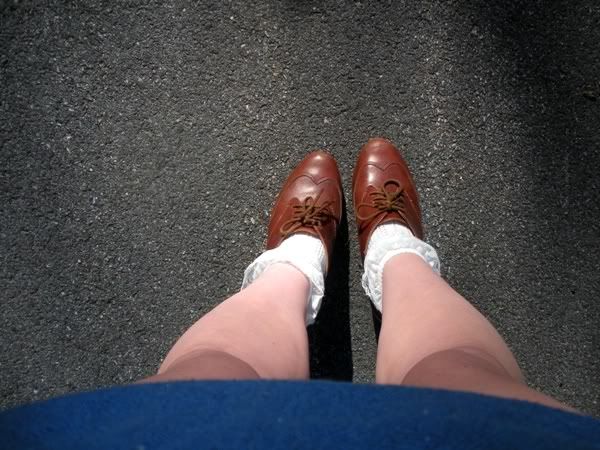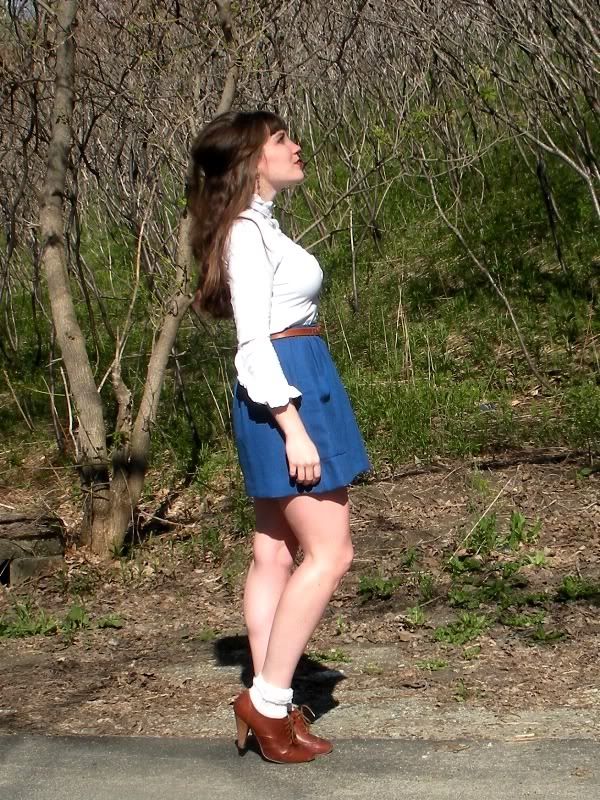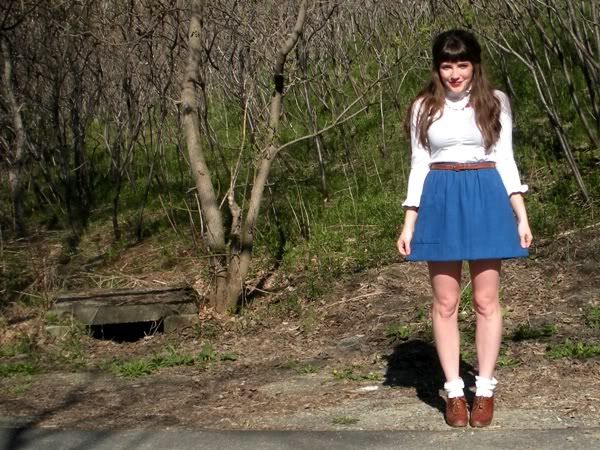 (skirt/blouse: thrifted; socks: uo; shoes: seychelles; necklace: jewelmint; earrings: gift)
Today's outfit is all about ruffles (ruffles on my socks, ruffles on my blouse)! While it's pretty simple, I do like it. And I like that the white blouse nicely showcases my statement necklace. Jewelry and shoes are the only two (material) things that I feel are worthwhile to splurge on. These shoes have been amazing, and while the salty roads rather ruined them, they're still the best shoes in my closet (and fully worth the price tag). And this necklace is a true gem. At $30, it's the most expensive piece of jewelry I own (clearly I am a cheapskate, but that's neither here nor there). I'm too much of a klutz (and too lazy) to spend lots and lots of money on my actual garments. I'm always spilling something or ripping something or refusing to dry clean. But quality shoes and baubles can surprisingly survive my abuse, so I am a convert. Sometimes it does make sense to make an investment :)
So yesterday was pretty miserable and I was pretty grumpy, and after work we had to do laundry. But K was nice and didn't talk to me while I read my back issue of Vanity Fair at the laundromat, and then he went into the grocery store to buy coffee and came out with a surprise box of chocolate covered cherries for me! It's the little things :) My mood was instantly lifted, and I went home and wrote a couple of scenes for my screenplay, drank a glass of wine, and watched Uncorked (which seems to have about five million different titles on IMDB) on Netflix. All's well that ends well, I say.