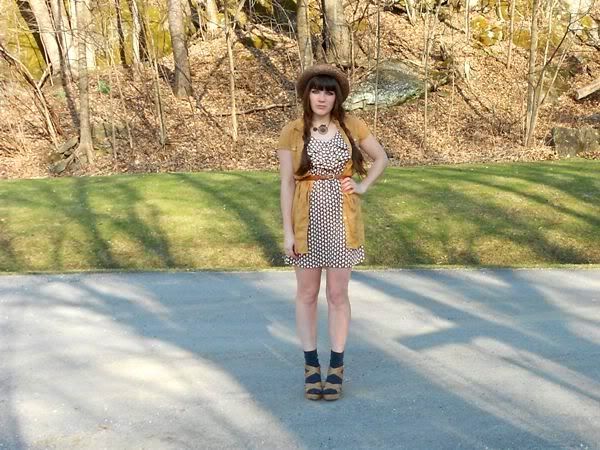 It seems a shame to take photos in the shade when it is so gloriously sunny outside, but the blinding light just isn't working out. There has to be some sort of happy medium, but I haven't discovered what it might be yet. I need a yard.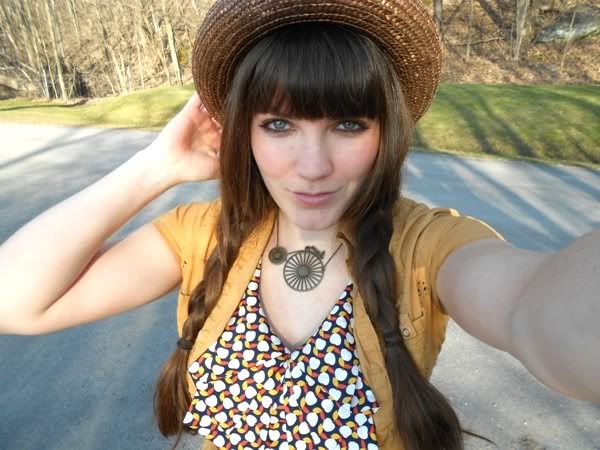 (dress/tunic: tjmaxx; hat/belt: thrifted; necklace: diy; shoes: tilly's)
I received an enormous box of shoes in the mail yesterday--hooray! These wedges are basically meant to replace my
favorite
sandals
from
last
summer
, which are looking a little bit worse for wear (and wedges are more fun anyway, right?). I do have to exchange one pair of the wedges I ordered because they don't fit, even though they were the same size as the other two pairs. Such is life and sizing.
This dress was part of another major haul (I'm buying in bulk lately--whoops), which also resulted in
this dress
. I almost didn't buy it because the apples are rather autumnal, and, well--wrong season. But obviously I bought it anyway. I think I can probably get some good use out of it while it's warm, since it is sleeveless and all, and it will be perfect when autumn eventually rolls around again (as it tends to do).
Hope you're all having wonderful Wednesdays, and that it's as warm where you are as it is here!