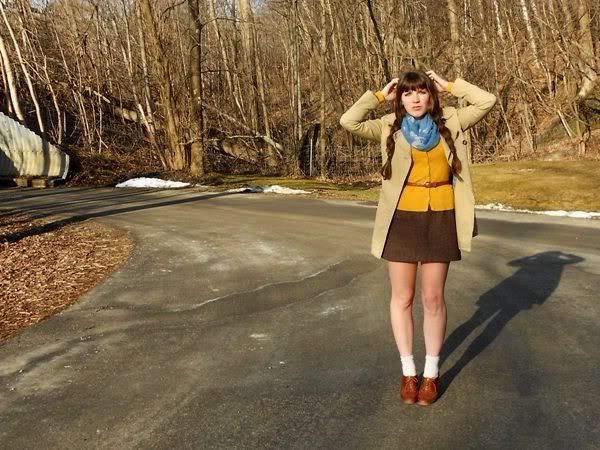 I am fully on board with the novelty prints this year (one of the fabrics I bought a few weekends ago is covered in little ice cream cones and popsicles--could it be more amazing??), and when I spotted this scarf, with little white horses trotting around on it, it had to be mine. I had originally built a very pastel outfit around it, since it's such a lovely light blue, but decided to save that until it's actually spring. The weather has been glorious lately (not that I have had much chance to experience it from my gloomy gray office), and I'm hoping to finally spend some time outside over the weekend.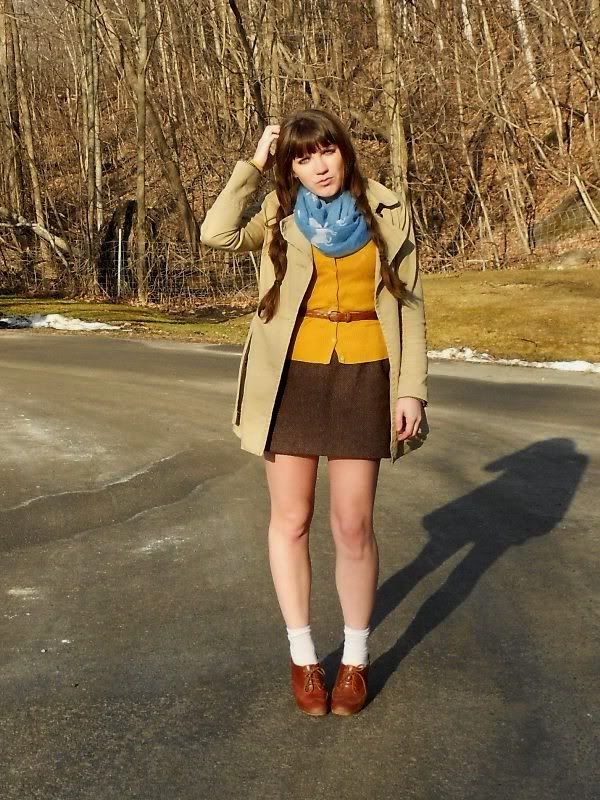 (scarf: tjmaxx; cardigan/trench: h&m; skirt: vintage; shoes: seychelles)
I always look so mean on sunny days... I have a major squinting problem. I even squint on cloudy days! Snow makes me squint, too. What can I say, I'm sensitive to light (but boy, do I love it).
I can't believe it's only Tuesday. Time feels strange lately, like it's rushing and lagging at the same time. I feel simultaneously over- and underwhelmed. Weirdness. Maybe this is what the middle ground feels like. It's been a while since I've felt so content--spring is coming, I'm being creatively productive (it's relative, people), I've been spending time with K, and my family, and my friends, I have summertime adventures to look forward to... life is good.
What are you loving about life today?