Every week I so look forward to Friday. I've been kind of a blog slacker lately, and I almost didn't post today because I overslept (again--I guess that's what I get for staying up until 1 AM, again, working on this silly dress!), but I rallied and here we are. This is the sort of outfit I would have put together a couple of years ago, but it's not really my style. Problem is, "my style" seems to be a pretty simple equation: dress/heels/tights/the end, and sometimes I want to mix it up a bit!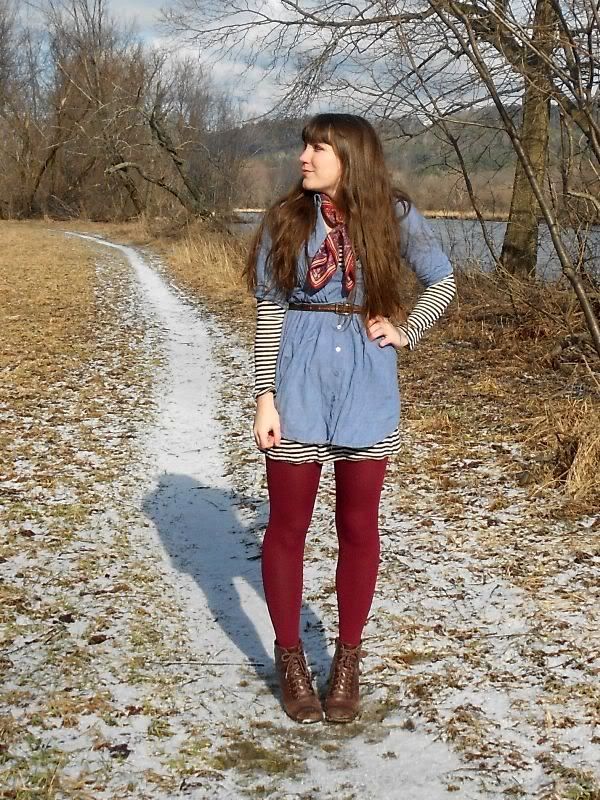 (chambray tunic: tjmaxx; striped dress: zara; tights/belt/scarf: goodwill; boots: seychelles)
The weather has been crazy lately. Must be those solar flares? The temperatures are fluctuating daily between 20s-30s and 50s. Today and this weekend will be cold, but next week is looking verrrrrry nice :) I cannot wait to wear springy outfits next week (and beyond)!
Tonight will probably be pretty low-key. I've been craving French New Wave lately, so I might browse through Netflix to see what Godard films I can find. I'm also hoping to finally finish the dress! (Trouble is, I can't really read subtitles and sew at the same time... I need to brush up on my French!)
Happy Weekends to all!