There is really only one way that I want to wear this dress, and I wore it that way
here
. Sometimes it is difficult for me to force myself to switch it up for the sake of the blog, but I do it anyway. Is that wrong? Has blogging turned me into a remix junkie? Anyway, I do like the way I styled it today, it just feels a little less organic--a little more orphan Annie or something.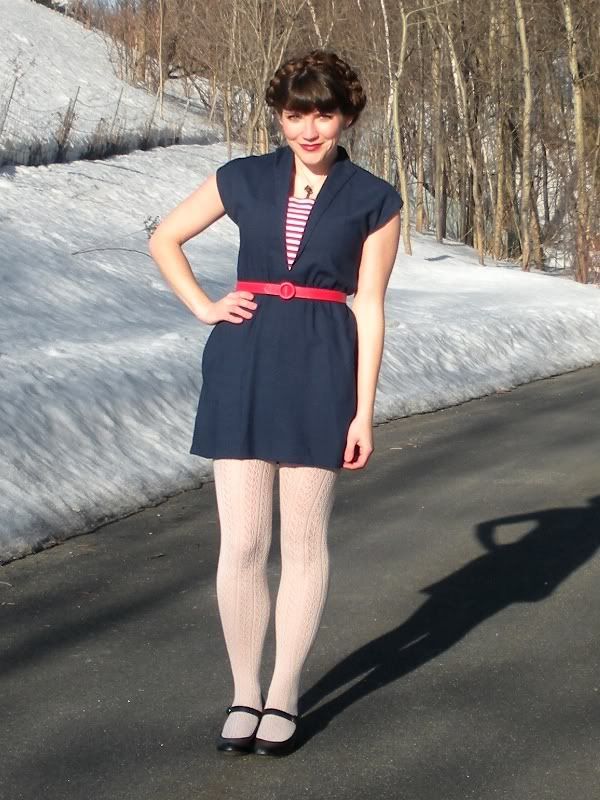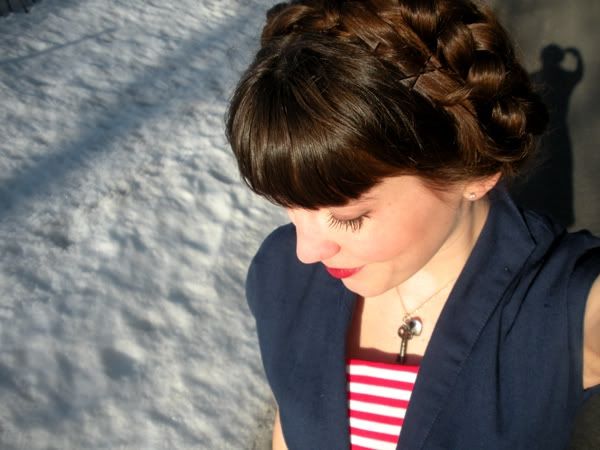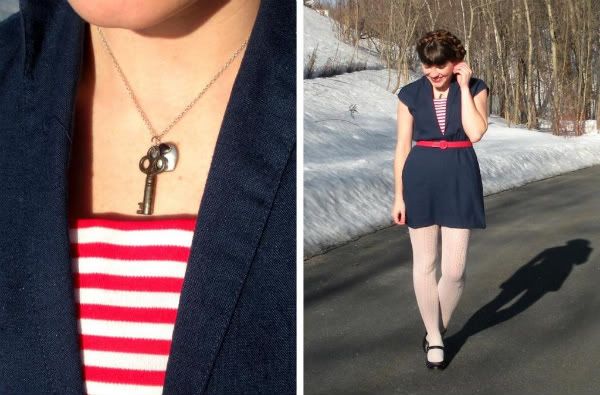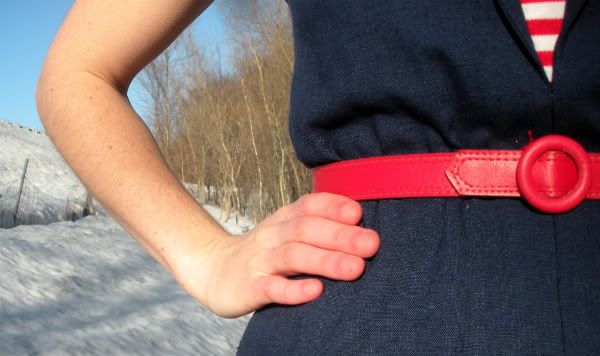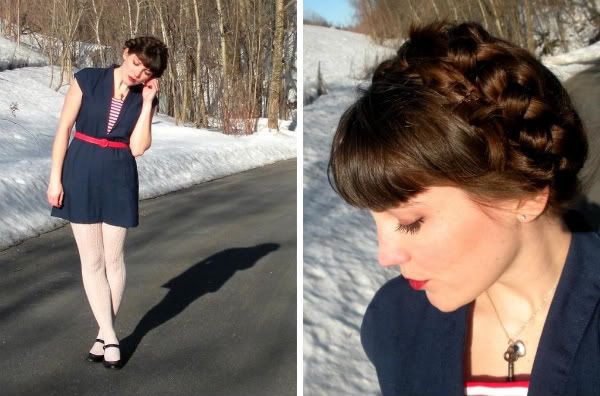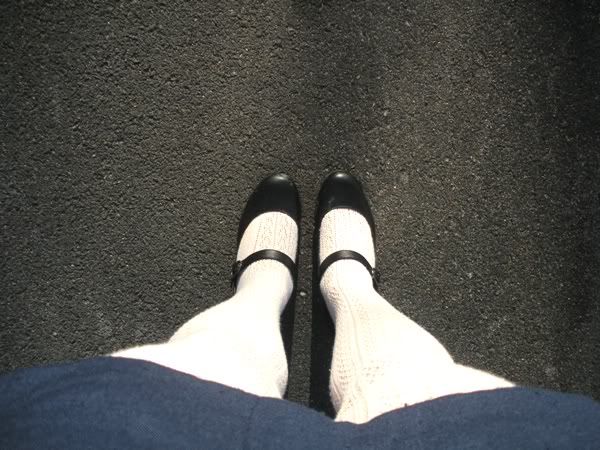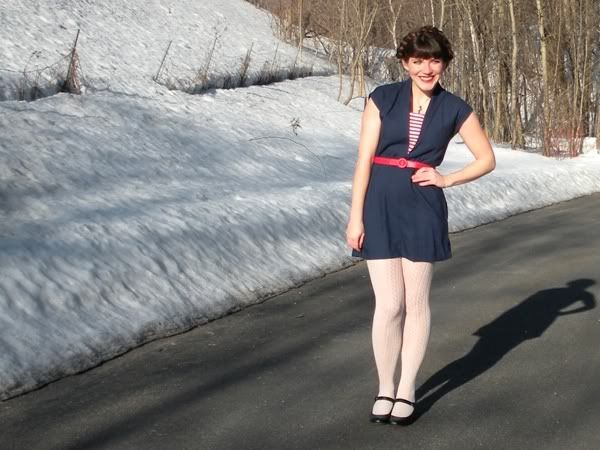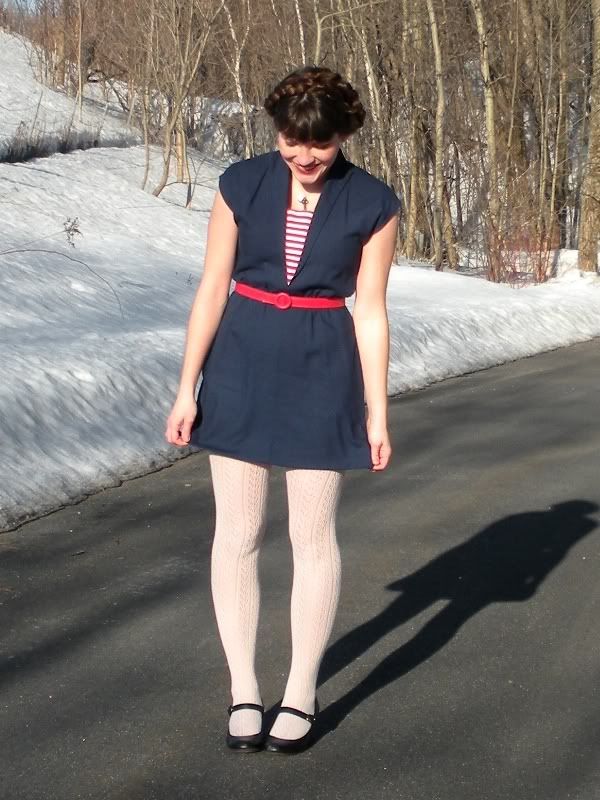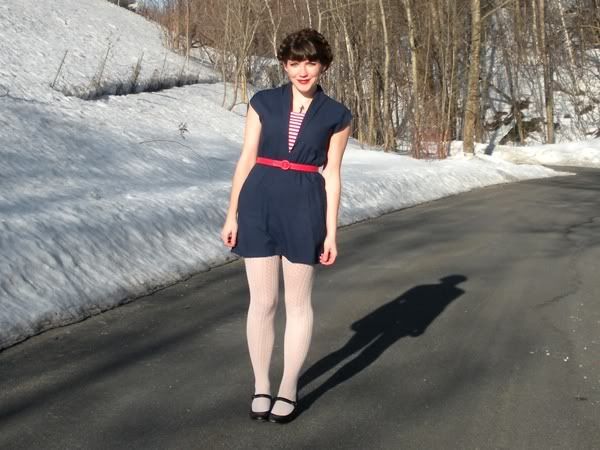 (dress: salvation army [$1!!]; tights: tjmaxx; shoes: payless; necklace: gift from k)
So first of all, did everyone watch
The Bachelor
finale last night? Initially I was shocked and dismayed that Brad chose Emily over Chantal, because she seemed as boring as a block of wood (with the exception of her tragic past). Then I watched After the Final Rose and I totally changed my mind. Emily was talking about how difficult it was to watch Brad and Chantal together because they appeared to be having so much fun and Emily seemed totally boring on her dates. Emily admitted that she probably would have chosen Chantal if she were him, based on what she saw on the show. Anyway, she seemed like a much more complex person in the "after show" than she did on the actual show and Brad is definitely mad about her, which is really all that matters. Also, Chantal already has a new boyfriend and I decided that she basically would "fall in love" with a brick if it gave her the time of day, so I think that Brad made the right decision.
WOW. I cannot believe I wrote an entire paragraph about such a ridiculous show. Moving on...
I have been feeling a serious need to shake things up lately. Like, completely overhaul my life. Months ago I mentioned that I actually really do want to spend a year traveling the world and as of right now I can't imagine any way that can possibly happen. It completely frustrates me. I've thought about getting certified to teach English abroad, and that would be great, but I really want to just travel. I want to see everything everywhere, and everyplace inbetween. Why are these things so impossible? I've also been thinking it would be nice to move back to Ireland for a while--not Dublin, somewhere a little quieter like Cork or Galway. I just feel completely and utterly strapped by my financial responsibilities and shackles are not an appropriate accessory for someone with my insatiable wanderlust. I do feel guilty for wanting and demanding more out of life at a time when so many people have experienced and are currently experiencing such unspeakable tragedy, but these horrifying events serve as a reminder that life really is so short and unpredictable and there is no excuse to waste the few precious moments that we have. The devastation in the past few years is absolutely mind-boggling, and I can't help but wonder if we have brought these terrible storms upon ourselves with our callous misuse of our beautiful, irreplaceable planet. Maybe the Mayans were right.
WOW. Depressing. Sorry, guys. Is that what the world is coming to? Do we need
The Bachelor
to cope with events
like these
?