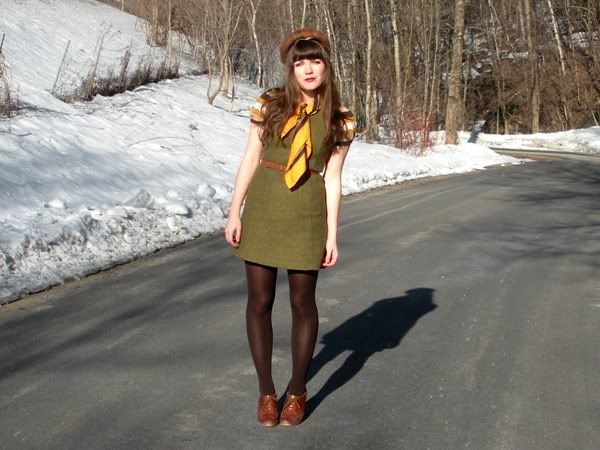 In reviewing these photos I noticed that my hat was exposing its underbelly (how embarrassing...). I'll have to perch it less precariously next time :) Also, the sun was BRIGHT today and I look totally washed out and pasty, so please pretend I don't. That is all.
While I would never attempt such a radical lifestyle change (and wouldn't want to), there are a few things that stuck with me (which I already knew but sort of ignored). For one thing, I produce way too much garbage. This does not mean that I will never get Chinese takeout ever again, because that would most definitely disrupt my quality of life, but (for example) I use one of the provided paper cups at the Keurig machine every single day at work so that I can grab the coffee on my way in the door instead of going back down the stairs after grabbing a mug (plus, let's face it, I don't want to have to wash the mug). I'm lazy. So that's one area where I can cut back significantly. I am also going to (finally) invest in a water bottle, because a) I reuse them all the time and am therefore slowly poisoning myself and b) I eventually stop reusing them and buy new ones. Lots of waste. When my dad and brother put me on the spot and asked me to give up ONE THING or do one thing differently to reduce my carbon footprint at the Climate Change rally earlier this year, I couldn't think of anything. I blame the fact that I can't think when under pressure, but still. Here's my list:
1. Invest in a reusable water bottle
2. Bring a mug to work for coffee
(and get some exercise going up and down the stairs that extra time)
3. Buy rice, pasta and (maybe, can't commit to this one) beans in bulk from the market
4. Talk to my landlord about setting up a compost
5. Always choose locally produced foods whenever possible (I already buy local eggs and bread, but could be better about buying local produce, especially during the summer)
What about you? Any suggestions for reducing our daily waste? Reducing is the first step (reuse is the second, which we thrifters are excellent at)!