From Bantry Bay up to Derry Quay
And from Galway to Dublin town
No maid I've seen like the sweet cailín
That I met in the County Down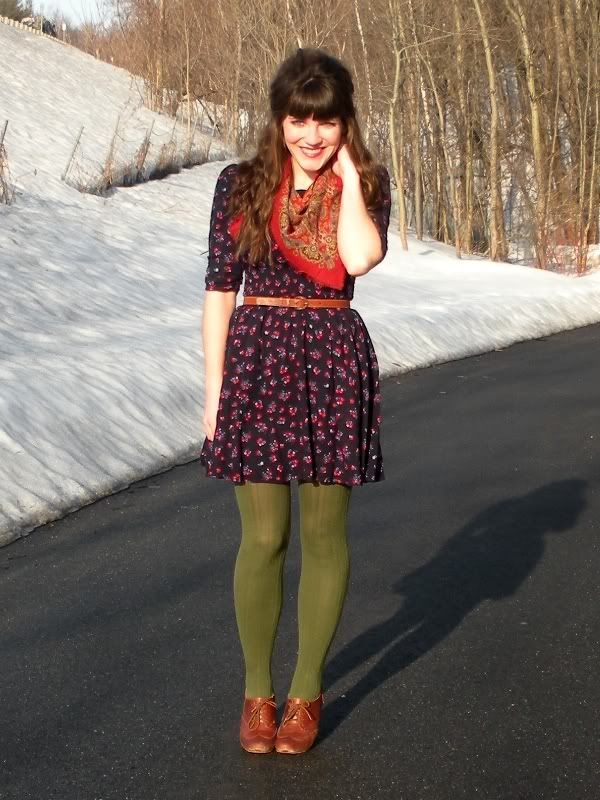 Near Banbridge town, in the County Down
One morning last July
Down a bóithrín green came a sweet cailín
And she smiled as she passed me by.
She looked so sweet from her two bare feet
To the sheen of her nut brown hair
Such a coaxing elf, sure I shook myself
To make sure I was standing there.
As she onward sped I shook my head
And I gazed with a feeling rare
And I said, says I, to a passerby
"Who's the maid with the nut-brown hair?"
He smiled at me, and with pride says he,
"That's the gem of Ireland's crown.
She's young Rosie McCann from the banks of the Bann
She's the star of the County Down."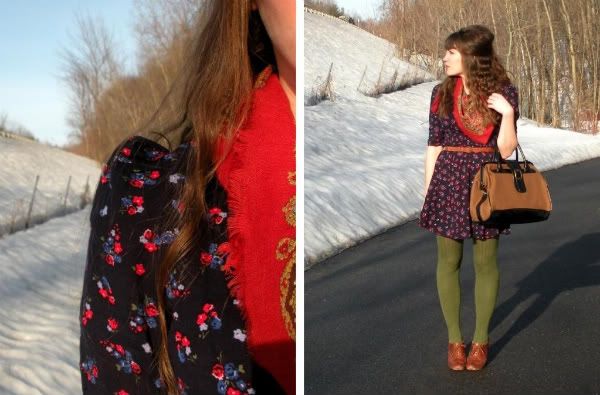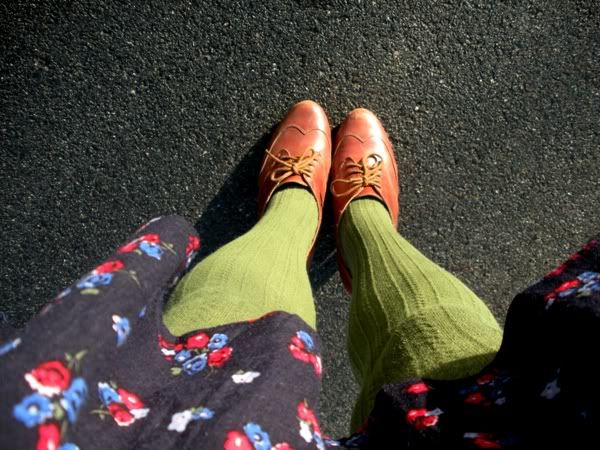 I've travelled a bit, but never was hit
Since my roving career began
But fair and square I surrendered there
To the charms of young Rose McCann.
I'd a heart to let and no tenant yet
Did I meet with in shawl or gown
But in she went and I asked no rent
From the star of the County Down.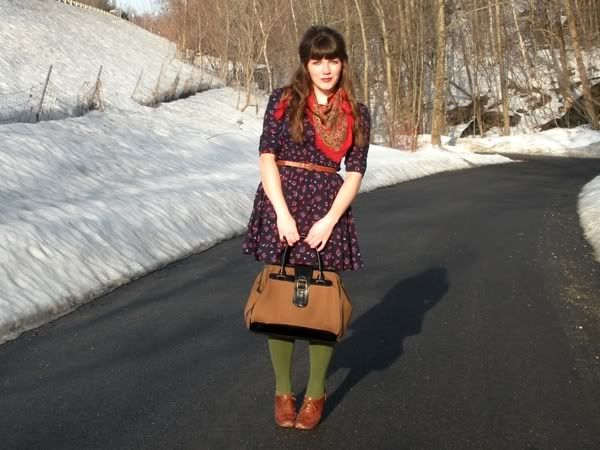 At the crossroads fair I'll be surely there
And I'll dress in my Sunday clothes
And I'll try sheep's eyes, and deludhering lies
On the heart of the nut-brown rose.
No pipe I'll smoke, no horse I'll yoke
Though with rust my plow turns brown
Till a smiling bride by my own fireside
Sits the star of the County Down.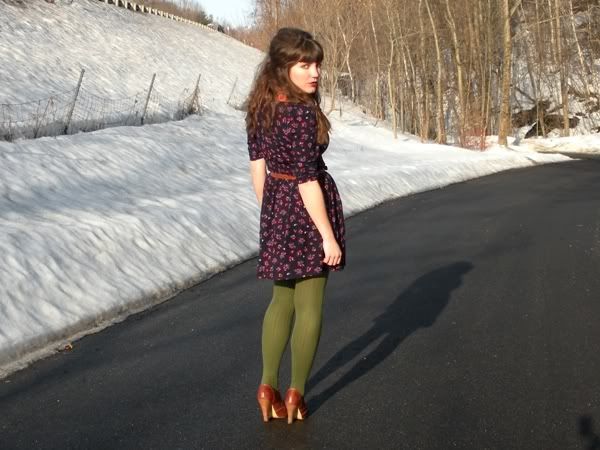 From Bantry Bay up to Derry Quay
And from Galway to Dublin town
No maid I've seen like the sweet cailín
That I met in the County Down.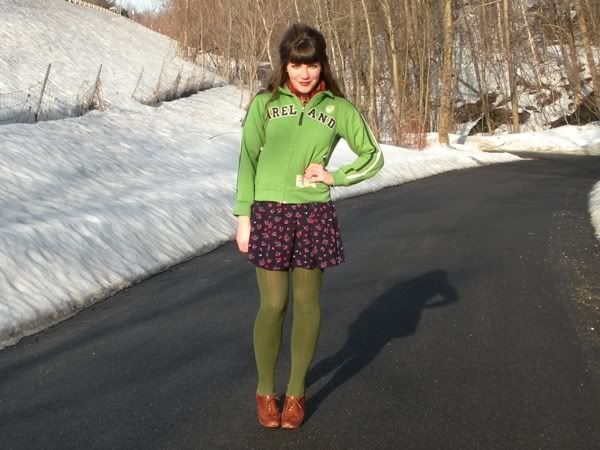 (dress: forever 21; tights: gap; shoes: seychelles; scarf/belt: thrifted; sweatshirt: irish tourist shop)
So this outfit is perhaps more gypsy-folk than Irish-folk, but no matter... I've got a little green going on, which is more than I can say for
last year's ensemble
. I thought I should probably wear my Ireland sweatshirt for at least one photo, since I found it in a bag of my old clothes last week (pretty timely). When
our semester in Dublin
was over, my friend Olya and I bought matching sweatshirts (hers was like this but dark green) and took a bus across the country, visiting Sligo, Cork, and Galway (where I promptly had my wallet stolen with my temporary passport inside [since it had originally been stolen in Rome] and spent the rest of the trip crying on the phone trying to find a way to get on an international flight without a replacement).
The lyrics in this post are from my new favorite song in our repertoire. Tonight's
the big night
! I'm hoping to finagle some video out of the show, but knowing me and my family we will be way too disorganized to manage it :)
Happy St. Patrick's Day, everyone!
Sláinte!