At the neighborhood market there is a big old jar full of coconut macaroons (you know, one of those jars that hold assorted candies in candy shops). I have been craving coconut like crazy lately (maybe because I've been craving Thai food), so last weekend I grabbed a couple on my way out the door. (Well, I also paid for them. What do you take me for?) I asked K if he wanted to try one and he made all kinds of grossed-out noises (blech and yuck and the like) because he thought they were macarons, and he doesn't like those. (I admit, it is rather confusing. I explained to him that macarons are the trendy little cookies that have replaced cupcakes as the cool new treat. I also told him that they were trendy because they could be made in all kinds of delicious different flavors--like cupcakes. I know an awful lot about confectionary trends.) Anyway, long story short, he tried a macaroon and was much impressed, which inspired me to make a batch (how hard could it be?). It was not difficult, but I did make it a little bit difficult, as I tend to do. I found the recipe on this blog, which I am now in love with.
Ingredients:
3 large egg whites
1 t vanilla extract
3/4 c sugar
3 c sweetened shredded coconut
semi-sweet chocolate chips
Directions:
Separate yolks from egg whites. Add vanilla.


Add sugar.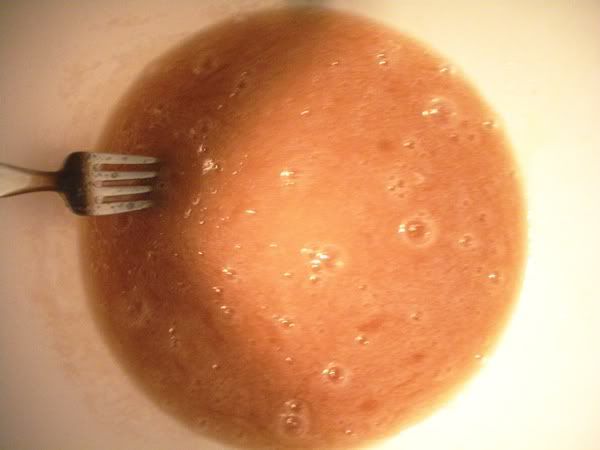 Add coconut.
Line cookie sheet with parchment paper (not wax paper, like I did--maybe no paper at all) and spoon balls of "dough" in neat rows (or messy rows--go crazy!). Bake @ 350F for 10-15 min (I found that 13 was perfect).
While the macaroons cook and cool (allow at least 20 min post-baking to cool), melt semi-sweet chocolate over low heat. I don't have a double-boiler and it works just fine as long as you are attentive and the heat is very low. When macaroons have cooled considerably (I'd recommend letting them set in the fridge for a while), dip the bottom in chocolate and place on wax paper. Refridgerate until chocolate has hardened.


They really are incredibly tasty morsels, and would be good with or without chocolate (but why would you go without?). Next time I will try cooking on the nonstick sheet with no paper, and letting cool a little longer before dipping. This time they started falling apart a little bit and required a bit of manhandling, but they were still delicious!