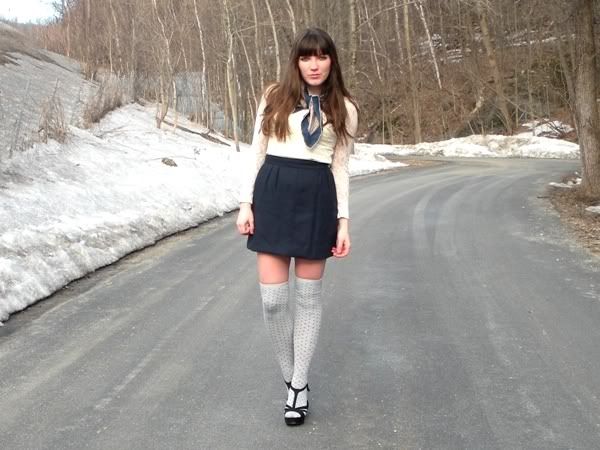 I feel about six feet tall in these shoes. And I like it. It's funny how standing alone on a deserted street in photographs day after day can create a completely deceptive perspective of our true proportions. Blogging does, in a way, lead us to draw comparisons between ourselves and other bloggers, but it simultaneously has the opposite effect because we stand alone on the page. I noticed that a lot of blogger meet-ups there is much mention when bloggers turn out to be surprisingly short, or toweringly Amazonian. In this space, shorties (like me, I'm only 5'2") and Amazons can stand almost on a level playing field.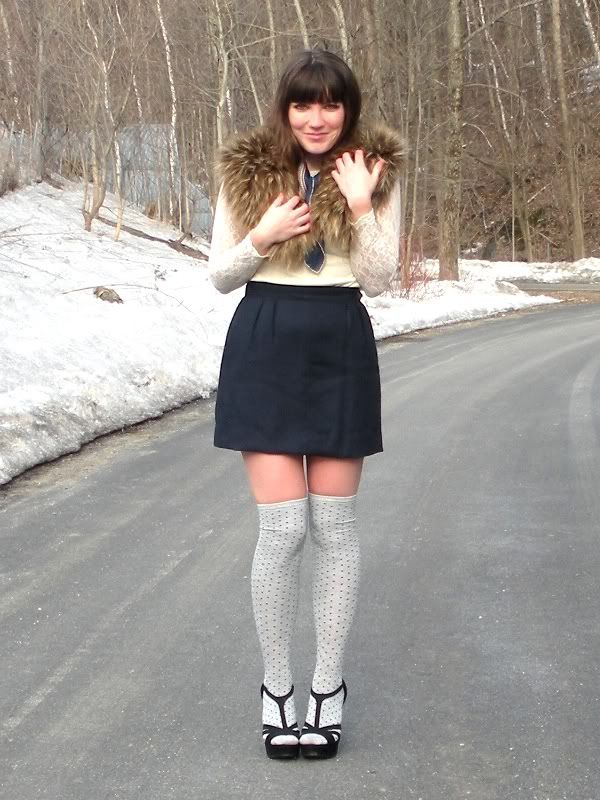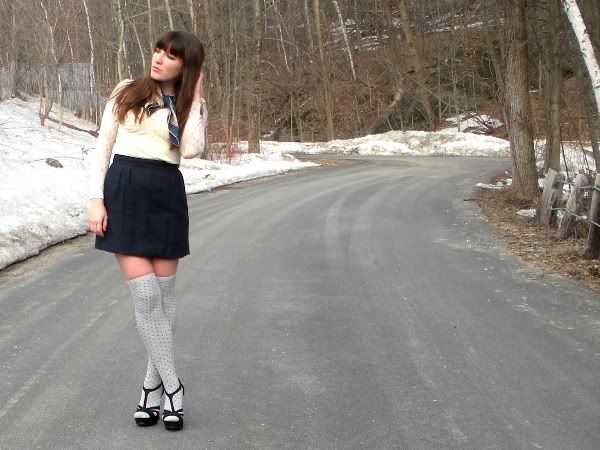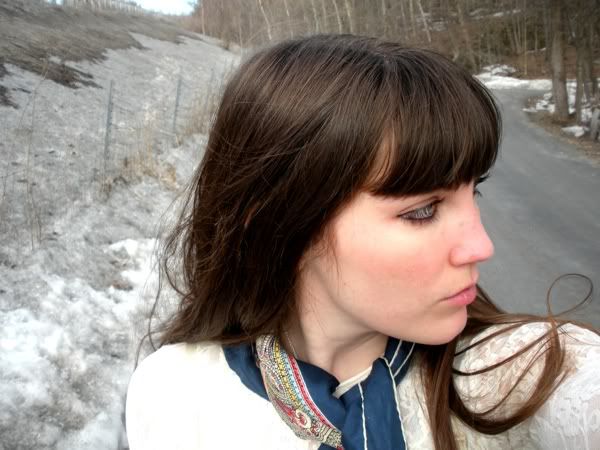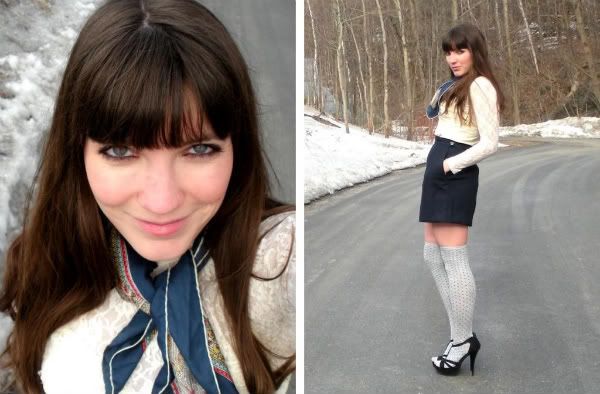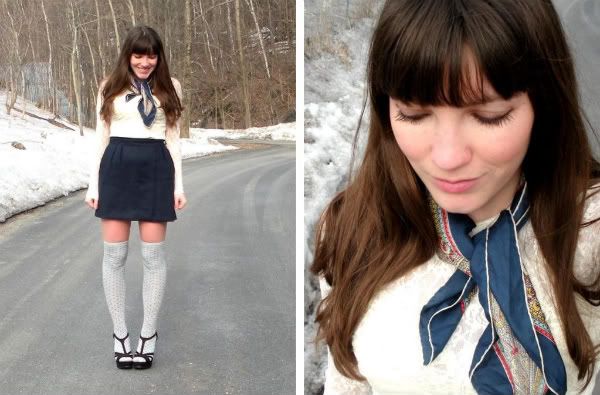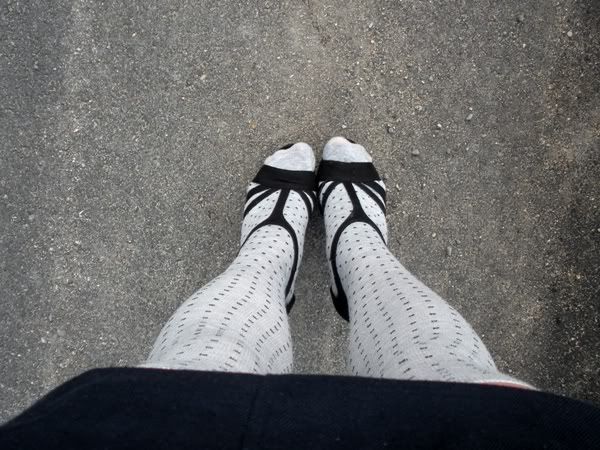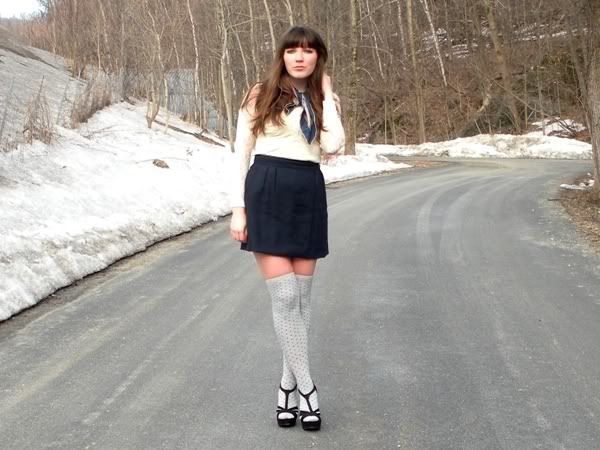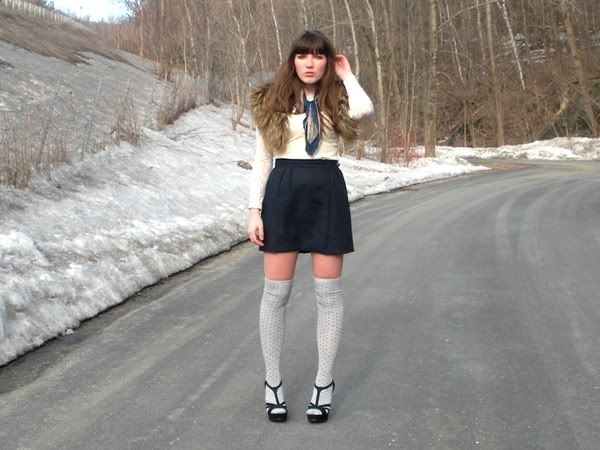 (skirt/lace top/scarf: thrifted; slipdress/socks: uo; faux fur collar: h&m; shoes: charlotte russe)
This skirt is another one of many that I found at Goodwill weeks ago (because navy is the new black) and finally got around to hemming, then finally got around to wearing. It was a debatable length--I wasn't sure if I wanted to cut it or not since midis and maxis are all the rage this season, but (because I'm short) I still feel more comfortable with a mini length, so I cropped away. It's a nice, lightweight material that will transition seamlessly into spring and summer (whenever they decide to show their faces).
Also, holy smokes. I cannot believe that I danced all night in these shoes... I can hardly walk down a set of stairs without feeling like I might lose all feeling in my feet and consequently topple over. It's amazing what a good band and few grilled cheese sandwiches (for fuel) can do to help a girl suppress podiatric pain. Speaking of shoes, I drove all the way to the gym after work last night (which is about half an hour out of the way, all told) before realizing that I had forgotten my running shoes... so. annoying. Of course I promptly went home without a second thought and spent the next six straight hours working on my novel. I was very proud of myself, even if the dishes didn't get done (priorities, people). I was feeling stuck with my tv pilot and I realized it was because it wasn't what I really wanted to be working on... and look how productive I was when I listened to my creative conscience! No forcing, anymore!