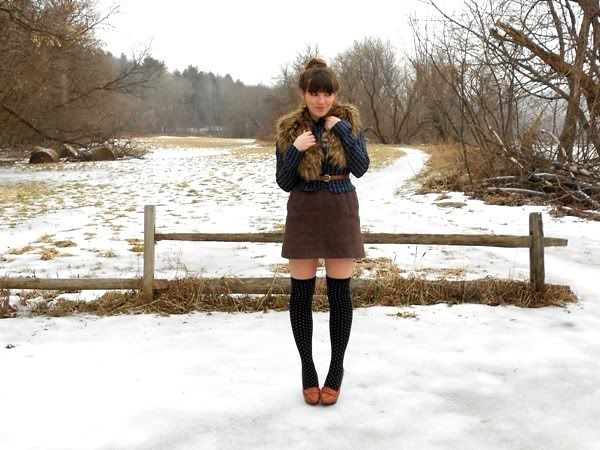 I don't know about where you are, but I can guarantee that no Vermont Groundhog will be seeing his shadow today (but it's quite likely that we will have at least six more weeks of winter anyway, since we always do--although considering how warm it's been lately, maybe we won't!).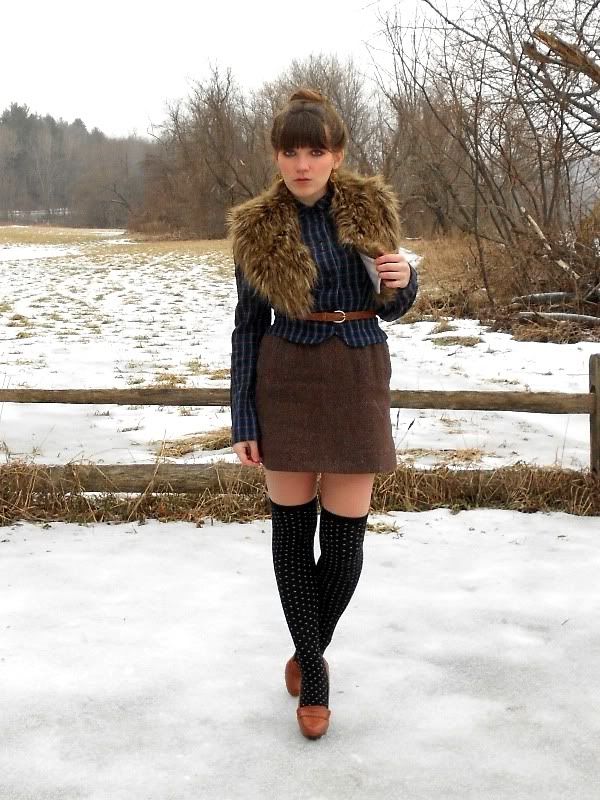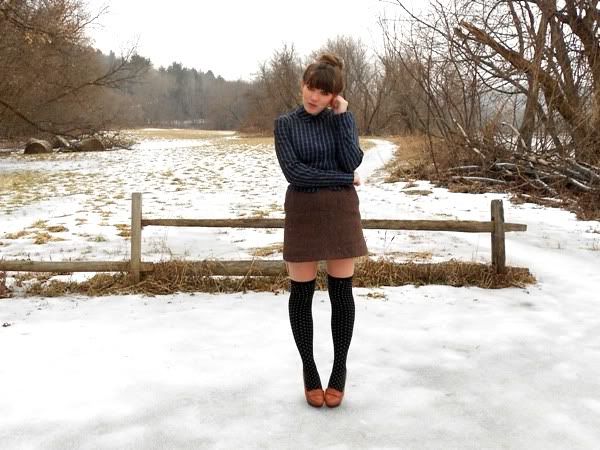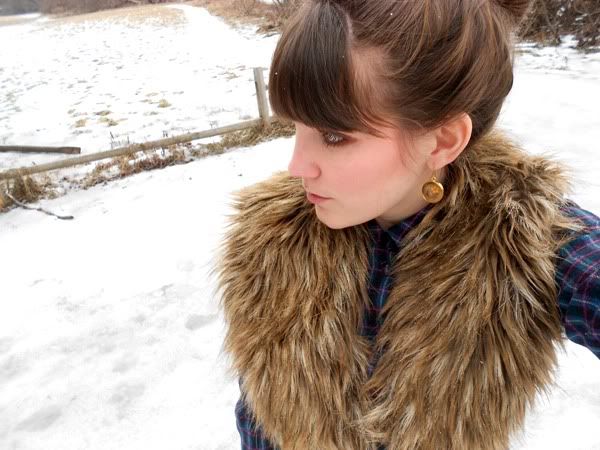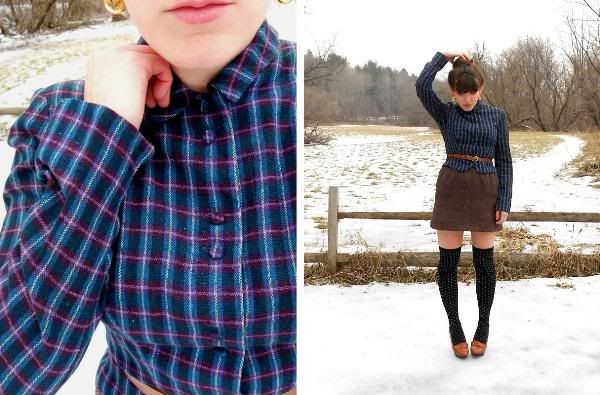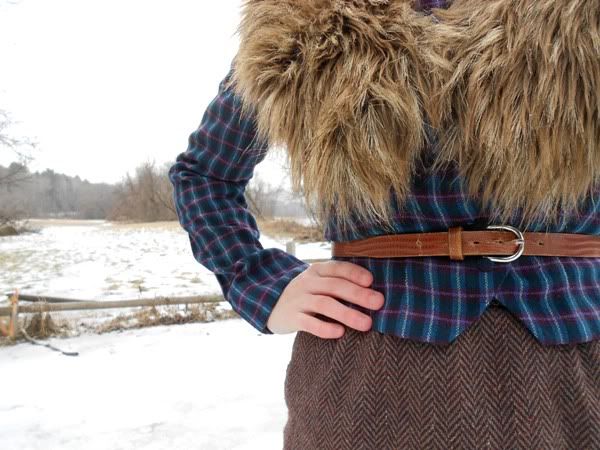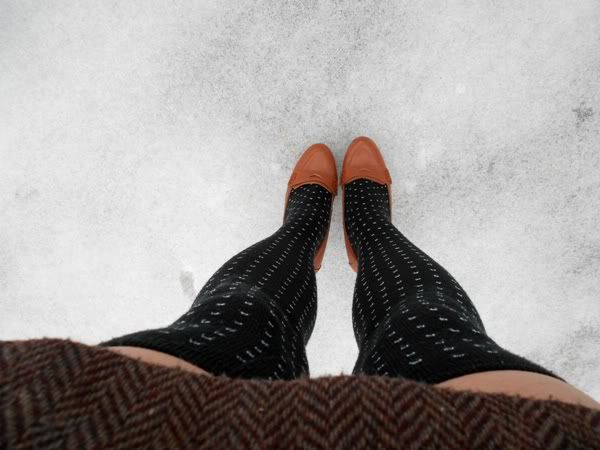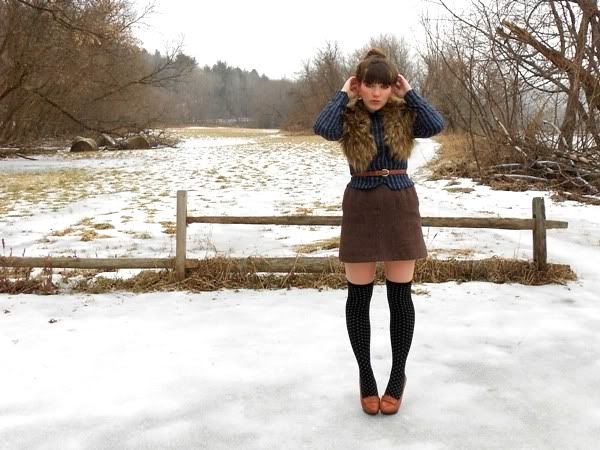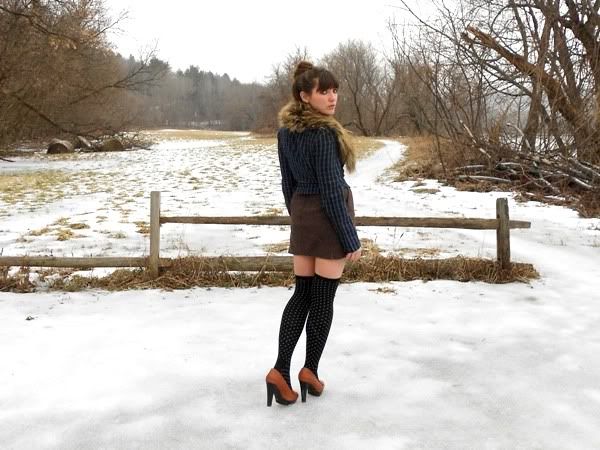 (blazer: vintage via grandmother; skirt: vintage via mother; earrings: flea market; socks: uo; shoes: lulus.com; fur collar: h&m)
I feel like time has just been flying by lately. How is it already Thursday?? I mean, I'm not complaining that the weekends seem so close together, but it does rather concern me that the months and years might just flash by without notice. I'm getting old, ya know?
I always feel infinitely more "vogue" when I bun my hair. I'm not sure why. I feel like one of those characters in romantic comedies who always has her hair severely tied up in a bun and it's supposed to be symbolic of how tightly-wound and organized and urban she is (all of which are pretty much the opposite of me). Maybe that's why I never really wear my hair up. Maybe it is symbolic. It is kind of funny, because I always feel like I have to move more carefully or be more rigid when I have my hair in a bun because I'm always worried that it will collapse. So there you go, buns=rigidity. Wow, there's a glimpse inside my head that you probably had no need for. Moving on...
I also like how when I wear my hair up you can see the highlights underneath, because I always throw it up during the summer when I'm sunning/swimming/et cetera (and don't really care about its inevitable collapse), so the sun bleaches it in spots. Speaking of hair, I need to trim my bangs...
And I need to stop "talking." Tonight: off to the gym, then hopefully some writing time!
Cheerio :)