Remember when everybody was belting scarves like this? Well I'm bringing it back (today)! I always love outfits like this best, I think. I definitely have gypsy blood in me, somewhere... perhaps I'm descended from Irish Travellers?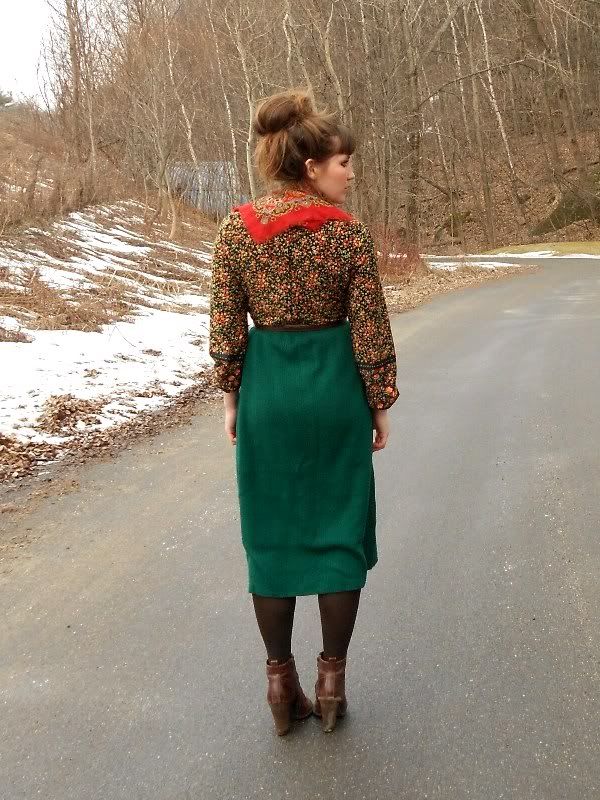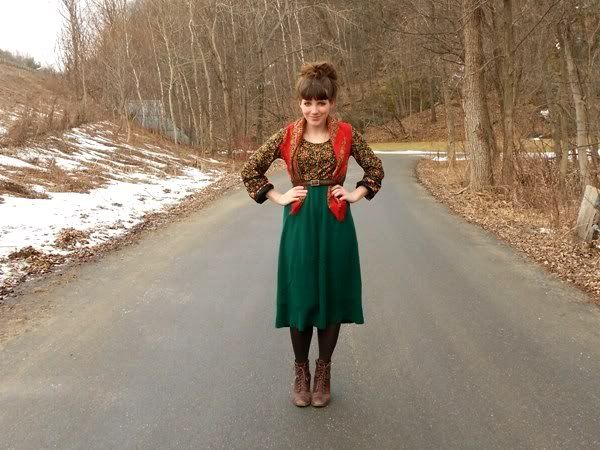 (dress: etsy; skirt: vintage (grandmother); boots: seychelles; scarf/belt: thrifted; necklace: flea market)
I had a lovely evening with my Valentine. He made me special nachos (our usual + sauteed mushrooms and garlic--yum!) and we drank champagne with fresh strawberries and watched "
A Walk on the Moon
" (my choice). (Oh, and he went to three different stores looking for my favorite brand of chocolate-covered cherries--because I definitely am
not
the sort of girl who scoffs at chocolate on any occasion ;)
The movie was good (and may have inspired today's outfit a bit), though pretty silly in some respects. It takes place at a Catskills resort/camp during the summer of love, with the moon landing and Woodstock festival acting as bookends for the affair of a discontent housewife with a traveling blouse salesman. I must admit, the housewife (played by Diane Lane) wasn't terribly sympathetic, and entered the affair sort of nonchalantly and without any real guilt (even sneaking out of the cottage to see her lover while her mother-in-law begged her not to leave--yeah, right), but there was still so much to like about the movie. If I'm nostalgic for jazz age Paris, I'm also nostalgic for America in the "swinging 'sixties"... and it's obviously closer to home. They're not terribly different, if you think about it--culturally significant times ruled by excess and flamboyance (probably because ages defined by art are necessarily more lively and free-wheeling), important social revolutions and relaxation of social norms... all good things.
But then, thinking about the 'sixties and everything that was happening, culturally and politically, I realized how far we still have to go. We're still trapped by futile and violent conflicts/wars; the space program, which once launched (pun intended) America to the top (with the moonwalk as an indication of great things to come/new discoveries ahead), has ended, like a surrender; no huge Woodstock-style free concert would ever happen now (or could it??? Someone get on that...); while people once did drugs to loosen up by "expanding" their minds, the overprescription of mood-suppressing drugs (for anxiety, ADHD, even anti-psychotic) now loosens us up by closing off/denying the power of our minds (for the record, I'm not advocating the use of any kind of drug, just pointing out the difference); we fought against racial discrimination in the 'sixties, and we're still fighting against discrimination today, most notably for gay rights. It seems that there will always be a fight to be fought. Maybe some day we will be able to live and let live, for the good of all, without exploitation or abuse.
I've definitely been a bit lecture-y lately. Whoops. I don't mean to be... these things have just been on my mind. The times, they are a' changing (again, and always)!