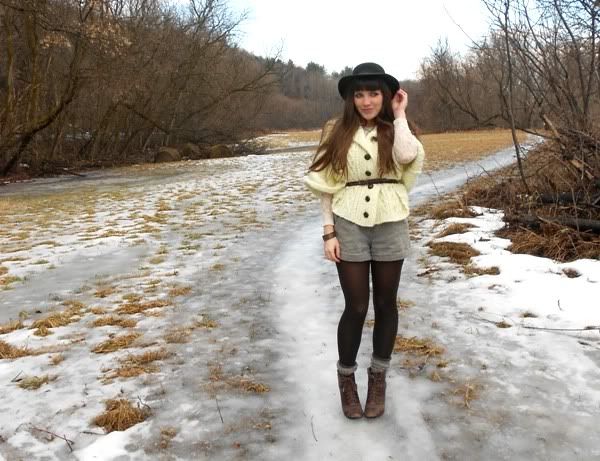 Finally, the end of the week! I thought it would never come...
(cape/belt/shorts/lace shirt: thrifted; hat: tomorrowneverknows via etsy; bracelet/necklace: gifts from k; boots: seychelles)
We had another wonderfully successful Art Club last night--the group is expanding! We discussed everything from knitting and music videos to sex and politics (I think that's just about the gamut), drank lots of red wine, and were generally awesome. Oh, and... yeah: I finished the rough draft of my novel on Wednesday night, so that's news (!!! :) !!!) Now there will be lots of revising and fleshing-out, but there are words on the page, from beginning to middle to end.
I kind of love the landscape around here lately--the brown grass overlaid with ice reminds me of Wuthering Heights or something. It just seems dramatic. Maybe more like Springtime in Siberia than Wuthering Heights. Whatever. It's pretty, in that dead-and-buried kind of way.
I don't have any big plans this weekend, and K is working both tonight and tomorrow night again, so I'll probably be hanging out in my living room watching Netflix Instant and eating chocolate-covered cherries (and real food, too... probably). Tomorrow I might take myself on a matinee date to see The Artist? We'll see how ambitious I am... hope you all have wonderful weekends!