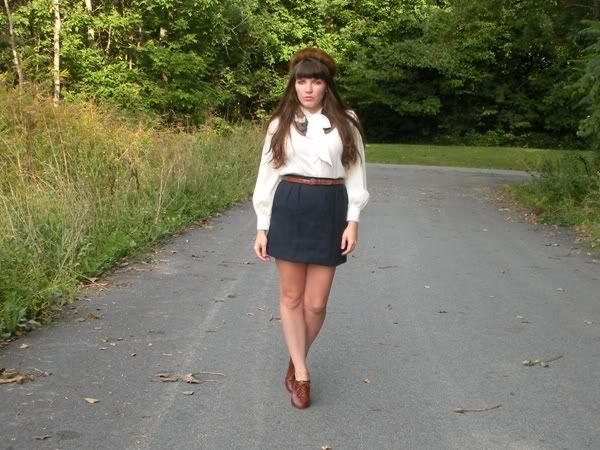 Ahh, back in my happy place. This outfit is far more "me" than anything I've come up with lately. What can I say? I was born in October--I am meant to dress for autumn. This may or may not be something that an elderly woman would wear. I am okay with that (because, after all, I am no spring chicken).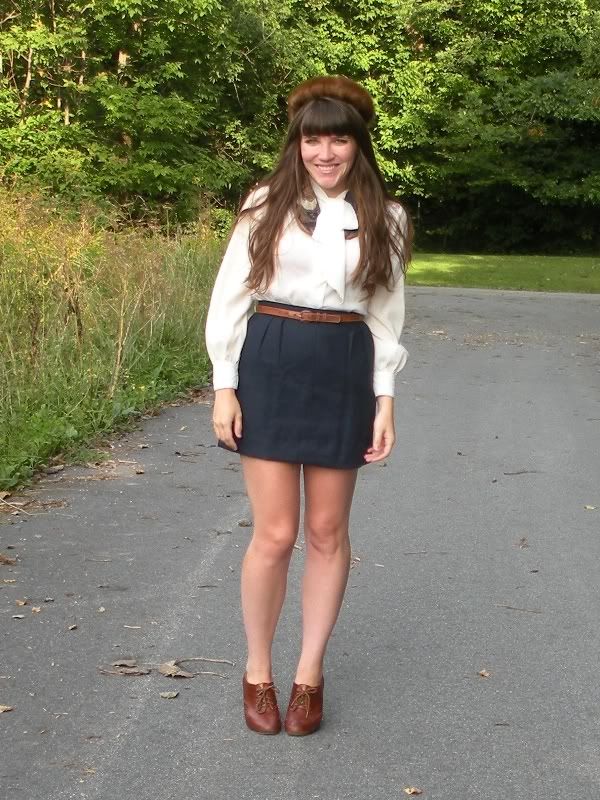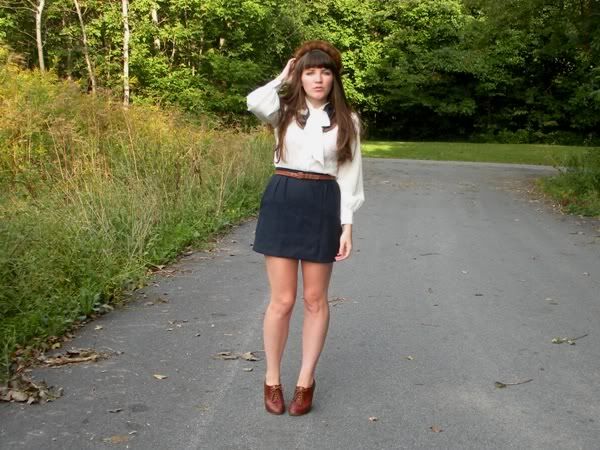 (hat/blouse: vintage, gifts; skirt/belt/scarf: thrifted; shoes: seychelles)
I was thinking about back-to-school the other day (aren't we all, at this time of year?), and how the whole thing was always so exciting. In elementary school there were new outfits and lunchboxes and that grown-up feeling of passing through each grade; in high school there were new outfits and fat textbooks and the thrill of locating a new locker and the prospect of eight hours each day spent giggling and passing notes with friends; in college there were more new outfits and fatter (more expensive) textbooks and a whole new world full of strangers that would eventually become some of the closest friends I would ever know. And now? The seasons blend from one to the next but the days don't change.
Ever since I graduated (in 2007-yikes!) I constantly consider going back to school for something, whether it be fashion design or creative writing or cultural anthropology. And then I take a step back and remind myself that there were very few classes in college that I really, truly enjoyed. There was my Philosophy of the Individual writing seminar freshman year, in which I did not speak a word but would leave bursting with excitement and immediately call someone to discuss. There was my Intro to Ethics lecture with a visiting professor from Stanford, which everyone seemed to hate but I actually found fascinating (when I wasn't doing the DFP crossword). There was my Post-Modern Literature course with a wacky ladyprofessor who just rambled on and told stories for an hour and then told us we would no longer be having class because she wasn't getting paid enough (but boy, was she a character!), and my Chinese culture class that surprised me by being quite a treat, since I had never had much interest in Asian studies or history before. There was my Film Theory class, in which only the graduate students ever engaged in discussion but the professor was really amazing. And then there were a slew of really awful classes that I suffered through day in and day out for four years of my life. And I realized that I don't actually much like to be educated. I love to learn, I adore reading, I think that I have a broad scope of skills and interests, but I do not like being forced to fit my train of thought into whatever current a course corrals it into. I either want to learn something or I don't--and if I don't, why waste my time?
I'm still figuring out what my next steps in life will be. Maybe I will end up going to graduate school (theoretically, I would only be taking classes that were directly related to my area of interest). Maybe I will start my own little business. Maybe I really will become a brilliant filmmaker after all this time. Who knows. But these are the feelings that always surface in September, year in and year out. This is the season for reinvention.
And if I don't get to it soon enough, there is always Spring ;)