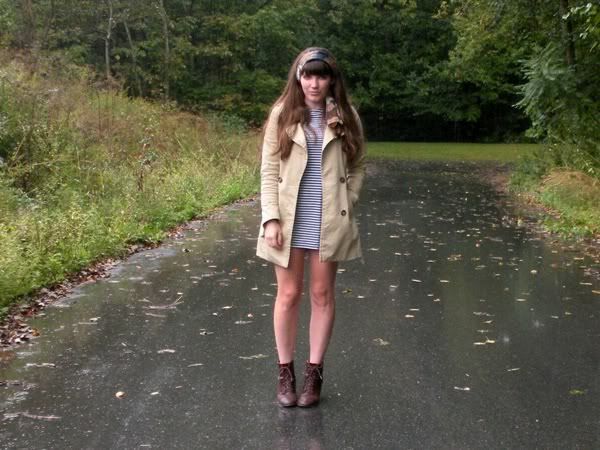 Another rainy day...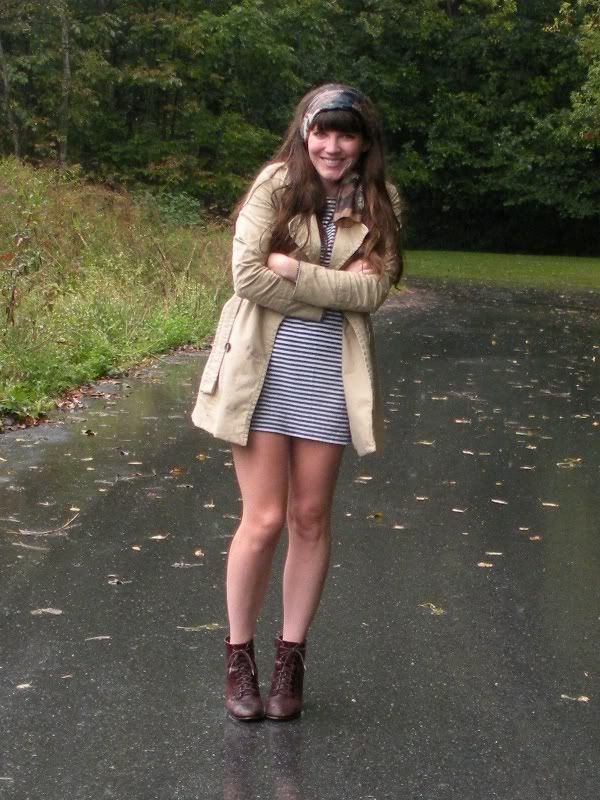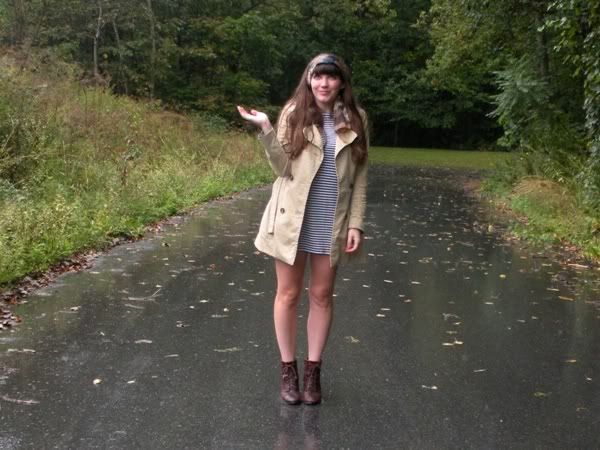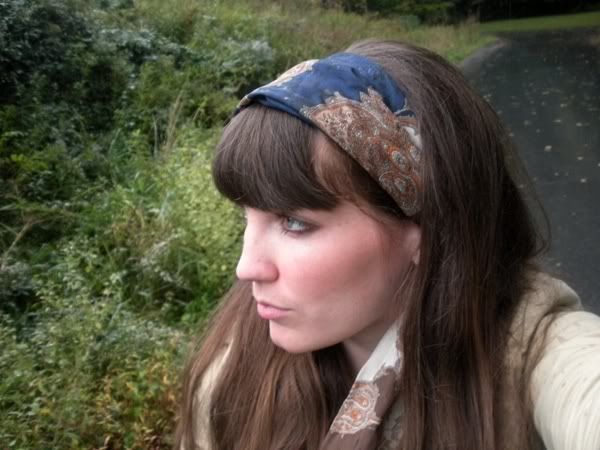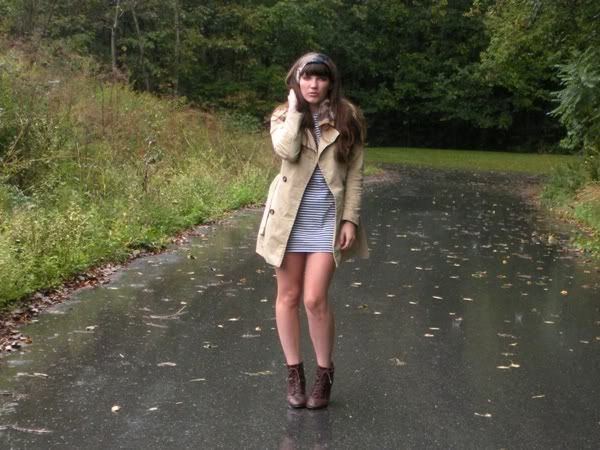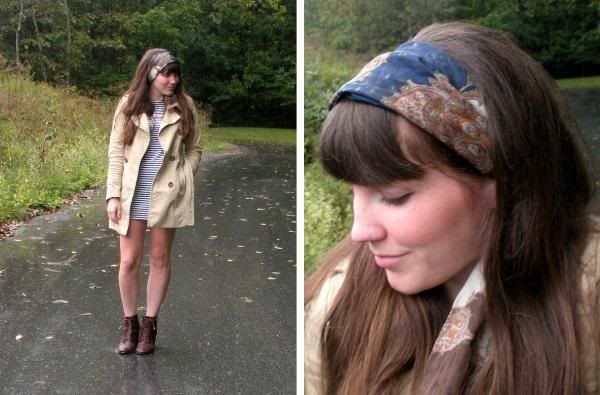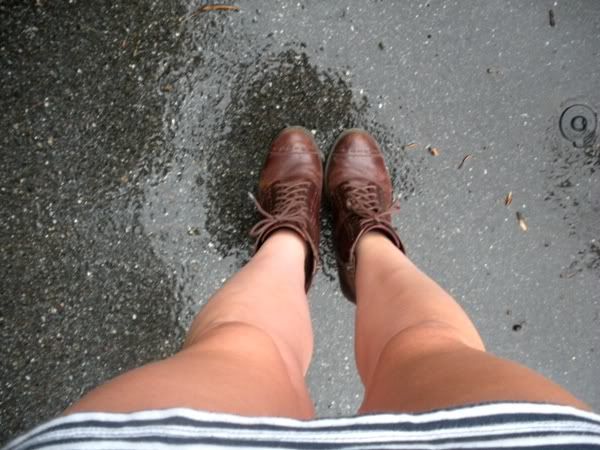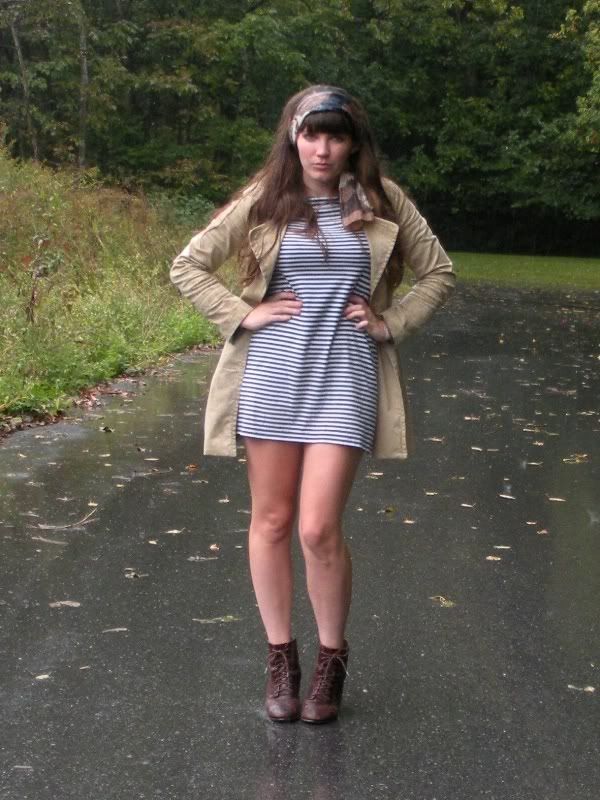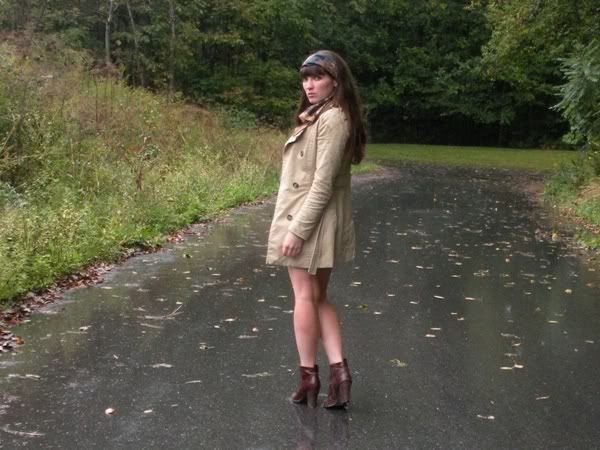 (dress: old navy; trench: h&m; scarf: thrifted; boots: seychelles)
When it rains I always reach for more classic pieces--trench coat, breton stripes, scarves, furs... let's face it, probably because of Breakfast at Tiffany's. Today I'm definitely feeling the 1960s London vibe, with my teased hair and trench coat.
Speaking of London, I stumbled upon this post over at Louder than Silence yesterday afternoon, which references this relatively tame article and a monumentally more offensive response (because on the internet, every planted seed spirals immediately and exponentially out of control at a disturbing rate of speed). Normally I don't bother to give lip service to this sort of thing because it happens so frequently that there really is no point in trying to keep up (and I frankly don't think it warrants comment, most of the time), but I just felt compelled to say something in this instance.
First of all, I am constantly amazed at the degree of rabid hatred that lifestyle/fashion bloggers inspire throughout the online community. And, although I get a little annoyed when certain popular bloggers chalk everything up to jealousy, I have to admit that I cannot understand how people could be so nasty if they weren't also overcome with envy (I do see how one could be vaguely irritated that "undeserving" bloggers get so much attention from the masses, but that is subjective and this is different). The article here is one thing--I am sure they are going for shock value because it will generate hits and make them feel cool and better-than and whatnot. The really disturbing thing is what goes on in the comments. It makes me extremely afraid for humankind. First of all, I don't believe that anybody who is spending their valuable time randomly being an asshole on the internet has any right to be an asshole on the internet. Find a new outlet to unload your inexplicable hostility (maybe put down your smartphone and go for a jog). If these blogs offend you so much, why are you reading them?? Everyone asks this question, but nobody seems to have a response. It just blows my mind a little bit. My favorite comment on the Guardian piece: "It's terrible, the way we're all forced to read the internet, and see things on it we don't like."
My opinion of lifestyle/couple/baby/fashion blogging, as someone who is sort of on the periphery of the scene, is that it is simple escapism. Hipster lifestyle blogs are, in my mind, akin to chick flicks or glossy magazines, and the most popular bloggers are basically minor celebrities. Naomi : Rockstar Diaries what Natalie Portman : No Strings Attached (or something equally light and candycoated). Sometimes people make the argument that these blogs don't accurately depict "real life" and that anyone who has a lifestyle blog is a superficial hipster liar. I admit that sometimes the seemingly staged perfection of these people's lives can get to me, not because I think they're doing anything wrong by not exposing their "true" colors--the dirty dishes, the petty arguments, the bad hair days--but because they do sometimes make me want things (like a glamorous job or a baby or a certain pair of shoes/sunglasses/[fill in the blank] that I don't/can't own). I don't care that they purposefully crop ugly parts of the city out of their photos... who doesn't? If you're not physically cropping in post-production, you're framing what you want in the shot with your lens. Isn't that what photography is? When an acquaintance asks you how you're doing and you're feeling really miserable, you probably say "fine." It is common practice to put your best face forward, because there is a time and a place for griping and a public forum is not it (once and a while, yes, sure--I know I do it!). The fact is, their lives aren't perfect. At best they are just keeping a diary of their lives that other people happen to read, and at worst they are marketing themselves as a new sort of brand. And so what if they are? That is their right as citizens of the world (freedom of speech/expression, anyone?). I guarantee that if any of the nasty commenters over at The Guardian or Vice could make a living just by posting pictures online of what they happened to do each day, they wouldn't hesitate to drop everything and jump onboard. If you're not interested in fashion, you don't read Vogue. If you're not interested in lifestyle blogging or vintage/retro fashion, don't read Louder than Silence. It's quite simple.
Live and let live, I say. There are much worse things going on in the world that a couple of trendy twentysomethings writing about the goings-on in their lives (even Facebook is worse, in my opinion, and I have railed about the way that it is destroying our lives on more than one occasion [see also: cell phones, fast food], which is why I am not on it [see also: easy ways to avoid anger and frustration re: modern society]). And if that is what gets you all riled up and makes you call complete strangers vicious names on the internet, you need to find some goings-on for your own life.
The worst part about all of this was that I was momentarily affected by it. I thought to myself: Should I stop blogging? Am I an idiot because I am entertained by these blogs? Are people going to think that I'm just superficial and narcissistic and obnoxious? And then that passed, and I reminded myself that I am so much more than my blog, and so is everyone else.