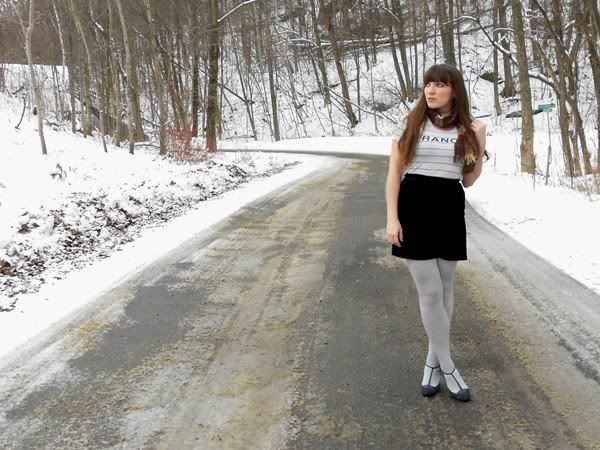 I promise I'll stop wearing such dreary colors, it's just been so... winter lately. (Although I have to say, I was amazed at how warm it was when I left for work this morning--and then I found out it was only 26 degrees. It's all relative, I suppose...) I've gotten into the habit of throwing these easy, cozy plaid scarves over outfits they don't really belong with, but I like it.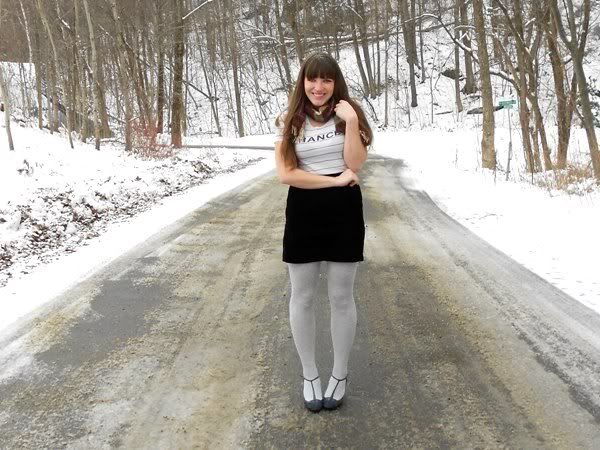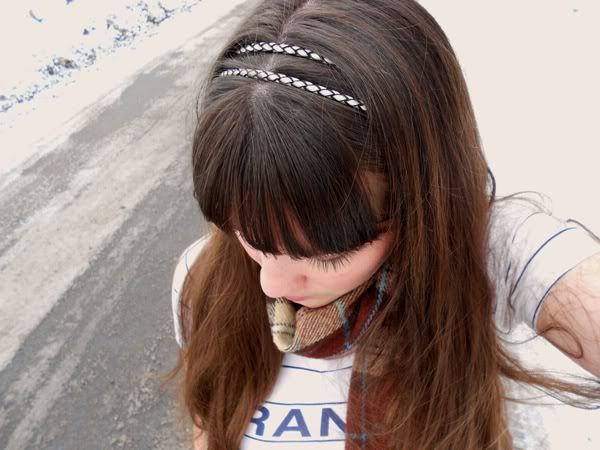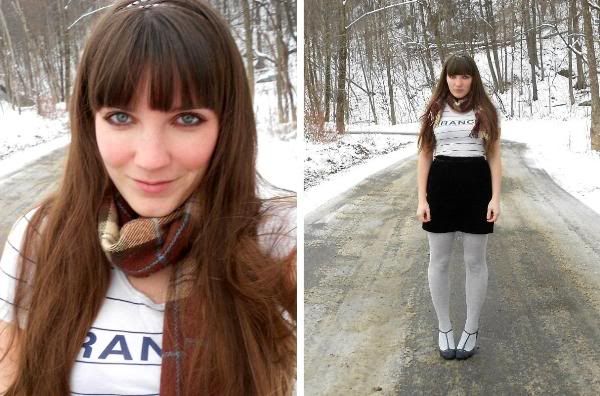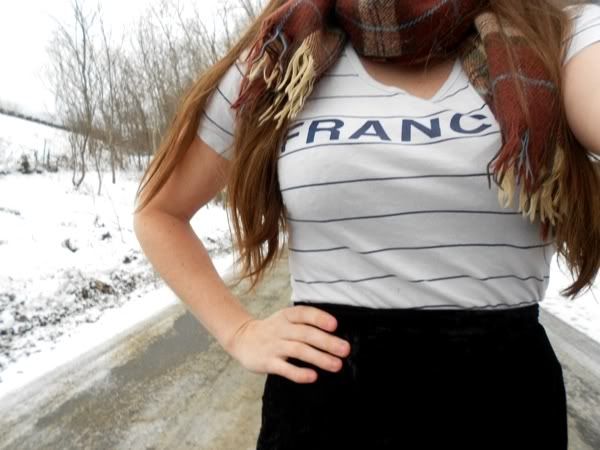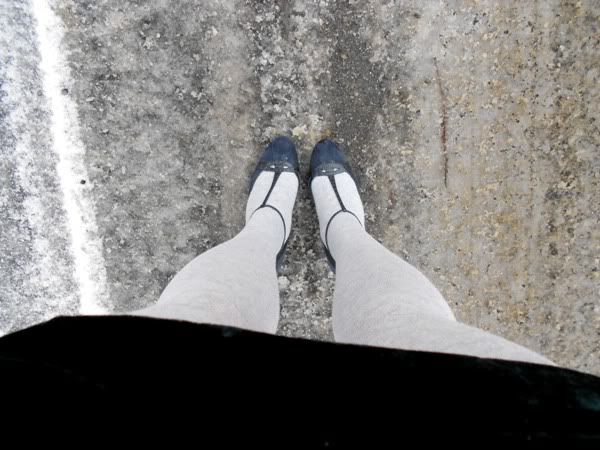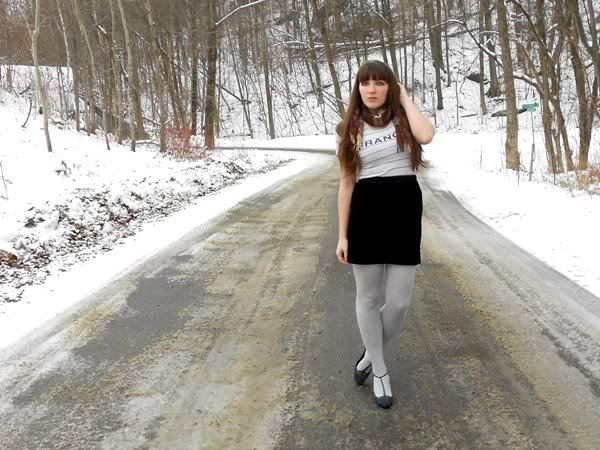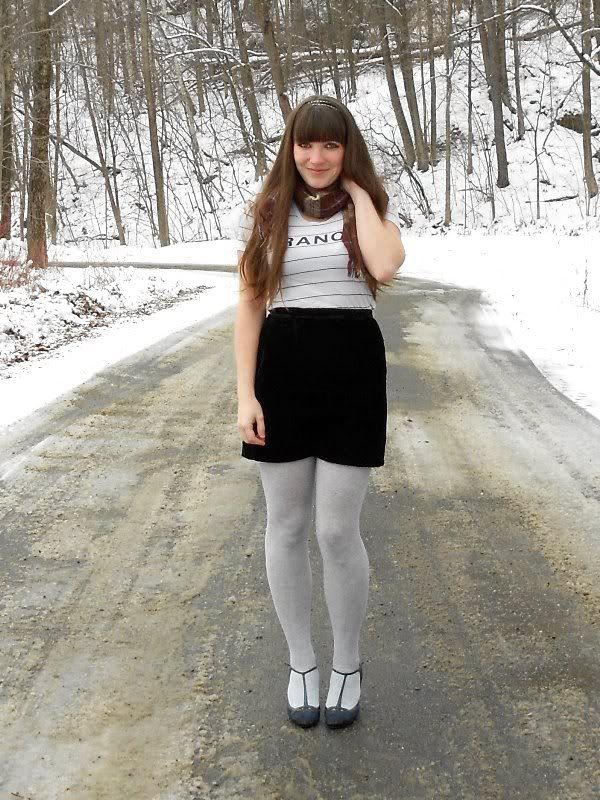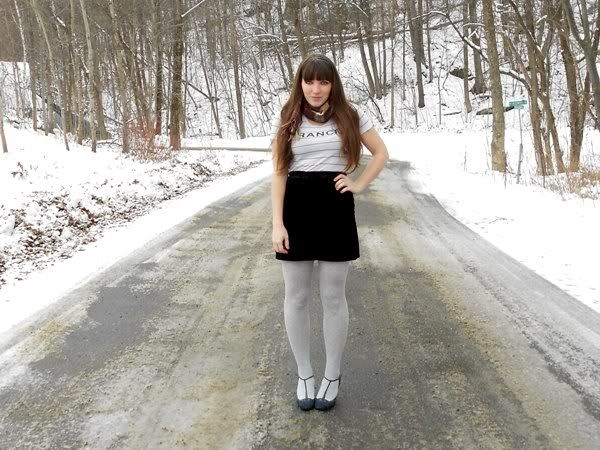 (velvet skirt/scarf/shoes: thrifted; shirt: uo; headband: modcloth)
I love how Modcloth throws a little somethin' extra in all of their packages. I ordered a Valentine's Day dress (at least, that's when I intend to wear it) from them during the big sale/free shipping extravaganza, and they included this little headband for free. Not so sure about the dress--I think it's terribly unflattering but I can't be sure yet. Time will tell...
Anyway...
A couple of weeks ago I bought a book called "
The Artist's Way
" by
Julia Cameron
. I was inspired because I saw that a creative group in my community was reading and using the book as a tool for furthering their artistic endeavors, and it sounded relevant to my own Art Club. Since we are getting together tomorrow night, I wanted to get a head start on the book so that I felt I could share my thoughts at the meeting--and I was surprisingly inspired! I feel like I need to make a disclaimer here, and I promise not to get all self-helpy and annoying about this, but I was so affected by just the
Introduction
to this book that I knew I had to share with you guys.
As Julia was explaining her writing process and the moment when she realized she needed to radically revamp the way she thought and went about creating, it felt eerily familiar. As she described the misconceptions she had about what it meant to be an "artist," I found myself getting nervous. And then when she said that she realized she needed to abandon her ego to become truly free, I became downright frightened... and that was when I realized that this could really work for me.
I am not a self-help kind of person. I've always dismissed new-agey mumbojumbo about "The Secret" as... well, obvious. I've always felt that I had remarkable self awareness, and took that as proof that I don't need fixing. I know where the problem areas are in my life, but that doesn't mean I know how to change them right now--I placed blame on circumstance, not self. I have always had faith that I would eventually figure it all out. Well, here's the thing: I have an ego. I always thought that a well-formed, well-understood ego was the most essential part of the creative process. I always felt proud that I was as close to expressing my true, basic self as I possibly could be in proper society. I stubbornly cling to my vices and passions (no matter how self-destructive) like precious gems--these were the things that made me interesting, that inspired my angsty creativity, that kept me in touch with the human condition--amidst all this madness, I had true clarity. But I think I was wrong.
I never wanted to be one of those people. You know? The women who do yoga every morning and go for long, marathon runs and consume nothing but salad and sparkling water and smile all the time because they have so much control. I always felt that control was the enemy of creativity. But as Julia wrote about the spurts of creative energy she once relied on, racing against the clock as she drank her way through the stages of loosening to free her proverbial tongue and put words on the page ("bleeding prose") until she tipped over into drunkenness and her mind slowed to a halt, I thought maybe I didn't need a glass of wine for every thousand words. When she said that now she can just write, without waiting for the mood to strike, I thought wouldn't that be nice?
So I'm going to try it. The basic tools are:
("Worrying about your job, the laundry, the weird look your friend gave you – all that stuff distracts you from your creativity. It eddies through your subconsciousness and muddies your day. Get it on the page first thing in the morning and move on with your day with a freer spirit.")
This one spoke to me immediately, mostly because I used to journal much more often and I miss it... it always helped to purge all of my drama onto the page. This morning, I woke up and wrote my morning pages in bed. And then I just got up. No problem. Considering the difficulty I've been having forcing myself out of bed in the mornings, this was quite a coup.
("The Artist Date is a once-weekly, festive, solo expedition to explore something that interests you. The Artist Date need not be overtly "artistic"– think mischief more than mastery. Artist Dates fire up the imagination. They spark whimsy. They encourage play. Since art is about the play of ideas, they feed our creative work by replenishing our inner well of images and inspiration.")
This is something that I desperately need. When I was single, I used to take my "inner artist" out on excursions all the time. I used to
sit for hours in coffee shops
, just observing, or reading, or writing whatever came to mind. I used to ride my bike to the Museum of Fine Art and wander through the galleries in silence, pausing when I wanted to pause, flying through exhibits that didn't speak to me. I went to a movie by myself in the middle of the day. I sat on my balcony and devoured Simone de Beauvoir stories, uninterrupted. I need to recapture some of that--those calm, quiet moments where my mind could breathe, when I was completely alone and open to inspiration.
I am an introvert, after all
. It's hard for me to balance true selfhood with my relationships, because I have a hard time saying 'no.' I want everyone to be happy. I need to make sure to make space for myself in the coming weeks. It's easy to understand why getting out in the world and absorbing the artistry of it is important to "unblock" creative streams--if we sit on our butt in an office all day and then sit in front of mindless TV all night, where are we supposed to draw inspiration?
("Creative clusters, where we gather as peers to develop our strength, are best regarded as tribal gatherings, where creative beings raise, celebrate, and actualize the creative power which runs through us all.")
I already have the Creative Cluster in my Art Club ladyfriends. Bonus.
So, I apologize if all you want from this blog is photos of clothes. That was long-winded. But I think this is a good reminder that to be a creative person (I would even go as far as to say to be a person), we need to make time for ourselves. We need to slough off our negativity through some sort of meditation, whether it be writing morning pages or practicing yoga or simply sitting and listening to music. We need to be alone, experiencing the world without a gadget yapping at us, for several hours at regular intervals (Julia says once a week). And we need to get together with friends who are truly supportive and intelligent and positive influences on our lives.
So please--go forth and be awesome ;)