Man, it is not warm. I know I whine about the temperature every day, but seriously. It was windy, too.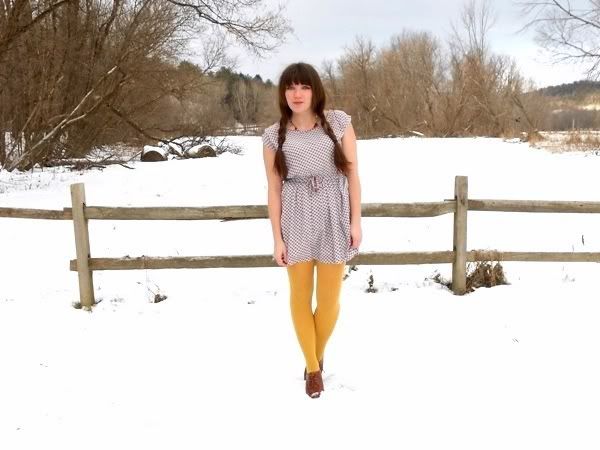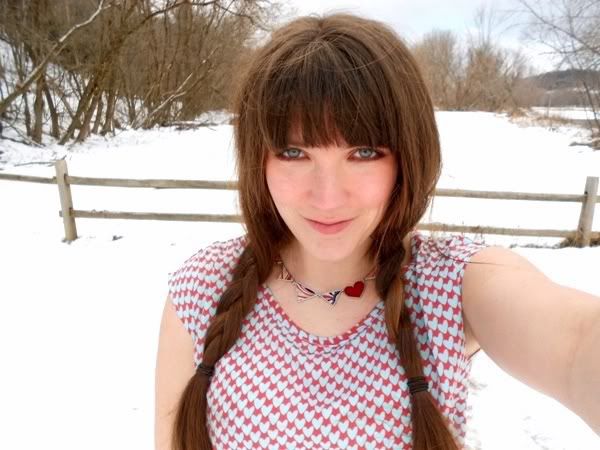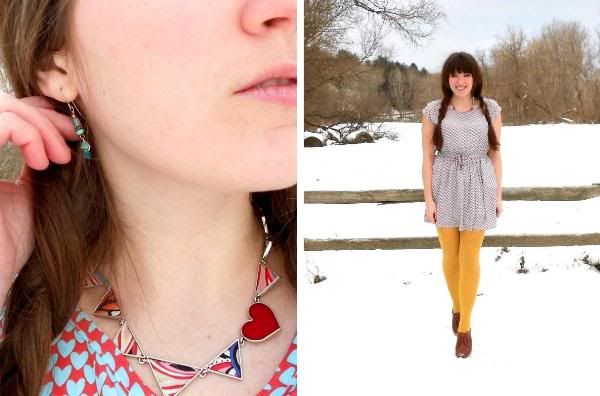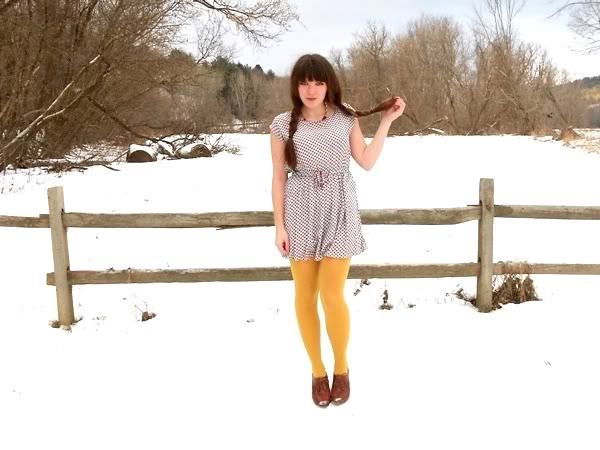 (love me do dress: modcloth; necklace: jewelmint; earrings: gift; tights: hue; shoes: seychelles)
This is the
Modcloth
dress (now sold out, but here's
another adorable option
) that I bought for Valentine's Day (knowing that I would probably wear it at least once before then, because I can't stand leaving new clothes in my closet unworn for too long). I was unsure of the fit, but with a slip underneath it doesn't bunch as weirdly so I think I like it (and I think the print is just darling, so that helps). Unfortunately the color doesn't really come across because it's a cloudy day, but you can be sure I'll wear it again on a sunny one! I'm not sure I'll actually wear this for Valentine's Day... it might be a bit too casual for the five-star restaurant K is inevitably going to take me to ;) (hint, hint--just kidding).
I got my snowboots last week, and since then I have fallen twice--once while walking up the stairs behind our apartment, and last night I totally wiped out in the driveway (to be fair, it's a complete sheet of ice). I landed on my elbow and it hurt like crazy. Winter is treacherous. Anyway, the point of that story is that I suppose I was thinking that walking would be safer in these boots than in my usual towering heels, but in fact I walk much more carelessly and end up on my ass. It's like snow tires--during the first few blizzards of the season there are dozens of cars off the road because they drive like usual, thinking their studded snow tires will keep them safe (you still have to drive slower, fools!). My boots are like snow tires. Apparently I still need to watch my step.
Not gonna lie, I'm looking forward to a weekend not spent taking off my outerwear and standing the cold in front of a camera. Have a good one!