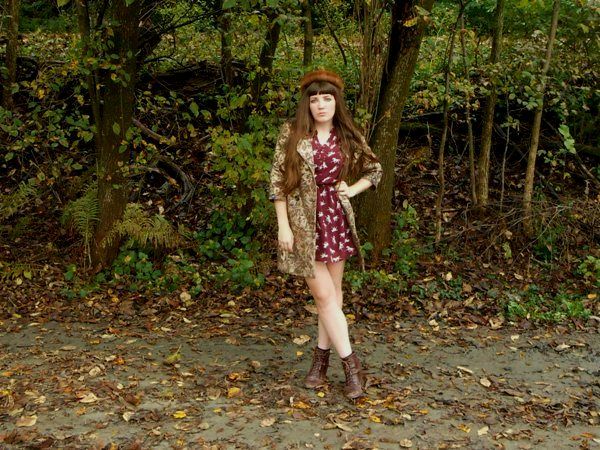 I always love when fall officially comes, because I can wear this coat (and this hat, but I already said that). This horse print dress is such a favorite lately that I almost wish it wasn't quite so conspicuous so that I could wear it everyday without anybody noticing. Not so much. I don't know what it is about fall that makes me think of horses. Maybe because the only time I see them is at the country fair? Speaking of horses, I'm reading Anna Karenina and I got to the part where the horse falls and breaks her back in the race because Vronsky is an idiot and I literally gasped out loud. I am always so traumatized when horses get hurt, way more that when humans do. What is this connection I have to horses? I was never "into them" when I was a young lass, like so many of my peers were. Anyway, most random paragraph ever...
(dress/coat: tjmaxx; hat: vintage; boots: seychelles)
Also, I watched the
Modcloth blogger video
in which
Erin
asked bloggers what their "style animal" would be. I've often had the conversation with friends regarding "spirit animals," but style animal?? Now, that's a different animal altogether! (PS
LOVE
that
Tieka
said "honey badger" OMG!) Friends have suggested that my spirit animal is a cat, a deer, a bird, and a snake (??). I think a cat is probably correct, but definitely a big cat--maybe an ocelot--no housecat in my spirit, no sir. Which is funny because I'm not exactly a "cat person"--I don't really like them as pets! I definitely prefer the happy, bumbling, unconditional love of dogs. But I'm more of a cat. Interpret as you will.
Annnnnyway, I do not think that my style animal is a cat. That, I do not know. Probably because my style has no real identity right now. Maybe a chicken? Rhode Island Red? :P Gosh, it's such a Wednesday!