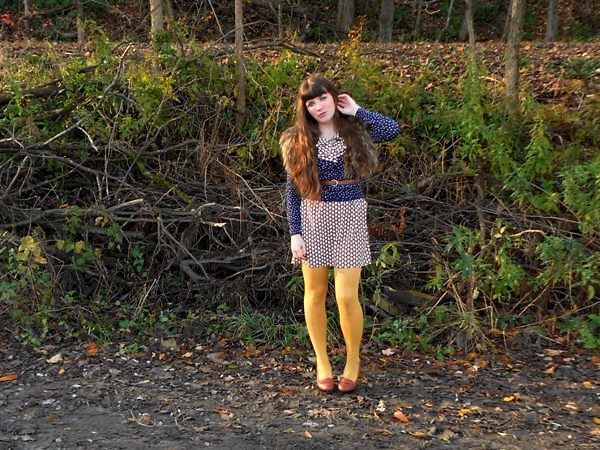 Well, it's Monday again. I thought I'd make it brighter with apples and polka dots (and banana-colored tights) :)
(dress: tjmaxx; cardigan/fur collar: h&m; tights: hue; shoes: lulu*s)
This weekend, I:
1. went to the spa with my mom and
a) ellipticalled
b) took a pilates class
c) went in the hot tub
d) went in the waterfall mineral pool
e) drank peppermint tea in the sun
f) had a yummy lunch (soup, salad, veggie wrap, tofu cheesecake)
g) went in the steam room with cukes on my eyes
h) went back in the hot tub
i) got a massage
j) started to feel sick and took a nap on a lounge chair for 2 hours
k) had a ginger ale at the bar with mom & dad
l) picked up a few groceries for dinner
m) threw up (twice)
n) went to bed early
That's right, folks. I had an incredibly lovely, relaxing spa day at Stoweflake... and it made me sick. Apparently my body cannot handle that much rest and relaxation (and, I suspect, that much hot tubbing). Next time we're going to take it easy with the heat. (And I drank way more than my fair share of cucumber water, so I have no idea...)
2.
saw
my friend Elizabeth's short film "Last Days at Doughboys" at the Vermont International Film Festival (hooray) and
a) drank champagne and ate fruit with the girls before the screening
b) had sweet potato fries at the pub afterward
and
3. went to my first Fed Up meeting (a group that advocates for women's reproductive rights, which my brother has been involved in for the past few months)
It was busy, busy, busy! Next weekend is shaping up to be even crazier (costume dance party/karaoke, birthday brunch, birthday celebrations...) and even the weekend after that is already booked up! Too bad weeks aren't as cool as weekends. Work, work, work, work, work (that's one work for every day of the week), doing the dishes, grocery shopping, laundry... all of those unpleasant things tend to need doing during my weekday evenings. Blech. Where can I fit in my Anna Karenina-reading, Alias-watching, and book-editing?? Time, you are a fickle friend.