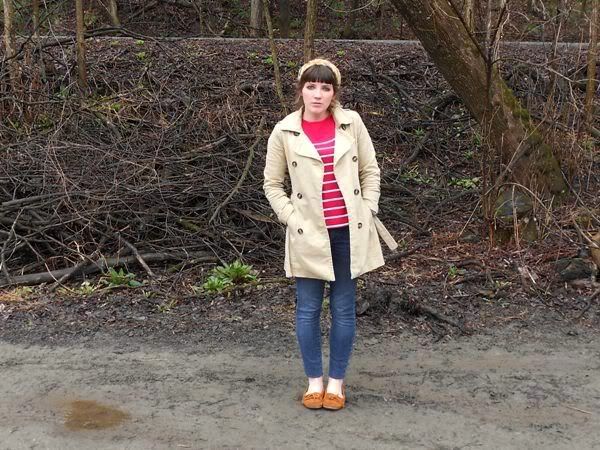 Yesterday my friend Steph mentioned the new book
Tomboy Style
to me. The
blog
of the same name breaks tomboy style into
seven basic archetypes
: the sophisticate, the prep, the naturalist, the rebel, the girl next door, the jock, and the adventuress. I've never considered myself a tomboy by any stretch of the imagination (although I guess I basically was all throughout middle school, sartorially, at least--but we don't like to think about those years), but the idea of tomboy style has definitely appealed to me of late (I think, stylewise, I'm most drawn toward tomboy prep and travel style [clothes that work while exploring foreign lands--which I equate with the adventuress]). This outfit is a perfect example of why it just
doesn't quite work
. I'm short, but I'm not waif-like. Oversized shirts just make me look... oversized. Flats make me look... flat. I suppose it's nothing a classic trench can't improve upon, but still. I'm just never going to be a Francoise Hardy.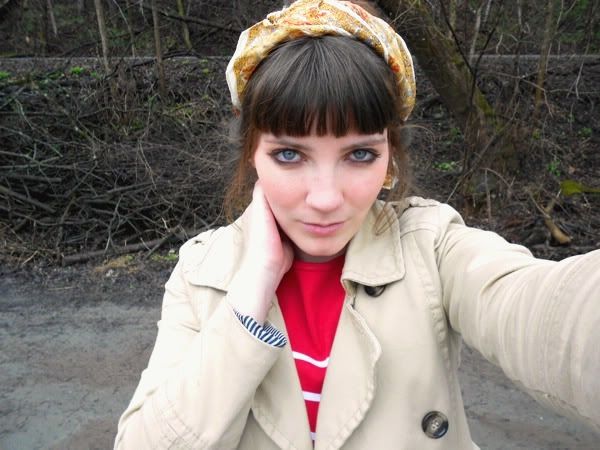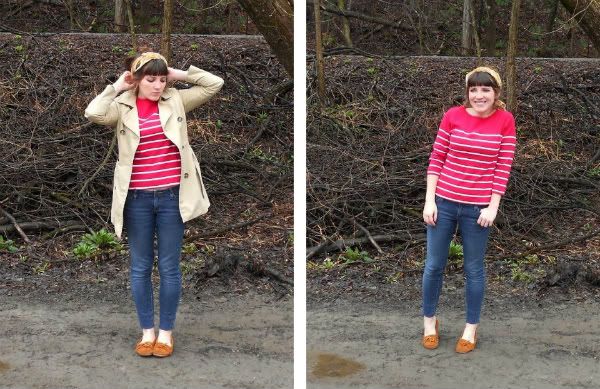 (shirt: land's end, thrifted; scarf: thrifted; jeans: pacsun; moccasins: minnetonka; trench: h&m)

I'm determined to find ways to make the look work for me... so basically, what I've always done in the past (add short skirt and heels). What do you think of tomboy style? Which archetype do you most identify with?

I've been super lazy lately, and I'm not really sure why. Maybe it's the gloomy weather inspiring hibernation, but I've basically just spend the past few evenings watching marathon episodes of "Say Yes to the Dress" and wishing that I worked in a bridal salon (how fun would that be??) or designed dresses. I did experience a small burst of inspiration a couple of days ago and started working on my ice cream dress, and made a small collage, but that's about it. I am definitely looking forward to the weekend, for some serious rest and rejuvenation. And I want K to be finished with the semester so we can hang out again.