I'm baaaack! It's been so long since I did an outfit post! I've been frustrated day after day by the blinding sunlight, but today I decided just to embrace it. Coral shorts deserve to shine, after all.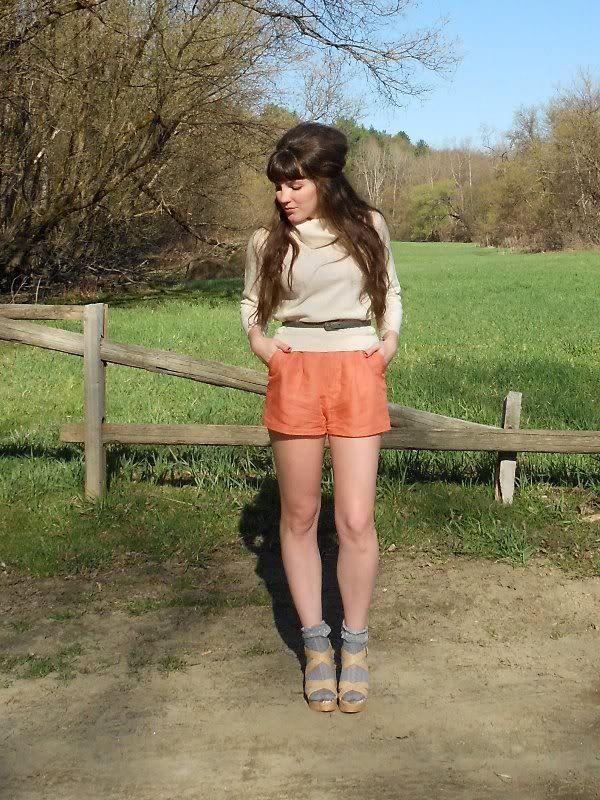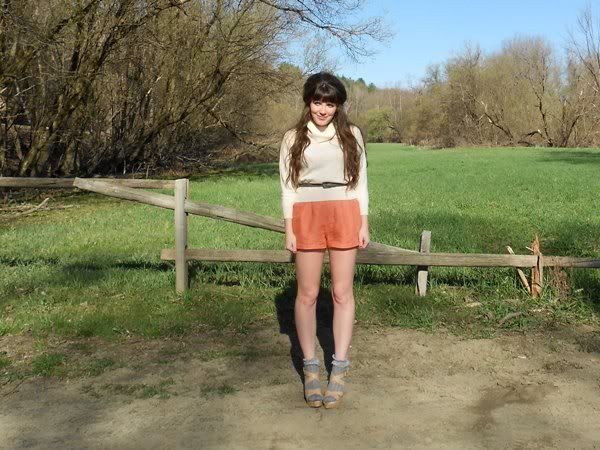 (sweater/shorts/belt: thrifted; socks: uo; shoes: tilly's)
I bought these shorts last year and hemmed them supershort (really, too short to be appropriate at the office, which is why I wore my trench coat all day). I really love the high waist and bright color, but I do wish I had let them hang a little lower. They get mighty wrinkly when I sit down for any amount of time.
I feel like I've been so busy this week, but it's really just because I've gone to the gym for the past three evenings in a row (!!!) I'm really impressed with myself, can you tell? It's not so bad when I just buckle down and do it. Tonight is Art Club and the girls are supposed to have read the first 50 pages of my novel, so it will be interesting to see what they have to say (if they have even read it!).
I've been going through a strange phase lately. I feel like I want to reject all of the excesses I treasured so much before, and strip down to the basics. I've been wanting to exercise and eat lettuce lately. I want to take long walks in silence. I want to get up early and stretch. This goes hand-in-hand with my need for blogging evolution, I think. I don't really know how to explain it, but the way I imagine it in my mind is like so: Art Club is like really rich, cheesy, delicious food and red wine, and the Blogosphere is saccharine-sweet, like gumdrops and cake pops. I feel like I've been overindulging in both, and now I need to step back and cleanse my system, however that might happen. I realize that I'm saying this while wearing coral short-shorts and sky-high floral platforms (and hair), but I'm still feeling this draw toward the Essential--toward simple productivity and basic, healthy living.
I'm really looking forward to this weekend. I hope to do lots of relaxing, reading, shopping, and sewing. I also want to attempt another batch of ravioli, since it's supposed to be rainy and I'll have all the time in the world :)