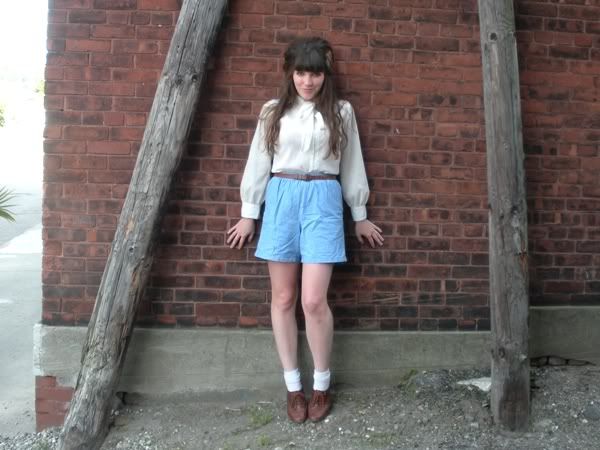 I declared this week "Chambray Week" because my friend Steph is awesome and sent me a lovely little denim dress that she bought on etsy. But I didn't really like the way I styled it and the photos were not great, so I kind of want a do-over. I also took photos this weekend which were equally bad, but I wanted to make sure to have a full week of outfits to post while I'm away! We'll see. I might just have to do a little photo shoot this evening. The photos from this morning were the only ones that turned out well, so here you go. Steph also sent me this beautiful dream of a blouse in the denim dress package, so I had to make sure that both were worn right away (I love new-to-me clothes)!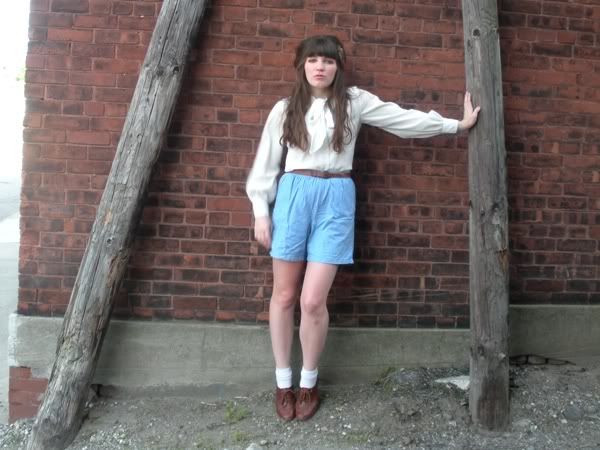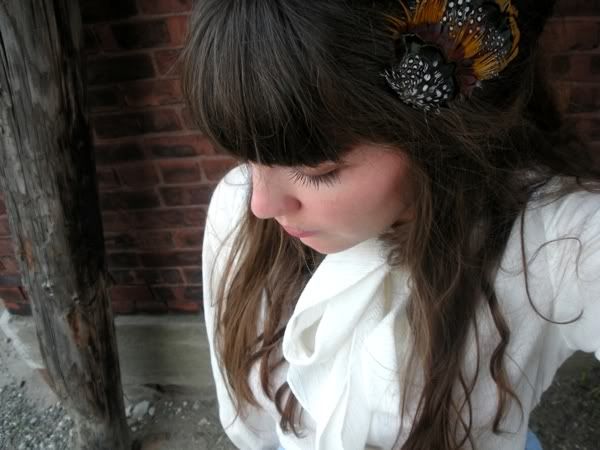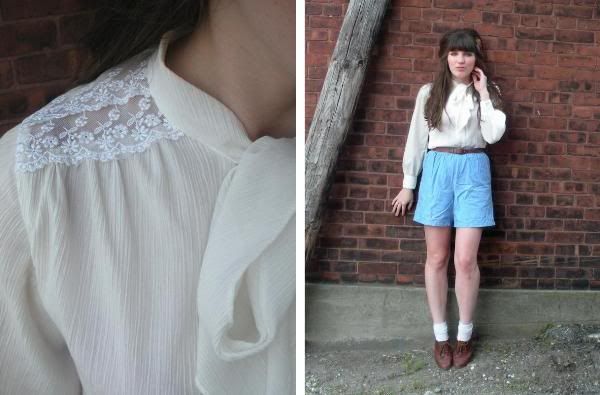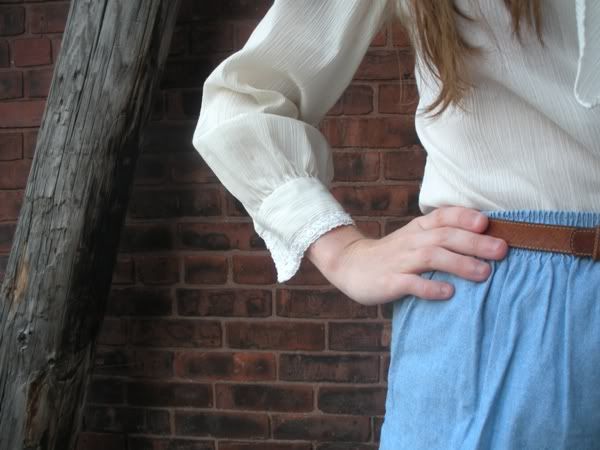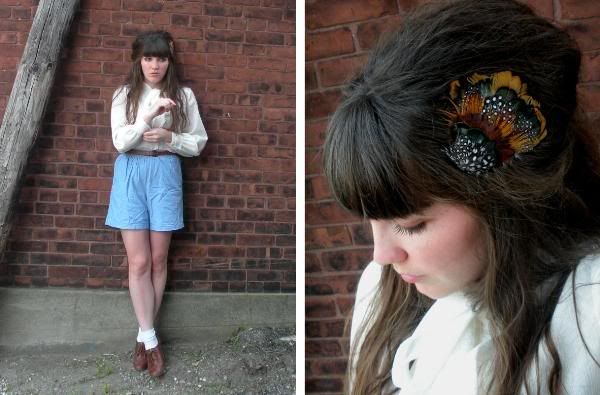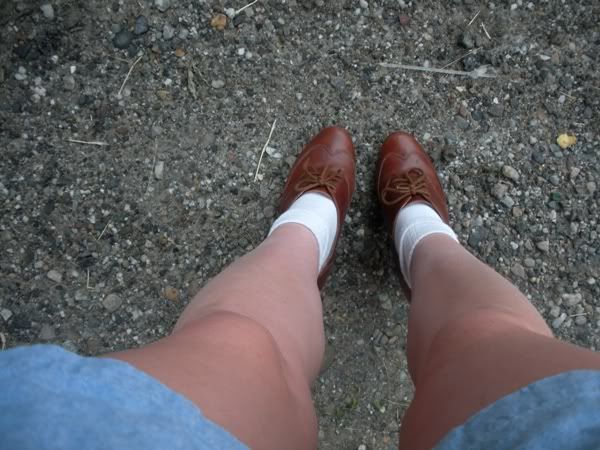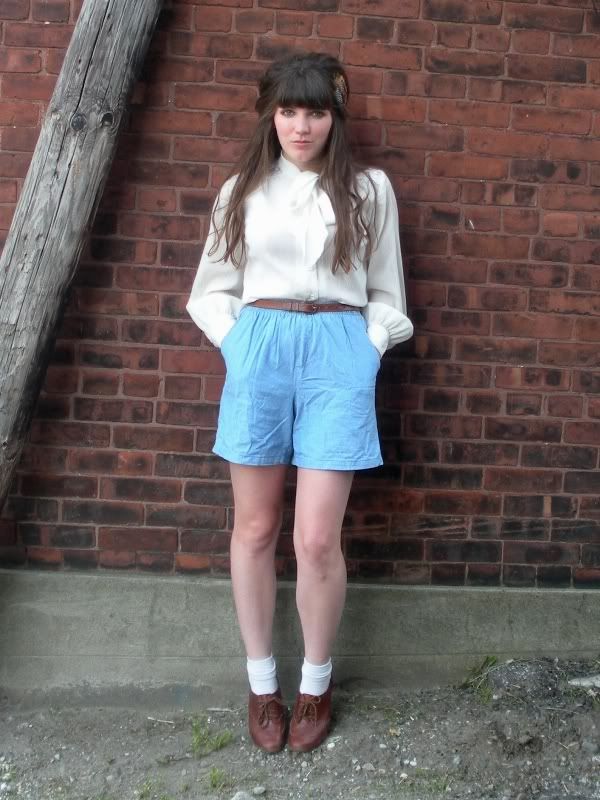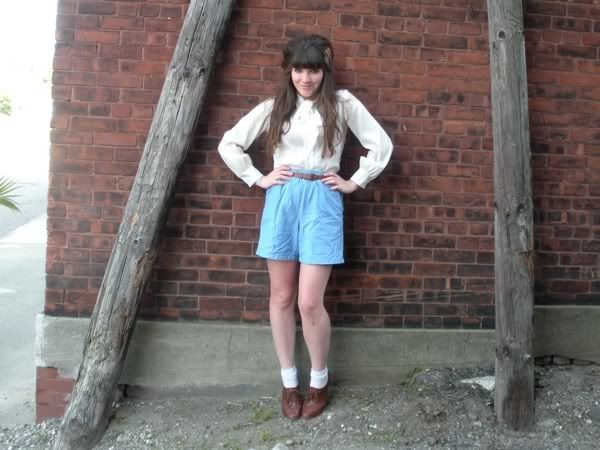 (blouse: gift from steph; shorts/belt: thrifted; shoes: seychelles; feather headpiece: gift from k)
I found these chambray shorts at Goodwill a few weeks ago and when I asked K what he thought of them he said they looked like something his grandmother would wear. So I bought them, naturally. Speaking of K, he is a gem! I picked him up on Friday after a particularly frustrating afternoon at work, and he was waiting with this little feather fastener in hand. It's so pretty and a nice replacement for my headband from UO, which is falling to pieces. We continued on to meet my family at the
White Rock
in Woodbury (home sweet home!) for an early Father's Day celebration (my little brother was leaving for Denver on Saturday night so we wouldn't be able to celebrate all together on the actual day). After plenty of pizza and sangria, we headed back to the house to play Irish tunes. It was a wonderful evening in honor of the
best dad ever
!
On the way home, we discovered that K's car had been vandalized. I just want to touch on this because it enrages me a little bit. It is no secret that I basically don't care if my car just looks like a rusty pipe--as long as it runs, I'm not too concerned with cosmetics. K, on the other hand, devotes a lot of time and energy to making sure his car is shiny and rust-free, and while I don't necessarily understand and often wish that he wouldn't park all the way in the back of the parking lot so that someone won't open their door into his, I do respect it. So for someone to cause $3000+ worth of damage to his car just for kicks makes me want to kick them in the eyeball a little bit. It's not like they even stole anything! At least if they had stolen something it might have made more sense, but clearly they just thought they were being little rebels or something, which makes me very disappointed in the human race. Anyway, rant over about that.
After doing quite a bit of pre-trip shopping on Saturday, K and I took a little day trip to Portsmouth, NH on Sunday. More about that later :)