Stripes week!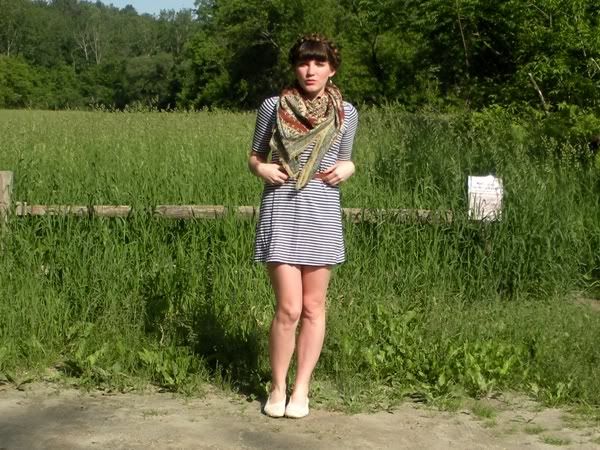 (tunic: old navy; scarf/belt/sunglasses: thrifted; ring/earrings: gifts)
I had a pretty low-key weekend because the weather was foul. However, I did have a lovely time at Julio's on Friday night with the ladies, and K and I went to see Bridesmaids on Saturday night (because what else are you going to do when it drizzles?)... two words: SEE IT. I thought the movie was hysterical, and far superior to Hangover 2 (K agreed).
Other than that I just kind of hung out and ate food and watched TV until about 10 last night when I decided to start sewing a dress. Inspiration always hits late late at night for me. When I was younger I used to stay up until all hours of the morning working diligently on some project or other. Also, I had a bit of a revelation about why my creative projects (esp. writing) never seem to go anywhere, or why I seem to lose interest halfway through. I am the sort of person who likes to power through something all the way once I've started. As soon as I stop, it's as if the ball has dropped and rolled down thirty flights of stairs or a steep mountain or something (which of course, makes it far too much of an effort to retrieve). I work very well when fueled by inspiration, but when the inspiration runs dry it's almost impossible for me to force my way through. Does anyone have any tips for re-lighting a creative fire that has fizzled out? Is there an app for that yet?