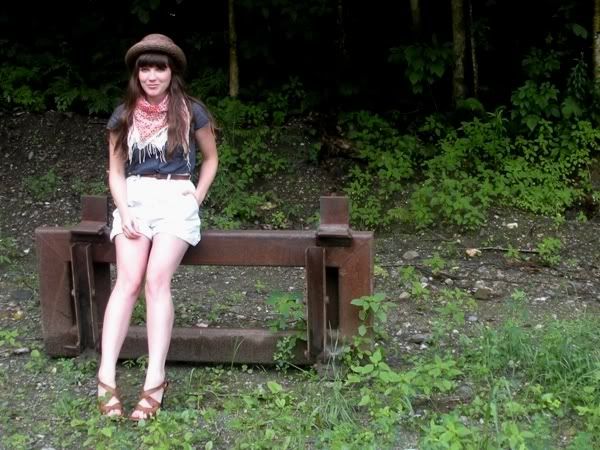 Elizabeth of
Delightfully Tacky
posted about
uniqueness
on her blog today, and it got me thinking. In recent months/years, I have become increasingly aware of the incredible uniqueness of individuals and the amazing potential for personal growth that comes from interacting with and inspiring each other in a meaningful way. I'm not talking about fashion. I'm not talking about following trends. I'm not talking about being inspired to bake macarons becuase that's what people are doing these days. I'm also not discarding any of those things, because I do draw inspiration from trends in the blogosphere and I do believe that my life is enriched by them (if I didn't believe that, I wouldn't be here). That said, fashion is still a superficial manifestation of selfhood--for the most part, it doesn't say much of anything about
who we are
(except maybe that we care about how we present ourselves to the world, which isn't a bad thing).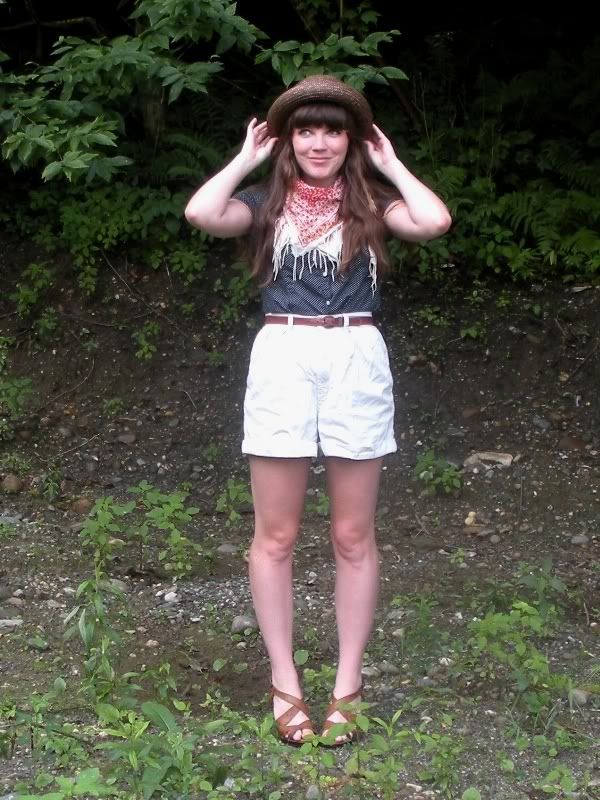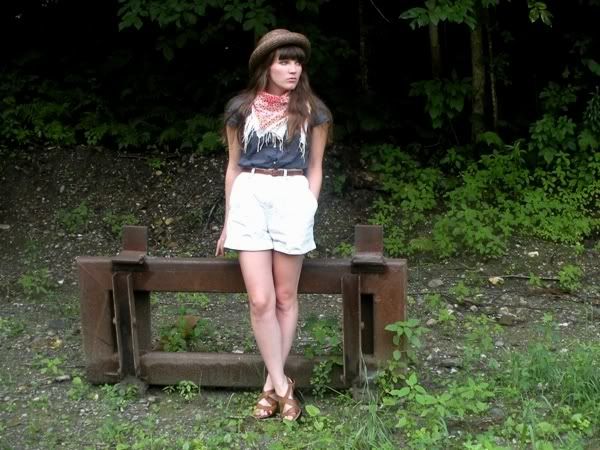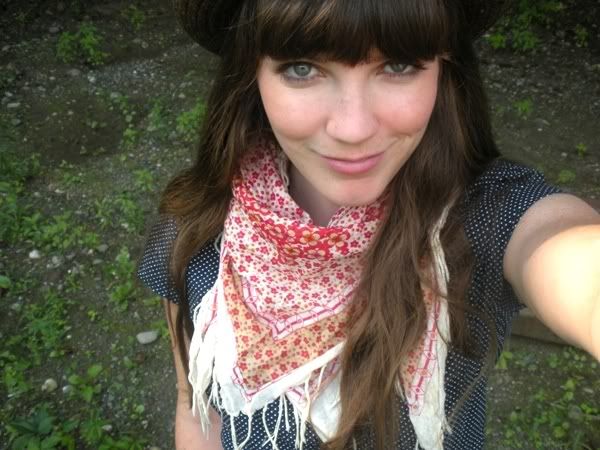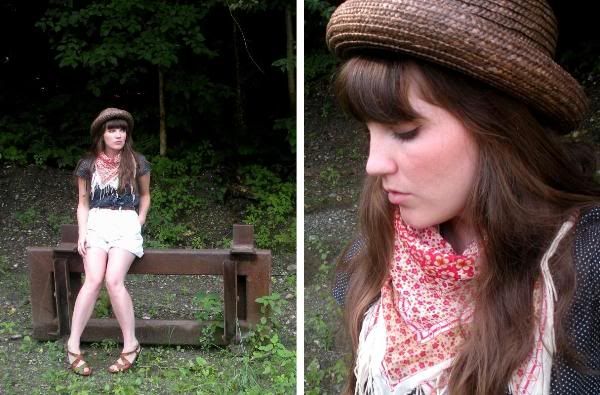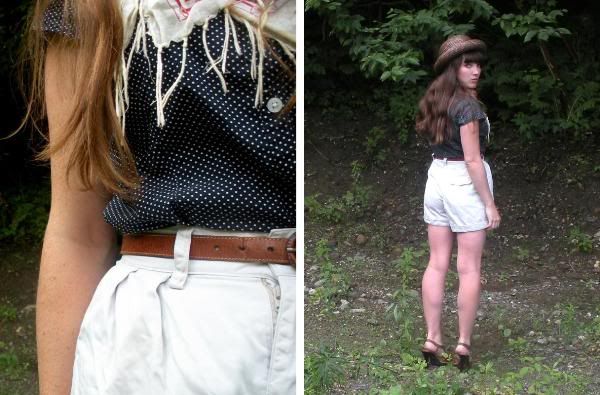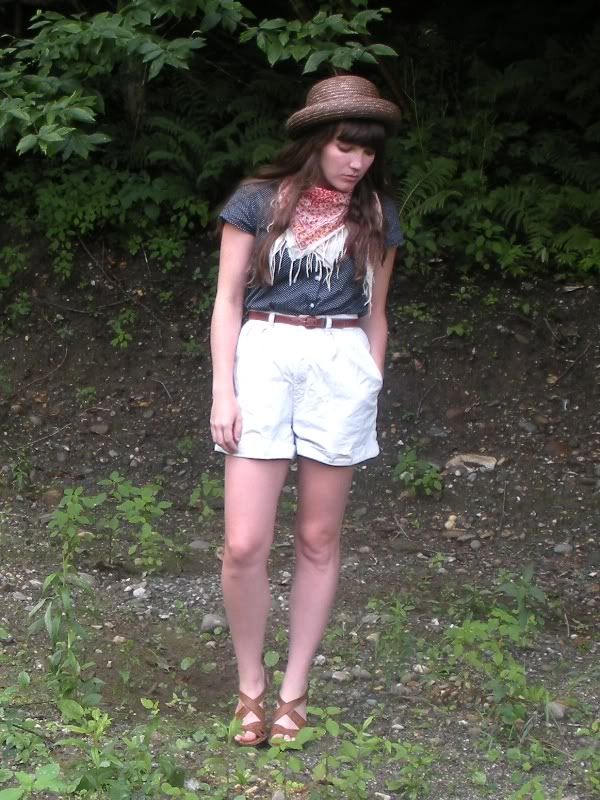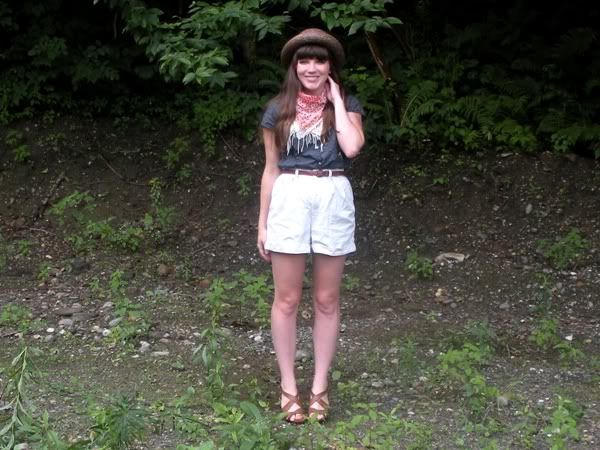 (shorts/shirt/hat: thrifted; shoes: kohl's; scarf: forever 21)
I've been lucky, in my life, to have extraordinarily meaningful relationships--with friends, family, and even with strangers. I enjoy conversations that jump right to the marrow of the matter and burrow deeper and deeper until they hit giddy, hysterical laughter, free-flowing tears, or finally level out like a long, satisfying sigh of contentment. A few days ago, Elizabeth also mentioned the "
growth zone
," where we push ourselves beyond our usual level of comfort, and eventually expand our comfort zone. I'm not a religious person by any means, but I do have a spiritual side (as evidenced
here
), and I definitely believe that while we're here on earth we should try to see and experience as much as possible, always pushing ourselves to the absolute limit. While traveling to the ends of the earth is a big part of that for me, connecting with interesting people and having enlightening conversations is the other part. When we are true to ourselves and open to each other, we can really expand our experiences. I think our generation has a tendency to judge each other rather harshly (we compare ourselves to others and react offensively to counteract our own creeping self-doubt), but most of those snap judgments are made based on superficial reasons like the way we choose to dress or the music we like to listen to--and we are all
so much more than that
.
I've come to believe that every single person on this earth has the potential to be endlessly fascinating. Not only are we born completely unique, our experiences in life are so varied and the choices we've made and have yet to make are so infinite, if we commit to knowing ourselves and knowing others truly (madly) and deeply, that is the best way to find happiness and fulfillment in our lifetimes. This does not necessarily mean that I want to be friends with everyone or that everyone will want to be friends with me. We are not all compatible. Some may prefer to float merrily along on the surfaces of things (which I honestly find rather enviable). But if we are open and genuine with each other (and more importantly, with ourselves) we will know a true soul mate when we find one (and I mean that in both the platonic and romantic sense). I may not know what I want to "do" with my life, but I certainly know what I want to "be." And at this point, I think that's far more important.
On a totally unrelated note, last night K and I did this (can you spot the hot air balloon?):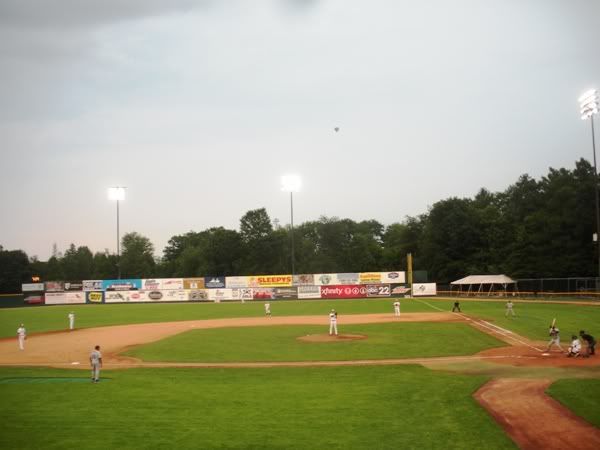 And then this happened: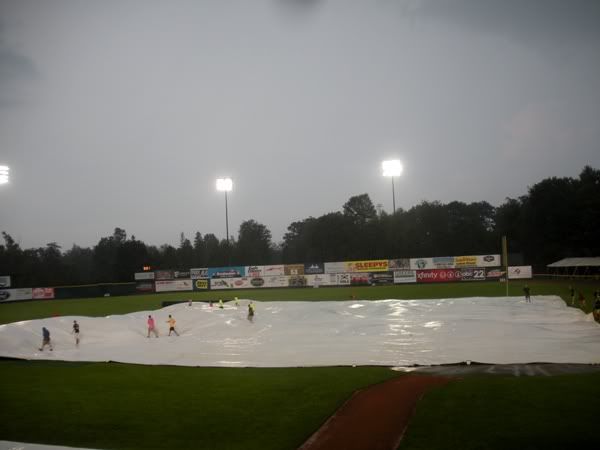 So we did this: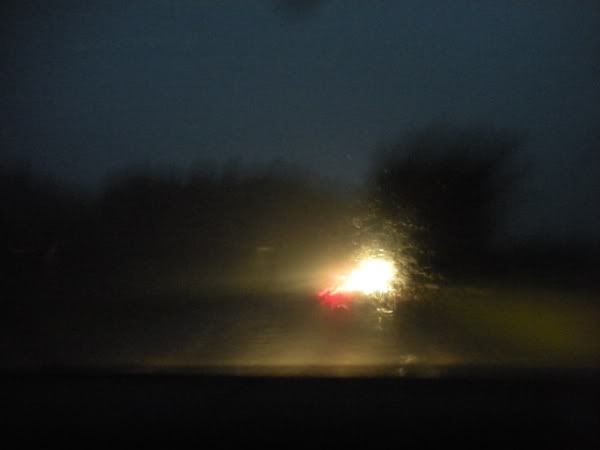 Went home, had some wine, and watched "
Just Go With It
," which I actually rather enjoyed. Adam Sandler and Jennifer Aniston have been impressing me lately (with
Grown Ups
and
The Switch
, respectively, and now this). Just because I like to overanalyze everything and swim in the deep sea of humanity doesn't mean that I can't enjoy a nice, light-hearted rom-com once in a while (or... often). I'm not afraid to admit to my guilty pleasures!
If you're feeling forthcoming, I'd love to hear about one of your most formative moments. Let's bust this blogging thing wide open!