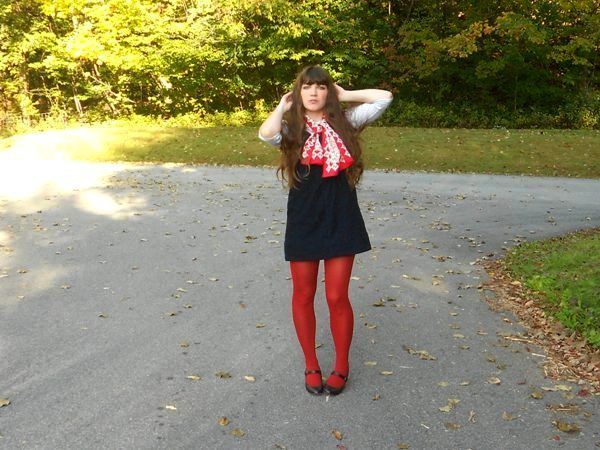 I think this outfit was probably subconsciously inspired by the fact that I watched "
Une Femme est Une Femme
" last night (the red, the little jumper, the mary janes)...
(dress/scarf: thrifted; shirt: tjmaxx; tights: hue; shoes: payless)
I've been having a rough couple of days, but I won't whine about it. I'm not really sure why I'm in such a funk, but last night I decided to relax the best way I know how. I took a bubble bath, read my book, ate leftover jalepeno pasta (which I made on Sunday--cooking and listening to music is also very calming for me, at least when it's a recipe I've made many times before and I'm not likely to fail), and watched movies. It was a pretty good evening and I'm feeling a little bit better. Anyway, the point of that story (sort of) is that K bought me this jumper and scarf combo on another day when I was feeling funky (and broke, but wandering around Goodwill anyway because thrifting sometimes makes me feel better--oh yeah, I went to the thrift store on my lunch break yesterday, too...). And that was nice of him. I kind of like him and wish he wasn't always studying so we could hang out.