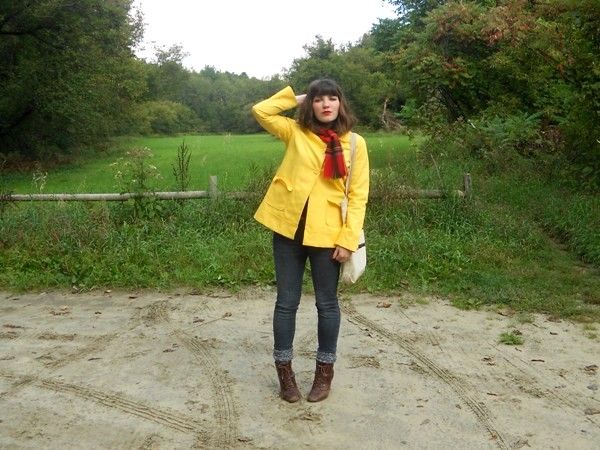 Yay, it's fall-like today!
(coat/scarf: thrifted; sweater: tjmaxx; jeans: pacsun; boots: seychelles; tote bag: etsy)
This weekend K and I had planned to go camping, but decided to just have a nice relaxing weekend at home instead (it feels like we're never home on the weekends anymore!). I had taken the day off on Friday, so I decided to take it anyway and do a little retail therapy. It was a success, if I do say so. I got this little raincoat at Goodwill, and this plaid scarf, and immediately planned this outfit in my mind. It's simple, but it's just what I want when the weather turns.
Friday night K and I had dinner at Sherpa, and then went home to eat cookies and watch movies. Saturday night I met up with my friend Megan for the STRUT fashion show in Burlington (part of the South End Art Hop), specifically to see the condom dress my friend Sasha designed for Planned Parenthood. It was so much fun! I can't believe I've never been before. My new goal is to see if I can muster the energy to design a collection for next year's show :) Afterward Megan and I went out for a drink at 1/2 Lounge and sat outside, soaking of some of the remaining summer warmth. It was lovely! Now, back to the grind...