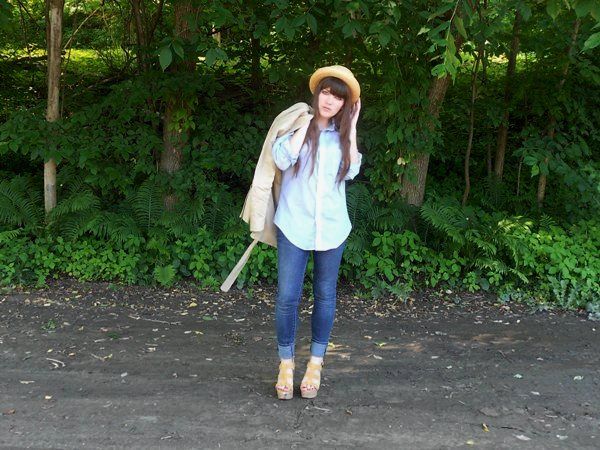 After all that braggity-braggity yesterday about how I have nails now, I broke one on my seatbelt button last night :( It's like I have to relearn how to use my hands... it's so much harder to text and unbuckle seatbelts (but better for head scratches, apparently). I tried to "glue" the nail in place with nail polish (it wasn't completely unhinged, only in the middle). Suffice it to say, that did not work so well. But my nails are all nicely painted now, because of it!
(shirt/hat: thrifted; jeans: pacsun; trench: h&m; wedges: tilly's)
Before I left for Cape Cod I bought a couple of men's oxford shirts at Goodwill and I have been wearing them constantly. They are perfect for loungewear when I'm hanging around the apartment, and all I have to do is throw on some pants and I've got an outfit! I think they may be my new favorite thing ever (plus they're super forgiving).
The weather is so gloriously beautiful here this week--sunny sunshine and blue skies. Unfortunately you can't see any of that loveliness because I have to hide in the shade when I take outfit photos. This little parking lot is turning into quite the overgrown jungle! I hope hope hope this continues into the weekend--I'm going to my parent's house for an early father's day on Saturday and hopefully it will be nice enough to float in the pond and grill outside! Sunday K has some top-secret "romantic" plans for us, so that will undoubtedly be awesome as well. Summertime is in full swing!