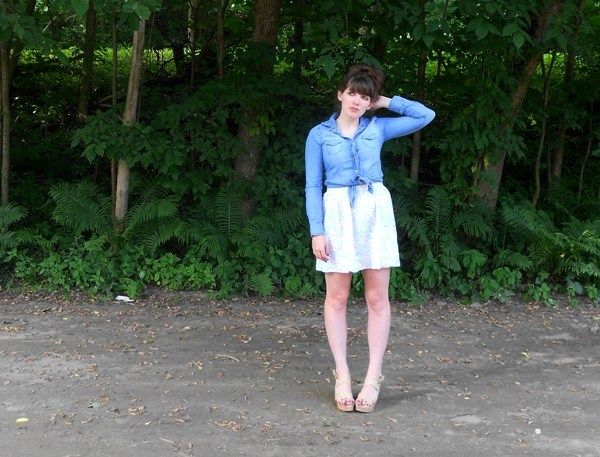 It is SO HOT this week. I love it. This skirt, however, is infuriatingly difficult to photograph. For some reason the light reflects off it in such a way that you can't even see the flowers, and the whole effect is lost. Alas, woe is me.
(shirt: walmart; skirt: thrifted; shoes: tilly's)
I had a wonderful weekend (more Life Lately to come tomorrow--in the summertime I have lots of updates, since I actually go outside!). We celebrated Father's Day on Saturday with some pond floating and music playing, and Sunday K took me to the Quechee Hot Air Balloon Festival, which was a) right up my alley and b) sort of a failure, since the balloons never actually launched (too much wind--pshaw). Still, it was a fun day! I love little adventures with my fellow :)
Last night I was running around like a wildwoman (literally--I actually went to the gym for once!). After the gym I rushed home and made and ate dinner, and then my girlfriends and I booked our flight to Austin for the end of the summer! Hooray! I'm excited. I really just wanted to get that booked so I could start looking forward to it, rather than looking for cheaper and cheaper flights. We're going the last weekend in August to visit my friend Catherine, who you might remember from
this post
. Lots of summer fun to come!!