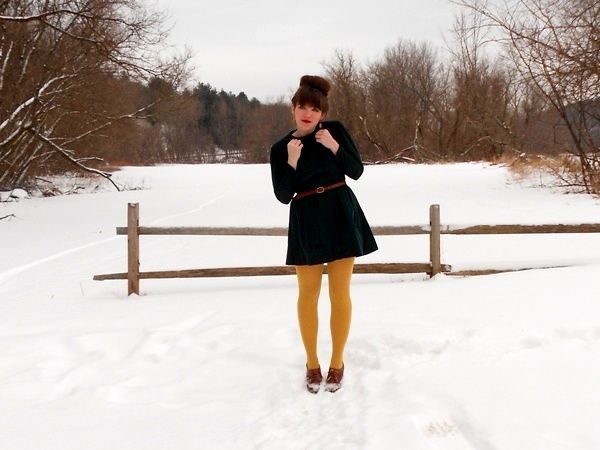 Hello there! The dead weight of this cold weather finally lifted a bit, so I was able to brave the great outdoors once again and I decided to brighten things up a bit! I originally bought and altered this dress for Christmas a couple of years ago so it always feels a little bit "holiday" when I wear it. The gold tights probably don't help, but oh well :)
(dress: thrifted; belt: urban outfitters; tights: hue; shoes: seychelles; earrings: bought in austin, tx)
This past weekend was pretty wild! I've sure been getting my girl time in lately. On Thursday night my lady friends and I had Art Club at my apartment, drank Heady Topper and ate snacks and had another one of our epic conversations about femininity and day moons and the power dynamics between men and women and taking control of to-be-looked-at-ness and women in combat and combat in general and the unfortunate way in which our society encourages the expression of masculinity through violence... and then they went home, and on Friday I headed to a house in the woods for my semi-official initiation into the tribe of WWW (wild women of Woodbury), and I didn't emerge from those woods until Sunday afternoon.
I have always been awed and inspired by the WWW. They're all such passionate, intelligent, wonderful (wild) women, and I feel so lucky to have been raised under the umbrella of their influence. I also know I am fortunate to have some of their daughters as my very best friends/soul sisters/future WWW (and hopefully we will manage to carry on the tradition of this epic weekend for decades to come). There was a lot of cosmo-drinking, southern-style food-eating, puppet-making (and a somewhat scandalous puppet show on Saturday night), ping-pong playing, hula-hooping (I
will
figure out how to be awesome at this... mark my words), and an incredibly epic snowshoe over fields and through forests and over the top of a hill that looked out around all of the Green and White mountains (the weekend was hosted at
Switchell
extraordinaire Susan's house in Cabot and the surrounding land is amazing) and culminated in a campfire powwow with soups and spicy sausage. I was so exhausted on Sunday that I when I got home all I the energy I could manage to muster went into watching Downton Abbey (and I still fell asleep on the couch).
Anyway, THANK YOU to the WWW for allowing me to attend! It was really nice to get to know everyone a little bit better after all of these years :)