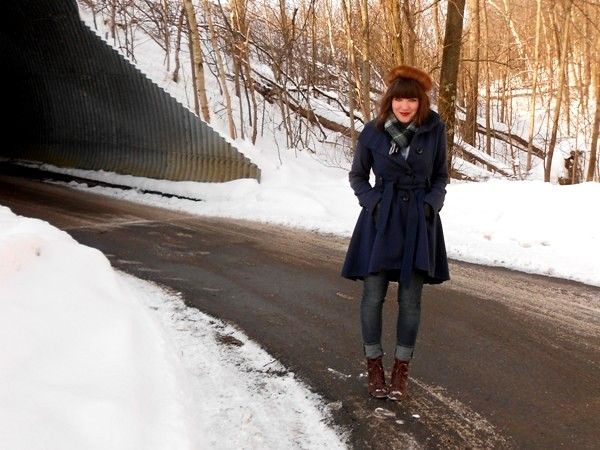 Coat #2! This is the coat I wear pretty much every day. It's not terribly warm, but it cuts the chill, and I think the fit is pretty flattering because of the cinched waist (even if the woman at the post office thought I was pregnant because it poofed out so much). Also, it goes with everything.
(coat: sears; hat: vintage; gloves: jcpenney; jeans: pacsun; boots: seychelles; scarf: thrifted)
I tried to get up at 7 am this morning and it just wasn't happening. I really want to be an early bird, but why does it have to be so dark and cold in those morning hours? I go through phases. Like that magical time when I somehow managed to get up out of bed and go running four mornings a week (whaaaat?), or when I wrote a page in my journal every day immediately after waking (that exercise also slowed to a full stop...). I just can't bring myself to leave the comfort of my covers if in doing so I still have to turn on a light. I even went to bed rather early last night because I was exhausted from my workout video--ha!

Anyway, this week feels so busy already. It's like we let everything slide over the holidays and we've been stocking up (hence the trip to Costco--we had run out of pretty much every pantry item) and cleaning house (for some reason the sink is never completely empty of dishes) for the new year. I would like to get more regular workout and cleaning schedules back on track, but it's hard when I can't even seem to get back to a clean slate! I must say, however, the prospect of all the open-ended weekends in the month ahead is really exciting. No commitments!