I've never really been one to invest in fine jewelry, for the same reasons I've never invested in an expensive camera (although I did just buy K's fancy Nikon from him, but for a steal!), a designer dress, or a pair of shoes exceeding $200--I am a klutz who lives in the woods, and I tend to lose things. That said, if I were to drop serious money on diamonds, they'd better be exactly what I want! At
Anjolee
, they specialize in customized fine jewelry--so you can pick every detail, from metal to color to cut. I love the idea of design-it-yourself diamonds! When Anjolee contacted me to do a review of their site, I thought, why not? While I am personally no where near in the market for diamond jewelry (I think the last piece of jewelry I bought was a $10 wire ring on etsy), a lot of my friends are getting married or passing through other milestones that
are
splurge-worthy. So here's what Anjolee has to say!
What advice would you give to a client who wants to buy a diamond for someone else? How do you advise your customers about how to shop for someone else's taste?
If looking to buy a diamond for someone else, you can examine their other jewelry to see what metal type, style, and size they generally wear. For example, if they wear white gold jewelry most of the time, I would recommend sticking with that same metal type. Look for clues on style, i.e., do they wear vintage-inspired pieces, classics like a tennis diamond bracelet , diamond tennis necklace, or solitaire earrings, or something more elaborate like a red carpet necklace or ring? Having these details will help you when you begin jewelry shopping.

Where do your diamonds come from? As someone who is concerned with human rights and the social and environmental impact of diamond mining, I am pleased to see that you make a special note on your site about your compliance with the Kimberley Act. What can you tell my readers about your involvement and experience with the practice of ethical diamond mining?
Anjolee obtains diamonds from a few trusted diamond dealers. These diamonds originate in many of the major diamond mines based in Australia, Africa, Russia, and Canada. Our vendors also abide by the Kimberley Process. Passed in 2003, this important law states that all US companies must purchase diamond merchandise from ethically sourced and documented legitimate dealers.
How did you get started and what is your design and assembly process? What are the most popular pieces on your site?
We started in 1977 under our parent company name 'Sunrise Jewelry Manufacturing Corporation'. We broke ground with our quality tennis bracelet designs and manufacturing process. In 2008, we began selling to the public under our website name Anjolee. Our goal has always been to exceed the expecations of an online jewelry shopping experience. We allow customers to change the metal type, diamond quality, carat size, and length of all of our jewelry designs. We craft each piece at the time it is ordered, which is why we offer so many choices for customization. It usually takes three business days for us to produce any item and then it is shipped to the customer in our custom gift packaging.

I know nothing about diamonds except that they are a girl's best friend--could you explain your "Anjolee standards" (of cut, polish, symmetry, and fluorescence) and why they are important?
Anjolee has narrowed the diamond qualities offered on our website to six combination choices of both color and clarity that we feel provide the most options for customers at a wide variety of price points. We provide natural, unenhanced diamonds that have excellent ratings in cut, polish, and symmetry. Coupled with the color and clarity options, the diamonds offered are a great value for our consumers.
Where can a regular girl wear diamonds when there is no red carpet in sight?
A classic tennis bracelet or pair of stud earrings can easily translate from the office to a night out.
I'd be interested to know the history of how some of these cuts got their names (Princess, Emerald, Brilliant, etc.). Do you know any fun stories about how these diamonds got their names?
I actually do not know any interesting stories of how they got their names.. .the diamond cut is a process by which a rough stone is meticulously cut into the shape and properties that are valuable. A well-cut diamond has great value and allows light to enter, creating a sparkling effect.
The prices on your site seem very reasonable for the service and standards you provide. How do your prices compare to other fine jewelry sites and stores, and how do you determine pricing?
Anjolee is a manufacturer, which allows us to offer our high-quality jewelry products at a lower price point than a typical retailer. We work on lower margins but are still providing top quality merchandise. Our customer feedback section is full of great reviews discussing the quality of our service and products.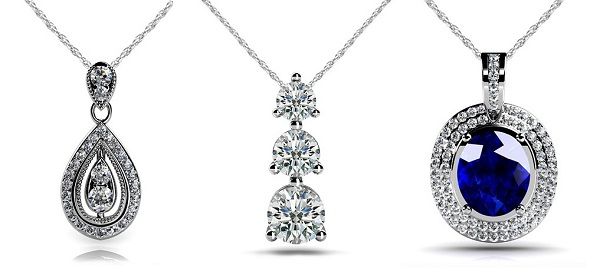 Is there anything else you would like to tell potential buyers of your fine jewelry?
We would like to tell potential customers that the act of buying jewelry should be fun – so give our customization features a try! Also, make sure you do your research and shop around online because the best deals can really be found on the internet and you get the added bonus of shopping without being hassled by sales people. We are truly passionate about the jewelry we produce and look forward to making the jewelry of your dreams!
So there you have it! If anyone out there is in the market for some sensational sparkling diamond or gemstone jewelry, head on over to
Anjolee
and start customizing!