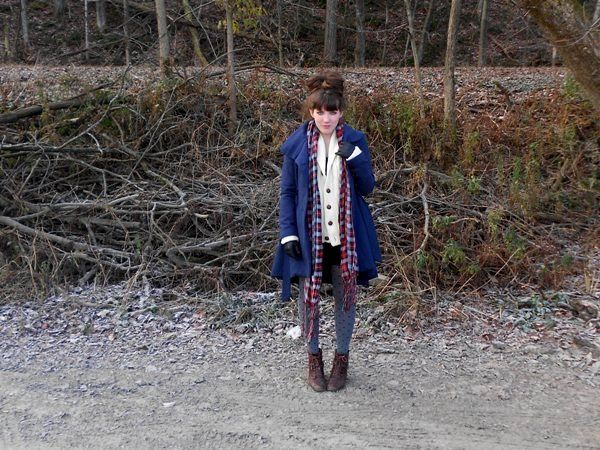 Four more years!
(sweater/dress: thrifted; coat: sear's; scarf: claire's; boots: seychelles)
If I look utterly exhausted, that's because I am. I was up at 6 am yesterday so that K and I could go to the polls together (he had an early class), and I didn't get to bed until 2 am. There is a lot of apologizing and deliberate avoidance in the blogosphere (and life in general, really) when it comes to politics, and I don't understand why. I think it's so important for us to have an ongoing dialogue in this country about why we believe what we do, if only to encourage everyone to ask that question of themselves, and to be vocal about the change we want to see in the world, because we have the power to make it happen if we speak loudly enough. As I said last night, as a woman, and as an American, I know that my vote is valuable. As Obama said last night, change comes in fits and starts. We are an overwhelmingly enormous nation and it is unlikely that we will ever be in agreement across the board. And it's true--so often "politics" gets in the way, and that's infuriatingly frustrating. But we can change that, too, if we try hard enough. It just might take some time.
What is the change you want to see in this country? In the world? The thing is, it's all connected. I have friends (and family) who would say that last night was no victory--that we've just elected yet another politician to lead a broken system--and that's true, to some extent. We are careless with our Earth, still committed to fossil fuels and factory farms despite the obvious effects of our oil and gas addiction on our general well-being and our environment. We are consuming chemicals left and right--in our food, in our beauty products, in our very AIR--and we wonder why we are all getting cancer (PS watch
Pink Ribbons, Inc.
--it's streaming on Netflix). Women's rights to control our own bodies and demand equal pay and privilege is still a seriously precarious issue. And the political sphere is still mostly corrupted and controlled by the wealthy and powerful one percent, and by a system of rewards for giant corporations who support politicians who support corporations and around and around it goes.
Still, I think President Obama is an inspiration, and I'm so happy (and relieved) that he won. I think he has a great vision for the future of our country and I'm going to fight to make sure that he doesn't give in. So there you have it. If my politics weren't obvious before, now they are. And I'll never apologize for what I believe in.