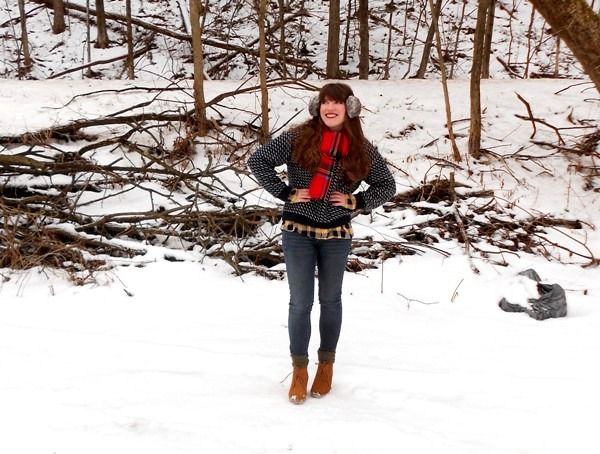 I love this sweater. I can't believe my friend Elizabeth gave it away, but I'm glad she gave it to me! :) I also can't believe I wanted to cut it up and turn it into a vest at one point. That would have been a travesty!
(sweater: llbean; scarf/shirt: thrifted; jeans: pacsun; boots: tjmaxx; earmuffs: urban outfitters)
I'm having sort of a mind-body WTF situation going on right now. On one hand, I feel good. I've been getting up at 7 AM this week, which is EARLY for me. This gives me just enough time to have a cup of coffee, eat breakfast, write my
morning pages
, and read a few chapters of a book. I've also been exercising. I went to the gym on Monday night, I did my workout video last night, and I'll be going to the gym again tonight. On the other hand, I've been eating a lot of bread. Now, don't get me wrong, I LOVE BREAD. As a relatively lazy, carb-craving vegetarian, I eat a lot of it--pasta, hunks of sourdough, bagels, sandwiches--but lately whenever I eat bread I feel kind of
uggggghhhh
. It's almost like all of the good things I'm doing lately (working out, avoiding alcohol) are just making the knot of bread in my stomach that much more unpleasant.
The thing is, I've been thinking a lot about what I eat lately, and it's not just because I watched
that documentary
or because I can't just slip into my skinny jeans like I used to or because I want to appear virtuous or anything like that. It's because a lot of the "comfort" foods that have always been staples of my diet now make me feel
ugggggghhh
. And I don't like that feeling. I don't know if it's just because I'm getting older and my metabolism is dragging, or just because it's winter and I don't get enough fresh air and everything feels like
uggggghhh
(a distinct possibility), or because I really should just embrace being healthy, once and for all. I've always loved my bread and wine and cheese, and I have never wanted to deny myself the pleasure of those things for this or that reason. I've always clung to them with a sort of "I will indulge! It is my right! You can't take that away!" mentality, but what if avoiding those things could make my life
more pleasant
? I dunno, it's on my mind.